By John Heuertz
Special to The Catholic Key
KANSAS CITY — What are those doctrines that the Catholic Church has always taught?
Father John Bolderson is doing his bit to make sure we know — from the oldest, rarest source of the English language Bible possible.
"This one's especially interesting," he said. "Very rare. Only 300 were ever printed."
Father Bolderson, pastor of St. Robert Bellarmine parish in Blue Springs, is referring to a 400-year-old copy of the Bible and an edition his parish's patron saint helped to produce.
It's a Douay–Rheims Bible, a volume with a storied place in Catholic history.
It's the only Catholic Bible produced by two Doctors of the Church. It was the first Catholic Bible ever printed in English. It's still the only English edition of the Bible ever formally approved by a council of the Church for reading at Mass.
And it's a Bible sanctified by the blood of Catholic martyrs, especially in 16th-century England.
"When you have it in front of you and hold it in your hand you can reflect this is the first time Catholics had an authoritative English version of the Bible," Father Bolderson said. "But it was a capital offense to have one of these things. If they caught you with one they burned it and killed you. It's one reason they're so rare."
He also owns an illuminated manuscript page from the 13th century and an 1849 copy of the Septuagint, the Greek Old Testament, printed in Greek.
All these valuable old books still have an important pastoral function. Father Bolderson loves to share his pleasure in them and uses them to enhance his RCIA and Bishop Helmsing Institute-sanctioned classes.
But the Douay-Rheims Bibles are his pride and joy. "There's only about 33 complete copies left in the world and I basically have two of them."
They're complete except for their missing title pages. "They were torn off so if you got caught they might think you had a King James Bible and let you go."
Some years ago, an antiquarian bookseller friend in the north of England contacted him. A nearby Carmelite convent was closing and the nuns were selling an original Douay-Rheims Bible with a typically convoluted Douay-Rheims past.
It had been published in France in 1610 and smuggled into England. Then it returned to France when the sisters were forced out of England. Then it went back to England when the Carmelites fled for their lives from the Reign of Terror in France around 1794.
Father Bolderson bought their Bible 185 years later "as a kind of trust. They knew me and knew I would take care of it."
The Douay-Rheims Bible emerged over time. Its New Testament was published in Douay in 1572, and the Old Testament in 1609 and 1610 in Rheims. "They had to do it that way because they ran out of money," Father Bolderson says.
St. Jerome had translated the original Latin Vulgate by 400 A.D. from the best Greek, Hebrew and Aramaic sources at his disposal. The essence of his Vulgate is still taught by the Catholic Church today.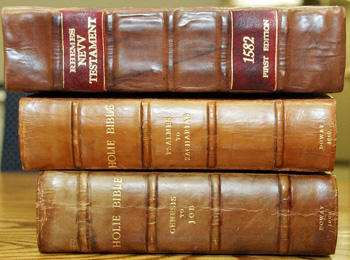 Better sources that made fine-tuning the Vulgate slowly emerged over the next 1,200 years. The Crusades made them available, the Renaissance made scholarly pursuit of them fashionable and the Catholic Counter-Reformation made that pursuit necessary.
Furthermore, "There were thousands of handwritten copies of the Vulgate, and no two of them matched," Father Bolderson says.
Pope Clement VIII proposed changing the Vulgate text to standardize the Catholic Bible for everyone.
"But St. Robert Bellarmine persuaded the Holy Father that we must make the translation of what we have as accurate as we can. Doing otherwise might meet our present needs, but in a few generations people would have no reliable text at all," Father Bolderson said.
"So they call it the Clementine Vulgate because that's who the Pope was, but St. Robert Bellarmine did the work."
Father Bolderson's Bible also has an appendix full of new words the translators coined to make the Bible's essence easier to grasp.
This little gift from the Holy Spirit to the English language has dozens of common words like "acquisition," "allegory," "adulterate," "advent," "calumniate," "character," "cooperate," "evangelize," "prescience," "resuscitate," "victim" and "verity."
Much of St. Robert Bellarmine's work is found in the margin notes, which explain Catholic teaching as it has always been taught through the Bible.
"These old books are wonderful for that," Father Bolderson says.
Seeing and actually holding this Bible, turning its pages, and reading the same things printed in the margins that are printed in the Catechism of the Catholic Church today is a powerful and moving experience.
"They're not worth millions of dollars, like a Gutenberg Bible," Father Bolderson says.
"But you can't put a price on them either. To me they are invaluable."