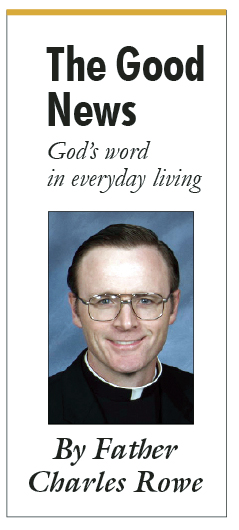 Last Lent Pope Francis captured media attention again by doing something utterly unexpected: he went to Confession. I suppose the astonishment arose in part because people still tend to put priests and, a fortiori, Popes on pedestals, such that the notion of the Holy Father having sins to confess took many by surprise. Yet there is an intimate connection between repentance of one's sins and fidelity to one's vocation which this episode underscores. In the Sunday Scriptures the two themes of repentance and vocation run intertwined, recommending prayerful meditation on their nature and interrelationship.
In the popular imagination, repentance conjures up visions of hellfire-breathing homilists driving their congregations to conversion by scaring the sin out of them. There's a grain of truth in the image. The prophet Jonah's dire albeit perhaps dully delivered sermon—40 days more and Nineveh shall be destroyed—exemplifies this: repent or else! However it's important to note that the motivation behind the message is salvific. God desires not the death of the sinners, but that they repent and live, which is precisely what his providence does for the penitent Ninevites. The call to repentance is a call to life!
Examined closely, repentance is seen to be about self-discovery. It's an invitation to study your heart, or as traditionally expressed, to examine your conscience, with particular attention given to your standing before God. Penance aims at discovering who we are in the sight of the All Holy. It demands courageous and careful probing of the gap, sometimes dizzying in its magnitude, between the sinners we are and the saints we've been called to be. This discipline is not geared toward self-loathing, but toward gaining self-awareness and making an honest assessment of who we are versus who we ought to be.
Within the context of repentance of sin, we ultimately encounter our vocation to holiness. The dynamic plays out at the very start of Mark's Gospel: right after Jesus preaches repentance, he calls the first disciples to become apostles. In turn, they abandon their families and livelihood to follow him. Sin obscures our true identity. Through penance false self-conceptions are stripped away so that the authentic person made in God's beautiful image may appear. This recovery of the genuine self also entails rediscovery of its glorious destiny. The real child of God — that is each of us — has been called to perform a special service for the Lord and his Church which nobody else can accomplish; each has been created to live a totally unique life of sanctity which has been granted to no one else. As repentance is a call to life, vocation is a call to the fullness of life!
The enlightening interplay between repentance and vocational discernment unfolds over the course of a lifetime. One hard fact of Christian existence is that temptation remains constantly with us in this world; likewise, divine guidance is required at every step of our earthly journey. For some faults are so deeply embedded that their eradication is the labor of decades, possibly necessitating postmortem purification in purgatory. Other temptations are more characteristic of particular stages of life: youthful exuberance scoffs at the need for God; the hectic pace of midlife makes no room for him; the accumulated sorrows of old age provoke disbelief at his power to save. Still other temptations arise from our own states of life, with their attendant responsibilities, powers, and perils. The utility of regular reception of the Sacrament of Reconciliation is seen here as an opportunity to repent the wrong and discern the right all along the winding, arduous stretch of life. The Sacrament provides a chance to confess those very personal transgressions that have drawn you away from your true vocation, and also to receive the grace to heed the call to holiness anew.
In recent years, there's been much soul searching in the Church provoked by the painful awareness of sin among us. Amid the collective anxiety, I sense a hidden grace: a call to conversion, a summons to repent our sins. We're being invited to grasp the healing hand Christ stretches out to us, and to rise and follow where the Lord leads. For some it may be a dramatic call to ministry, priesthood, or consecrated life. For others, it may be a moment of conversion, an occasion to recover the gospel hope of salvation which has been obscured by sin and guilt. For many, it may simply be an occasion to regain their bearings, renew their spirits, and get moving along the straight and narrow way that leads to salvation. As we begin a new year, let's ask the Lord to forgive our faults, enlighten our hearts, and help us, like the apostles of old, to draw others to follow him!
Fr. Charles Rowe is Vicar General of the Diocese of Kansas City – St. Joseph.
Daily Scripture Readings
For complete daily Scripture texts, click here. http://www.usccb.org
Monday, January 26
2 Timothy 1:1-8
or Titus 1:1-5
Psalms 96:1-2a, 2b-3, 7-8a, 10
Mark 3:22-30
Tuesday, January 27
Hebrews 10:1-10
Psalms 40:2 & 4ab, 7-8a, 10, 11
Mark 3:31-35
Wednesday, January 28
Hebrews 10:11-18
Psalms 110:1, 2, 3, 4
Mark 4:1-20
Thursday, January 29
Hebrews 10:19-25
Psalms 24:1-2, 3-4ab, 5-6
Mark 4:21-25
Friday, January 30
Hebrews 10:32-39
Psalms 37:3-4, 5-6, 23-24, 39-40
Mark 4:26-34
Saturday, January 31
Hebrews 11:1-2, 8-19
Luke 1:69-70, 71-72, 73-75
Mark 4:35-41
Fourth Sunday of Ordinary Time, February 1
Deuteronomy 18:15-20
Psalms 95:1-2, 6-7, 7-9
1 Corinthians 7:32-35
Mark 1:21-28
Feast of the Presentation of the Lord, Monday, February 2
Malachi 3:1-4
Psalms 24:7, 8, 9, 10
Hebrews 2:14-18
Luke 2:22-40
Tuesday, February 3
Hebrews 12:1-4
Psalms 22:26b-27, 28 and 30, 31-32
Mark 5:21-43
Wednesday, February 4
Hebrews 12:4-7, 11-15
Psalms 103:1-2, 13-14, 17-18a
Mark 6:1-6
Thursday, February 5
Hebrews 12:18-19, 21-24
Psalms 48:2-3ab, 3cd-4, 9, 10-11
Mark 6:7-13
Friday, February 6
Hebrews 13:1-8
Psalms 27:1, 3, 5, 8b-9abc
Mark 6:14-29
Saturday, February 7
Hebrews 13:15-17, 20-21
Psalms 23:1-3a, 3b-4, 5, 6
Mark 6:30-34
Fifth Sunday in Ordinary Time, February 8
Job 7:1-4, 6-7
Psalms 147:1-2, 3-4, 5-6
1 Corinthians 9:16-19, 22-23
Mark 1:29-39
The full text of the Scripture readings for this week and next week can be found here: http://www.usccb.org/
Click on the "Daily Readings" tab on the right hand side of the page.