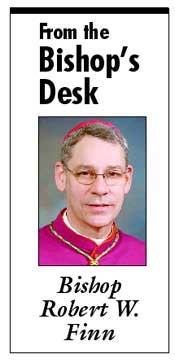 Only recently, it seems, we have left behind the beauties of the Christmas mystery, and in the next weeks we will begin again the Church's Lenten journey. Ash Wednesday, observed February 18 this year, will see Catholics come to their parishes and other churches and chapels to receive on their forehead the sign of repentance. "Turn away from sin and be faithful to the Gospel." "Remember, you are dust and to dust you will return."
The first Sunday of Lent is also a special day for us, when we welcome men, women, and children, from throughout our Diocese, who are beginning their final preparation for entering the life of the Catholic Church. The Rite of Election is not a Mass but a very special ceremony at the Cathedral of the Immaculate Conception and at the Co-Cathedral in St. Joseph. As bishop, I welcome and greet the "catechumens," those preparing for Baptism, and the "candidates," people who are already baptized Christians, but are asking to enter the full communion of the Catholic Church at Easter. If you have never attended one of these ceremonies, I invite you to check my calendar below and come and be part of our welcome to these aspiring new Catholics. The long tradition of the Church is that we pray for, and offer some of our Lenten sacrifices for, these soon-to-be new members.
Lent is a time for us to renew our faith – and the way we live it daily. That is why making sacrifices, doing a Lenten penance is so valuable. We have to become less selfish and more sincere in our care for others. We have to walk away from the sins that keep us from loving God and neighbor, even while we walk toward Jesus Christ with a greater fidelity and integrity.
Lent provides some occasion for breaking old habits and establishing new ones. Penances are necessary. They help to build up our moral muscle. We have to learn to freely say "no," even to simple and valid pleasures, if we are to grow in our ability to say "no" to the things that are capable of destroying us. Anyone who has trained for a physical event, or tried to lose a few pounds, knows that these disciplines are real. They must be acquired slowly, with persistence, and sometimes with the guidance and encouragement of a coach. As members of the Church we undertake them together for mutual support.
As we grow in discipline over our bodies, we are invited, by Jesus Christ, to become more spiritual persons, to pray more. We must grow in an interior life. We will relate better to God and to the goodness of others by becoming more recollected, becoming people of prayer. We are believers. We have been given a supernatural gift of faith, and it is time for us to start living more and more by faith.
"Almsgiving" is the traditional name for another important practice of Lent. It is charity toward others that flows from a renewed sense that we are loved by God. Pope Francis has clearly given us many words of encouragement – and an active example of reaching out to others. Perhaps part of our Lenten resolutions will include generosity to others: spending more time with someone who needs us; donating some of our "comfort" money to projects that assist the poor; taking more time to listen and encourage family and co-workers.
The first week of Lent each year has been the occasion for my annual retreat. I ask your prayers during that time and assure you that I will be keeping all of you in thought and prayer.
May Mary, who was so faithful in accompanying Jesus in His life, suffering, death and resurrection, assist us with her intercession as we live fully the season and spirit of Lent.