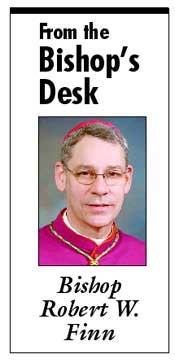 Following is Bishop Finn's homily given for the World Marriage Day Mass on February 8 at Curé of Ars Parish in Leawood, Kansas:
Praise be to God for the gift of marriage and family, which He has made the building block of human society!
Praise be to God for the holy vocation of husbands and wives, sign of Christ's love for the Church!
Praise be to God for the mutual love and sacrifice by which a man and a woman give themselves to each other forever and share in God's miracle of procreation!
Dear Archbishop Naumann, Brother Priests and Deacons, Married couples and families, Friends in Christ all,
In October of 2002, St. John Paul II, in devotion to our Blessed Mother, gave the world the Luminous Mysteries, inviting our meditation on the Divine work of Jesus on earth. The second Mystery of Light is the Wedding at Cana, where the divinity of Christ became manifest in His first miracle, worked for a newly married couple. Christ, prompted by Mary, showed His providential love at the wedding feast. Seeing His glory, his disciples believed in Him.
Marriage is so important to you, to the Church and to the world. The Gospel illustrates for us that Jesus Christ wants to be also at the center of marriage. He wants to respond to the pressing needs of couples and assist families in the everyday challenges you face. This sacrament of Holy Matrimony is a path to holiness, the way to heaven for you, your spouse and children.
God established marriage in the mystery of creation itself, joining male and female in a complementarity which is physical and spiritual. Genesis tells us that marriage between a man and a woman is the cause of their mutual fulfillment, that which is capable of completing them. It has as its first and inseparable purpose the procreation of children. Pope Benedict XVI said marriage is a Gospel in itself; it is good news for the world. (Message to the Synod of Bishops, October, 2012) St. Paul, in his Letter to the Ephesians, reveals that married love is the image that best helps us understand the love of Christ for the Church.
Just a few months ago, Holy Father Pope Francis beatified Pope Paul VI, who in his monumental encyclical, Humanae Vitae, affirmed for all generations the integrity of marriage and its two purposes: mutual fulfillment and openness to children. He suffered terribly because the world, then and now, did not always prefer to hear about the demands of married love; that husbands and wives must always offer God a pure and open intimacy, without any obstacle or barrier to life. Today more than ever it is the distortion of this mystery of procreation that leads to the confusion of other relationships for marriage: relationships that may imitate some characteristic of spousal union, but cannot be authentic marriage. This distortion of the mystery of human life has likewise caused some to think that children can be somehow manufactured outside of the lifelong commitment of marriage. This is not part of marriage. This is not the nurturing life that God intends children to have.
Today certain true elements of marriage and family are mocked by the culture. "Why so many children?" "Why do you make so many sacrifices? Why work so long and hard to hold a marriage together when it is strained or challenged? Isn't it better to give up and try again?" Dear couples, we need your generous love; the vocation of marriage requires it. We as the Church must support you better, with prayer. We must defend you with sound teaching and encouragement that helps you remain faithful to God's plan. We must continue to take care to form and prepare couples well for marriage.
Your marriages are so important to the world. They are Sacraments that reveal Christ. Your daily sacrifices show us that God is among His people. Your joy and perseverance in forming your children in the heart of the home is a blessing which lasts forever in the life of your sons and daughters. It prepares them for their own vocations, and ultimately for heaven.
Pope Benedict reflected a few years ago on today's Gospel of the Wedding at Cana. He said, "At Cana, the first wine is very fine." "This," he says, "is falling in love." Falling in love is a wonderful thing. However it is the start of the couples' journey – not its highest point. Something more wonderful still awaits the couple."
In the Pope's analogy he says, [at Cana,] "the first wine doesn't last to the end; a second wine has to come later; it has to ferment and grow, to mature." "The definitive love that can truly become 'the second wine' is more wonderful still. It is better than the first wine. And this is what we must seek." (Pope Benedict XVI, World Meeting of Families, Milan, June, 2012)
Dear couples, It is good to remember the excitement of falling in love. However, your mature love, the second wine, is the heroic love that can and will change the world. This is the gift that can transform the culture. In the most difficult days, this persevering and faithful love gives hope to your spouse; it gives life to your home; it renews your parishes; it transforms our Diocese; it is a powerful sign to our secular culture. Because it is a manifestation of God's own everlasting life and love, it has the power to change the world.
When you drink deeply of the "second wine;" When you speak honestly and lovingly; when you pray together and ask Jesus to be the center of your home, to be the heart of your family, then what happens is a miracle of grace that can only be explained by acknowledging God. God did this. And when the world sees His glory, His disciples will believe in Him.
Within the next year some very important events concerning marriage will take place: In September the World Meeting of Families will be held here in the United States; The World Synod on Marriage and Family will take place in Rome in the late Fall. The firm teaching of the Church on the indissolubility of marriage; on the authentic meaning and purpose of Matrimony within the Church and the world must be held up with clarity, beauty, and integrity. There cannot be confusion about these lasting truths, or any diminishment of the noble vocation which is yours and which is irreplaceable in God's plan. I know you will pray fervently that these gatherings will be filled with and directed by the Holy Spirit; that these will be moments – with the world watching – when the teaching of Jesus Christ, without compromise, is offered as perhaps the only clear voice of truth, to a world that longs for the splendor of truth.
Archbishop Naumann and I are pleased and honored to be with you on this World Marriage Day. What a grace-filled time to gather in worship of God for so great a gift. For you and your families, every day is marriage day; and every day Jesus Christ is ready to accompany you on your path of life and love.
I commend you to Mary, spouse of the Holy Spirit and Mother of God, who interceded at Cana for a young couple; to Joseph, head of the Holy Family and guardian of the Redeemer. May they watch over you and pray for you.
Praise be to God for the gift of marriage and family, which He has made the building block of human society!
Praise be to God for the holy vocation of husbands and wives, sign of Christ's love for the Church!
Praise be to God for the mutual love and sacrifice by which a man and a woman give themselves to each other forever and share in God's miracle of procreation! Amen.