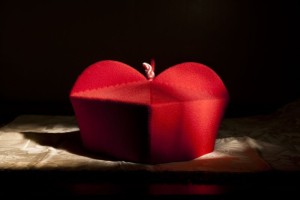 Pope Francis chose Valentine's Day to create 20 new Cardinals for the Church. The choice of St. Valentine's feast was quite significant because he was an early priest of Rome who was tortured and beheaded for refusing to renounce the faith.
When the Pope creates a cardinal, he imposes a red biretta on his head. The red does not signify the color of a bird or a baseball team by the same name. It is the color of the cardinal's own blood.
In placing the red biretta on the new cardinal's head, the Pope instructs the cardinal that he must dedicate himself bravely to the faith and to the Church of Rome even to the shedding of his blood.
The word cardinal comes from the Latin cardo meaning pivot or hinge. This term originally applied to the principal clergy of Rome who were the electors of the Bishop of Rome, the Pope.
In the 12th century, recognizing the universal nature of the Church, the title of cardinal began to be given to prominent churchmen outside of Rome. However, the tradition of the clergy of Rome electing the Pope remains to this day. A cardinal is nothing more than an honorary, or "titular" clergyman of Rome. Although in practice today, they are almost always bishops, in history, they needn't even be a priest.
Most cardinals are named honorary deacons or priests of important churches in Rome. After receiving his ring and red biretta, the new cardinal says Mass at and "takes possession" of his honorary parish, and while he does not run it day to day, he becomes its patron.
Most members of the Roman Curia who are made cardinals are Cardinal Deacons. Archbishops with their own dioceses who are made cardinals are generally named Cardinal Priests. The highest rank of cardinal is Cardinal Bishop. These cardinals are appointed honorary bishops of the dioceses surrounding Rome. Certain patriarchs of Eastern Catholic Churches are also made Cardinal Bishops.
The heraldic symbol of a cardinal is a red galero, a wide brimmed hat with five rows of tassels which is no longer used in practice. Since 1965, only the red biretta is actually worn by a cardinal. However, when a cardinal who is a bishop of a diocese dies, his red galero is hung from the ceiling of his cathedral.
The late Cardinal John O'Connor of New York used to remark at Mass on the hats of his predecessors hanging from the ceiling of St. Patrick Cathedral. He knew his hat would be up there some day. He said the view of the galeros reminded him of his own mortality and of the grave responsibility he received to care for the People of God when the hat was first placed on his head.