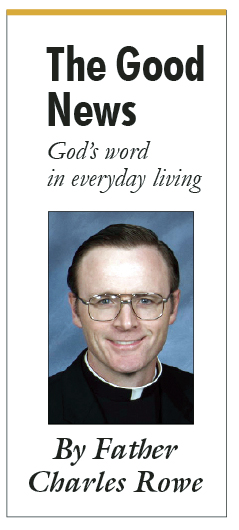 I like to think the somber title of this reflection is inspired by pious meditation on the Sunday Scriptures. (If not, then maybe it's just my Irish ancestry!) The Scriptures this weekend present a poignant event in Jesus' life. He receives a happy report that some Greeks want to see him. His fame has become so great that now foreigners desire to meet him. Yet at the same instant, he hears the death knell toll. For the appearance of Gentiles from outside the ethnic Jewish fold betokens not only the universal scope of his mission but also the fast approaching moment of his demise.
The selection is shot through with paradox. The Lord declares that now is the moment when he is to be lifted up on the cross to draw all people, both Jew and Gentile, to himself. He confesses that he is troubled by the prospect of impending death, yet also recognizes it as the hour of glory. This is the climax when he shall accomplish his purpose for entering the world. The episode is also illustrative for us inasmuch as Jesus' course through life to the grave traces the path for every disciple: Whoever serves me must follow me, and where I am, there also will my servant be. His words are of special relevance in this secularized, scientistic world where the ancient existential questions provoked by the riddles of suffering and death find no satisfactory answer, thereby leading many of our irreligious acquaintances to despondency and dissolution. For a lot of our contemporaries, the purpose of death, and of life as well, is unknown. Hence the restless and undirected quality of their personal itineraries. In America today there is particular discomfort about the prospect of dying. Death is problematic enough, but many folk seem more bothered by the process of decline, sometimes slow and arduous, which precedes the end. Thus the sinister appeal of euthanasia and assisted suicide.
Our Christian faith casts a ray of light on this gloomy topic. Seen from a purely biological viewpoint, the human person, like the beasts of the earth, is conceived and born, grows to maturity, then declines and eventually dies. But in the Christian perspective, there is much, much more to it. The entire arc of human existence has a trajectory and destination. At Baptism we are given marching orders: we are summoned to take up the cross and follow Christ. The destination of the cross-bearer is painfully obvious: he is to walk the Via Dolorosa that terminates at the gibbet of Golgotha. Thus we are to suffer with Christ. We will die with Christ. And we shall rise with Christ. It is a death march to eternal life. Baptism should help us Catholics better understand the mystery of our earthly existence.
For starters, Baptism acknowledges the hard facts of life, namely, dying and death. The ritual gestures of signing with the cross and plunging into the water, the references to the destructive force of the Red Sea and the Great Flood, mark the baptized with the sign of mortality. The human being who is baptized is doomed to die. The journey that begins at the font leads inexorably to the tomb.
Baptism also shows the path of discipleship to be embedded in the phenomenon of mortality. In the unwinding of our earthly existence, we are called to take up the cross and follow Christ. This terrestrial course is a death march of sorts. Obviously, it terminates in the tomb. But it is a march insofar as it is directed by the Creator's providential hand. However winding, confusing, and frustrating life's course may seem, the journey is not aimless wandering. The waning of youthful vigor, the progressive decline of faculties, the debilitating illnesses inherent in aging are part and parcel of the Via Crucis. In Baptism, we have been incorporated into Christ. Our destiny has become indissolubly intertwined with his. Thus our path as disciples is to be patterned on his own. In other words, we must take up the cross and follow the Lord.
Ultimately, Baptism reveals dying and death as the pathway to life eternal. The rite calls attention to the life-giving force of the blessed waters; it evokes the paradoxical paschal promise of death issuing forth in new, indestructible life. By his death and resurrection, Christ bestows eternal life on all who believe in him. For his disciples, their deaths died well, preceded by lives lived well, are life-giving in an exemplary way. I think of St. John Paul II's perseverance through many years of slow decline. An energetic man who had once been an actor and athlete gradually lost his ability to walk, stand, and even speak. Yet he persevered in faith unto the very end. At life's terminus, he declared, "Let me go the house of the Father!" He who had eloquently written about crossing the threshold of hope suffered his demise as the final threshold to the Father's house.
As we approach the great solemnity of Easter, may our Lenten observances attune our hearts to the ongoing call of Baptism: to follow the Savior more closely, to love one another more sincerely, and thus to celebrate the Paschal mysteries with the ardor born of renewed faith in the risen Lord.
Fr. Charles Rowe is Vicar General of the Diocese of Kansas City – St. Joseph.
Daily Scripture Readings
For complete daily Scripture texts, click here. http://www.usccb.org
Monday, March 23
Daniel 13:1-9, 15-17, 19-30, 33-62 or Daniel 13:41c-62
Psalms 23:1-3a, 3b-4, 5, 6
John 8:1-11
Tuesday, March 24
Numbers 21:4-9
Psalms 102:2-3, 16-18, 19-21
John 8:21-30
Solemnity of the Annunciation of the Lord,
Wednesday, March 25
Isaiah 7:10-14; 8:10
Psalms 40:7-8a, 8b-9, 10, 11
Hebrews 10:4-10
Luke 1:26-38
Thursday, March 26
Genesis 17:3-9
Psalms 105:4-5, 6-7, 8-9
John 8:51-59
Friday, March 27
Jeremiah 20:10-13
Psalms 18:2-3a, 3bc-4, 5-6, 7
John 10:31-42
Saturday, March 28
Ezekiel 37:21-28
Jeremiah 31:10, 11-12abcd, 13
John 11:45-56
Palm Sunday, March 29
At The Procession With Palms
Mark 11:1-10 or John 12:12-16
At The Mass – Isaiah 50:4-7
Psalms 22:8-9, 17-18, 19-20, 23-24
Philippians 2:6-11
Mark 14:1—15:47
Monday, March 30
Isaiah 42:1-7
Psalms 27:1, 2, 3, 13-14
John 12:1-11
Tuesday, March 31
Isaiah 49:1-6
Psalms 71:1-2, 3-4A, 5ab-6ab, 15 & 17
John 13:21-33, 36-38
Wednesday, April 1
Isaiah 50:4-9a
Psalms 69:8-10, 21-22, 31 & 33-34
Matthew 26:14-25
Holy Thursday, April 2
Exodus 12:1-8, 11-14
Psalms 116:12-13, 15-16bc, 17-18
1 Corinthians 11:23-26
John 13:1-15
Good Friday, April 3
Isaiah 52:13—53:12
Psalms 31:2, 6, 12-13, 15-16, 17, 25
Hebrews 4:14-16; 5:7-9
John 18:1—19:42
Holy Saturday, April 4
Easter Vigil Mass
Genesis 1:1—2:2 or
Genesis 1:1, 26-31a
Psalms 104:1-2, 5-6, 10, 12, 13-14, 24, 35
Genesis 22:1-18
Psalms 16:5, 8, 9-10, 11
Exodus 14:15—15:1
Exodus 15:1-2, 3-4, 5-6, 17-18
Isaiah 54:5-14
Psalms 30:2, 4, 5-6, 11-12, 13
Isaiah 55:1-11
Psalms 12:2-3, 4, 5-6
Baruch 3:9-15, 32c4:4
Psalms 19:8, 9, 10, 11
Ezekiel 36:16-17a, 18-28
Psalms 42:3, 5; 43:3, 4
Isaiah 12:2-3, 4bcd, 5-6
Romans 6:3-11
Psalm 118:1-2, 16-17, 22-23
Mark 16:1-7
The Resurrection of the Lord
The Mass of Easter Day, Sunday April 5
Acts 10:34a, 37-43
Psalms 118:1-2, 16-17, 22-23
Colossians 3:1-4 or 1 Corinthians 5:6b-8
John 20:1-9
The full text of the Scripture readings for this week and next week can be found here: http://www.usccb.org/
Click on the "Daily Readings" tab on the right hand side of the page.