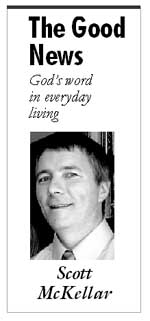 This Sunday's Gospel raises an important question. Do we trust God to give us what we desire? In Psalm 37 David promises;
Trust in the LORD and do good that you may dwell in the land and live secure.
Find your delight in the LORD who will give you your heart's desire (Psalm 37:4-5).
Can we really trust God to give us our heart's desire? Faith or trust in God is demonstrated by our actions. It is easy to trust in the words of David about God giving us "the desires of our heart" when things are going well. How do we respond when we are tested by difficulty and suffering? Do we really trust God to give us what we desire?
We are much more impressed with the faith of someone who has endured a no from God than with someone who has wrestled with God to receive a yes.
Demonstrating faith and finding God in the midst of a difficult situation will either make your faith grow or cause you to fall down and perhaps, even despair. Is God really there? Does he truly love us? In the midst of difficult situations, we are tempted to ask, "God, if you do love me, how could you let this happen to me?"
I am reminded of an incident that occurred to me as a teenager. I was sailing a small catamaran on a lake when a storm came up suddenly. At first the winds caused the boat to vibrate and speed up faster than I had ever experienced, hurling my boat far across the lake at reckless speed. Then the main sail actually ripped lose from the mast and began to violently flap about. Finally the wind caught the boat from the side, causing it to capsize. I was thrown from the boat and left adrift in the middle of the lake, while my overturned boat was carried off by the wind. I still remember my fear and helplessness, before a kind person with speed boat spotted me and rescued me over an hour later.
Something similar happens in today's Gospel. The disciple's faith was tested by a storm on the Sea of Galilee. Mark relates that Jesus and his disciples are in a fishing boat sailing across the lake. Given the size of this large lake, the disciples would not be able to see the shore for most of their journey across the lake. Jesus was asleep on a cushion, in the stern of the boat when a sudden violent storm came up. Mark tells us that "great waves" were breaking over their boat, so that it was "already being filling up with water" (Mark 4:37). Thinking that their boat is going to sink, the disciples fear for their lives. They wake Jesus, crying out, "Teacher, do you not care that we are perishing?" Jesus rebuked the wind and the sea and they immediately became calm. Then he said to the disciples, "Why are you terrified? Do you not yet have faith?" (4:40).
Two factors affect our response to the question of trusting God to give us the good things we desire. The first is how well we know God. If we falsely imagine God as an unsmiling, severe and demanding father who is never satisfied with our performance, then we will fear him and view our sufferings as a kind of miserable divine punishment. If on the other hand we view God as a merciful, loving father who runs to accompanies us in our pain, a God who has already suffered death on a cross for our sake, then we will understand our difficulties in this light (John 3:16).
One Saint who has drawn very close to God is St. Thérèse of Lisieux. Writing about her surrender to God's 'merciful love' she notes, "God never inspires a longing which he cannot fill." Will God give us the longings and desires of our heart? If we will allow God to inspire our longings, yes! St. Thérèse says "He makes us desire, then grants our desires. . . "
As James says, "Draw near to God, and he will draw near to you" (James 4:8). James also notes that sometimes the reason for our unanswered longings in prayer is that we need to purify our desires. "You ask but do not receive, because you ask wrongly, to spend it on your passions" (James 4:3). Ultimately we must trust that God desires to 'give good gifts' to his children (Luke 11:13). God desires our happiness but our desires need to be purified by relationship with him.
Although none of us would wish for suffering it is possible to find happiness in the midst of adversity if we join ourselves to God. St. Catherine of Siena describes God as "drunk with love for our good" and desiring to give us "even greater love and sorrow" in order to bind God with the "chain of our desire" and in love to become instruments of God's mercy to the world. (The Dialogue 15-16).
Recently Pope Francis called on all the faithful to "become islands of mercy in the midst of the sea of indifference!"
The second factor that affects how we respond to life's difficult circumstances is who our friends are. Who is in the boat with us as we face the storm? While we can obviously chart our own path through life, we can't help but be influenced by our friends. If the people around us are unbelieving, cynical, doubting, negative people, then it is difficult not to be influenced by their views.
We need Christian community. The communion we experience in this community is actually one of the ways in which Christ is present in our midst (Matthew 18:20). The writer to the Hebrews encourages us to not forsake this community. "We must consider how to rouse one another to love and good works.  We should not stay away from our assembly, as is the custom of some, but encourage one another" (10:24-25).
In order to find true happiness in God we must seek to deepen our relationship with him through a commitment to personal prayer and seek the support of Christian community. Can we commit ourselves to pray more this week and to examine ourselves on which relationships are most influencing our life?
Scott McKellar is associate director of the Bishop Helmsing Institute.
Daily Scripture Readings
For complete daily Scripture texts, click here. www.usccb.org
Monday, June 22
Genesis 12:1-9
Psalms 33:12-13, 18-19, 20 & 22
Matthew 7:1-5
Tuesday, June 23
Genesis 13:2, 5-18
Psalms 15:2-3a, 3bc-4ab, 5
Matthew 7:6, 12-14
Wednesday, June 24
Isaiah 49:1-6
Psalms 139:1b-3, 13-14ab, 14c-15
Acts 13:22-26
Luke 1:57-66, 80
Thursday, June 25
Genesis 16:1-12, 15-16
Or Genesis 16:6b-12, 15-16
Psalms 106:1b-2, 3-4a, 4b-5
Matthew 7:21-29
Friday, June 26
Genesis 17:1, 9-10, 15-22
Psalms 128:1-2, 3, 4-5
Matthew 8:1-4
Saturday, June 27
Genesis 18:1-15
Luke 1:46-47, 48-49, 50 and 53, 54-55
Matthew 8:5-17
Thirteenth Sunday in
Ordinary Time, June 28
Wisdom 1:13-15; 2:23-24
Psalms 30:2, 4, 5-6, 11, 12, 13
2 Corinthians 8:7, 9, 13-15
Mark 5:21-43
Monday, June 29
Acts 12:1-11
Psalms 34:2-3, 4-5, 6-7, 8-9
2 Timothy 4:6-8, 17-18
Matthew 16:13-19
Tuesday, June 30
Genesis 19:15-29
Psalms 26:2-3, 9-10, 11-12
Matthew 8:23-27
Wednesday, July 1
Genesis 21:5, 8-20a
Psalms 34:7-8, 10-11, 12-13
Matthew 8:28-34
Thursday, July 2
Genesis 22:1b-19
Psalms 115:1-2, 3-4, 5-6, 8-9
Matthew 9:1-8
Friday, July 3
Ephesians 2:19-22
Psalms 117:1bc, 2
John 20:24-29
Saturday, July 4
Genesis 27:1-5, 15-29
Psalms 135:1b-2, 3-4, 5-6
Matthew 9:14-17
Fourteenth Sunday in
Ordinary Time, July 5
Ezekiel 2:2-5
Psalms 123:1-2, 2, 3-4
2 Corinthians 12:7-10
Mark 6:1-6
The full text of the Scripture readings for this week and next week can be found here:www.usccb.org/
Click on the "Daily Readings" tab on the right hand side of the page.