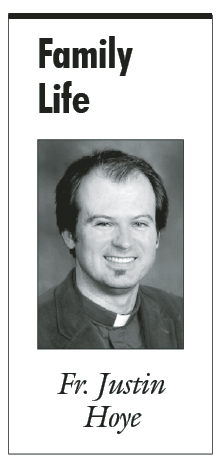 As a priest, one of my most meaningful ministries is marriage preparation. Our world presents couples with so many options on marriage that when a couple approaches the Church they have already made a gesture of deference. A Catholic who approaches the Church for marriage indicates a desire for something that the Church alone provides. The spectrum for this "something" is wide: some know that marriage is a sacrament; others know they will receive counseling; many have been affected by divorce and are eager to avoid such a fate in their own life; some just know that they are supposed to get married in the Church, unable to articulate why.
Regardless of what draws them to the Church during an engagement, marriage preparation is meant to convey the conviction that the Church cares deeply about their union as husband and wife. Their life will impact children, friends and society. It is such an important vocation that the Church offers an abundance of opportunities to help prepare them for a lifelong marriage.
These opportunities present a vision for marriage that enfleshes the promises a man and woman make in front of God and neighbor on their wedding day: promises to love freely, faithfully, fruitfully and fully. Offered is a vision for their relationship that manifests the unconditional love God has shown us in Jesus Christ, and a couple is asked to consider propositions on how that love can be shown concretely in their relationship. It is challenging, yet people are acutely aware of outside voices that proffer a "love" that is lacking. Couples who approach the Church for marriage preparation often bear the scars of betrayal, abuse or indifference from people who might have once told them, "I love you." It is the joy of priests and other ministers to introduce couples to the voice of Jesus Christ who says, "I love you," and demonstrates that his words are true, through a life laid down for us.
In the Diocese of Kansas City-St. Joseph, engaged couples complete steps that help them understand the vision of God for their marriage and how they can live that vision. Couples undergo a marriage assessment which identifies areas in their relationship which warrant conversations. Addressing these growth areas (e.g. spiritual beliefs, marriage expectations) helps couples realize that not all differences can simply be ignored without injury to their relationship. Many are tempted to avoid or dismiss disagreements, not realizing that without the hard work of unpacking issues, a relationship can quickly sour. A couple is invited to really trust that by God's grace, their relationship is strong enough to discuss uncomfortable issues and remain intact.
Couples are also introduced to St. John Paul's II's writings on the Theology of the Body, and the call of husband and wife to truly enflesh the words of love they speak at their wedding. This is one of the most powerful presentations they will experience, because it both touches that hope we all hold of being loved unconditionally, and the challenge to exhibit that love. This component offers a reference point for every word and action a couple offers in their relationship, and that reference is the love shown to us in Jesus Christ.
Thirdly, couples are asked to attend a marriage preparation course on a weekend (Engaged Encounter) or to meet with a Lead Couple. It is so good for us to have mentors in life; people who have walked a path ahead of us and can encourage us with a hope that is based on real, lived experience. The couples who organize the weekends or offer their services as a Lead Couple, show how mature love rooted in Jesus Christ can be rough-hewn by the conditions of life, and still convey a peace that the world cannot give.
Lastly, couples are introduced – often for the first time – to Natural Family Planning (NFP). When God's vision for a husband and wife is understood, especially by reflecting on the promises made at the altar and the language of Theology of the Body, couples receive NFP as the means by which they can truly love one another in the manner which Christ invites, being mindful that their union is oriented towards an openness to the gift of new life.
It is the Church's belief that this process helps prepare couples for the reality of marriage. When challenges arise in marriage, and they will, the Church does not want a couple to panic. As shown in Christ, no life lived for another is void of struggles or sacrifice, and the Church desires a couple to always understand their relationship within the life of Christ, who offers strength, healing and reconciliation through His Church. The diocese and many parishes offer opportunities for marriage enrichment like Marriage Encounter and Growing in Love and the lay apostolate School of Love, offers the monthly Date Night program. The parish is a place where the newly married can encounter other newly married couples and other couples who can share their wisdom and friendship in Christ. In Christ, husbands and wives can grow daily to truly love one another with a love that is free, faithful, fruitful and full.
Ed. note: As we pray for the upcoming Synod on the Family, the Catholic Key will present a series of articles examining the reality of authentic pastoral practice in relation to the major themes of the preparatory document (Lineamenta) for the Synod. The next article will explore pastoral care for couples civilly married or living together.
Fr. Justin Hoye is Pastor of St. Patrick Parish in North Kansas City.