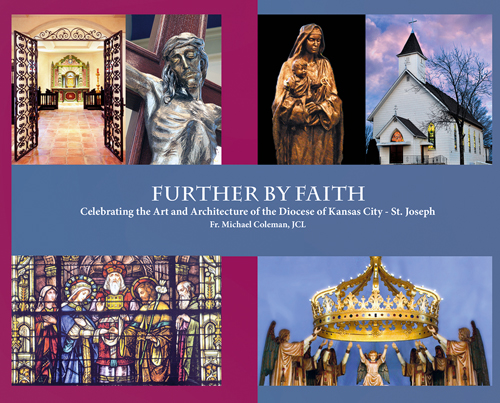 By Kevin Kelly
Catholic Key Associate Editor
KANSAS CITY — Here is just one of the great treasures to be found in "Further By Faith," diocesan archivist Father Michael Coleman's latest magnum opus to the art and architecture found throughout the Diocese of Kansas City-St. Joseph.
There is a 4-foot by 6-foot painting on wood of St. Catherine Laboure having her vision of Mary under the title "Immaculate Conception," complete with the words of the Miraculous Medal. It hangs in the parish hall of Seven Dolors Parish in Hirlingen.
No one knows how old the painting is, who the artist was, or how it came to Seven Dolors.
Susan Long, who assisted Father Coleman with the photography and design of "Further By Faith," certainly tried to find out.
"No one at the parish remembers getting it, and I've spoken with Reardons, and Brays and McManuses and other long-time parishioners," Long said. "I also checked in with Father (Donald) Sturm (a former pastor) but he didn't know how the parish acquired it."
The painting, both Father Coleman and Long suspect, could be quite valuable. There are clues to its age, but they are only clues.
Long pointed to a flower in a vase in the lower right corner that is done in a Victorian style. That could date the painting to the late 19th or early 20th century, and would explain how its origin was lost in parish lore.
Then again, St. Catherine is shown in prayer with a halo. She was beatified in 1933 and canonized in 1947, which would make the painting much younger, though popular devotion to her and the Miraculous Medal swelled even before her death in 1876.
"By whose hand was the painting done?" Father Coleman asks in "Further By Faith." "Perhaps a young woman from the Society of the Sacred Heart of Jesus school in St. Joseph painted the image. Perhaps a local nun. How it has come to Seven Dolors remains a mystery."
The book, soon to be sold through parishes throughout the diocese, is filled with such surprises and mysteries.
It is also a testimony to the faith of the people who built, in many, many places, magnificent monuments of worship — many very old, some very young, every one of them meticulously cared for.
"The basic purpose of church art and architecture is to praise God," Father Coleman said.
"Art is the best expression of the human heart," he said. "You can pray and say 'Thank you.' But that passes away. Art remains."
Through the art that will remain for generations is told a story of faith, Long said.
"When you look at these beautiful buildings and art, you have to pay attention to the community," she said. "If you do not have a strong community that cares for people, you don't have anything."
Strong communities?
On page 221, about three-fourths into the book, there is a full-page devoted to a grainy black and white 1912 photo of a group of overall-clad men of Immaculate Conception Parish in Montrose, posing as they neared the finish of their "new" brick parish church, their labor donated on their own time, in addition to whatever job they did to support their families.
"It is not known how much money they saved the parish because the $26,000 total cost did not include their labor," Father Coleman wrote. "Even the school children helped stack bricks."
Think those days of total sacrifice are long gone? Then check out Old St. Patrick's in downtown Kansas City.
The Latin Mass community there, a century later, demolished, refurbished, painted, refinished, poured concrete and did everything they could do themselves to bring one of the diocese's oldest treasures back to life after Bishop Robert W. Finn entrusted it to them.
And the same thing happened again with the restoration of tiny St. Aloysius in Maysville, and its mother parish, St. Munchin in Cameron, and in many other places where parishioners sacrificed not only their treasure, but time, talent and sweat.
And also check out the building boom of the 1990s, one of the diocese's great eras in renovation, restoration and construction for generations to come, and at great sacrifice.
It is no coincidence that Father Coleman dedicated "Further By Faith" to Bishop Raymond J. Boland, who presided over 38 major parish construction projects, including the renovation of the Cathedral of the Immaculate Conception in downtown Kansas City.
Father Coleman noted that Bishop Boland studied to be an architect before responding to his call to the priesthood, and often joked that he spent a great deal of his time as bishop here reading blueprints. "God wastes nothing," he was fond of saying.
"He was very attracted to architecture," Father Coleman said. "He had also done tons of the dedications (of new and restored) churches, so he was the ideal person to bring into this book."
During the prosperity of the 1990s and the episcopacy of Bishop Boland, a pent-up demand was unleashed to replace the more utilitarian places of worship, including many built as additions to schools during the post-World War II baby boom shift to the suburbs, with proper places of worship.
This trend began with St. Patrick Parish in Clay County, and continued through St. Regis in Kansas City, St. John LaLande in Blue Springs, Holy Rosary in Clinton, and Our Lady of the Presentation in Lee's Summit among other places.
Other parishes simply outgrew the church they were in, originally built by the small number of Catholics who did what they could at the time, and, in a way, inspired the greater numbers to come to do more.
That would be the story of St. Therese in Parkville, Holy Spirit in Lee's Summit, Good Shepherd in Smithville, St. George in Odessa, Visitation in Kansas City and many others.
Then you get to the loving care to preserve and restore the great architectural treasures of the past. Those stories are told at Our Lady of Sorrows near Crown Center, Our Lady of Perpetual Help (Redemptorist) in Kansas City, and St. Francis Xavier in St. Joseph.
Father Coleman said one of the most remarkable things about churches, old or new, in the Diocese of Kansas City is that no two of them are exactly alike.
Want to see a church like no other? Check out St. Francis Xavier in Kansas City, the famed "Fish Church."
Or go to Mass at the new St. Monica, not far from Kansas City's 18th and Vine District, a circular church built to resemble a tent in the desert to welcome anybody who would come.
Or see the monastic style of St. Regis, where you can actually see the faces of people with whom you are worshipping.
Long, in a heartbeat, told of her favorite church, although Father Coleman took a diplomatic pass.
"St. Columban in Chillicothe. Absolutely," she said. "The old German statuary. The windows. The beautiful, beautiful wood. The Stations of the Cross with carved Gothic frames."
Father Coleman and Long do have one regret. Although every parish of the past is listed, the churches themselves are lost to history with no photographic record.
"Ss. Peter and Paul (near downtown Kansas City) was quite a work of art. So was the Polish church in St. Joseph," he said.
The book begins with a look at the Catholic Center, located in the historic New York Life building in downtown Kansas City and jumps right into a look at the three great churches of the diocese — the Cathedral of the Immaculate Conception, the Co-Cathedral of St. Joseph, and the Basilica Minor of Immaculate Conception at Conception Abbey, all recently renovated.
Then "Further by Faith," takes the reader on a full tour of every existing church in the diocese, mixing archival photos with new photos, a tour that most Catholics could never take.
And all at a bargain — $35.
Father Coleman and Long first raised money to underwrite the cost of the book and to make the book affordable.
Father Coleman said he would first market the book through parishes, if pastors are willing, as a fundraiser both for the parishes and for future projects of the diocesan archives.
And among the first to write a check to underwrite the book was Bishop Emeritus Raymond J. Boland.