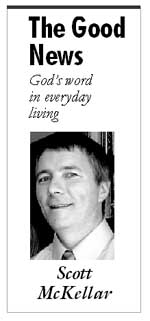 I don't know if you have ever had an experience like this, but reading this Sunday's Gospel reminded me of a strange incident that occurred to me a few years back. I was driving one of my children to a friend's house in a residential neighborhood, when suddenly a woman ran up to my car from her house. We rolled down the window and she loudly announced. "My husband is a police officer and you are driving too fast! You need to slow down!"
Now if I was driving carelessly or speeding then the woman's urgent warning would be timely, though still a bit strange. In fact, I wasn't speeding and I was driving carefully. Perhaps she wasn't saying I was breaking the law, but just that I was diving faster than she wanted me to drive on her street.
The difference between meeting a uniformed police officer with a real radar gun and this woman has to do with authority. Her husband's commission as a police officer to enforce the law has legitimate authority, but this authority does not extend to his wife, and the authority of traffic law does not extend to the whims of this woman regarding personal speed limits for her street.
We can see a progression of real authority and action in Mark's description of the apostles. First the apostles are called in Mark 1:16-20 and told they would be fishers of men. Then in Mark 3:13-19 the Twelve Apostles are set apart and commissioned with authority to preach and the power to cast out demons. In this Sunday's Gospel reading (Mark 6:7-13) the apostles are sent out in groups of two to carry out this ministry.
In a special way the Twelve Apostles were called, commissioned and sent to carry out Jesus' own ministry. At the time of Jesus, every disciple was expected to imitate the life or walk of the rabbi. The walk of the rabbi was a moral concept, which demonstrated the application of the Law to life. The pupil had to absorb not only the teaching of the rabbi, but the very life of the master by serving him, following him, and imitating every detail of his life. It would be expected that the disciples of Jesus would both say and do the very things that he did. Jesus was sending his disciples into the world to literally be Jesus in the world.
Clearly Jesus gave special apostolic authority to the Twelve which they passed on to later church leaders (2 Timothy 2:2). The Church has her origin in Christ's own authority which continued in the apostles. The Church continues "to be taught, sanctified, and guided by the apostles until Christ's return, through their successors in pastoral office: the college of bishops" (CCC 857). The Church was founded with hierarchical authority (CCC 771-779, 1547).
Yet in another sense this authority extends to all the faithful. "The ministerial or hierarchical priesthood of bishops and priests, and the common priesthood of all the faithful participate, each in its own proper way, in the one priesthood of Christ" (CCC 1547). The common priesthood of all believers flows from their baptismal grace while the ministerial priesthood is at the service of the common priesthood helping to unfold the baptismal grace of all Christians. "To equip the holy ones for the work of ministry, for building up the body of Christ" (Ephesians 5:12).
Based on our baptismal vocation there is a universal call to holiness. Each and every Christian is called, commissioned and sent with a mission into the world. There are different vocations and types of authority, and different ministries whether common or ministerial, but one vocation to holiness.
The lay faithful cannot let themselves off the hook by attributing this mission to the priest and religious. It is the role of bishops, priests and deacons to train the lay faithful for their own unique outreach in the midst of the world. In the second reading for this Sunday St Paul describes our calling. God "chose us in him, before the foundation of the world, to be holy and without blemish before him" (Ephesians 1:4). We have been commissioned with God's authority and "sealed with the promised holy Spirit, which is the first installment of our inheritance" (Ephesians 1:14).
Just as the Apostles were sent into the world to continue the ministry of Jesus we have also been sent in our own unique manner. St Paul writes to all the disciples in the church at Corinth, "Be imitators of me, as I am of Christ" (1 Corinthians 11:1).
Each one of us is called to be holy, commissioned by the Spirit and sent into the world to bear witness to Christ.
A friend of mine shared a story with me about a woman he knew in Milan, Italy. She is a designer in the very secular fashion industry in that city. The woman also happened to be a very faithful Catholic. At the beginning of one fashion season the woman visited a fellow designer who showed her his latest work. Right away she noticed that the fabric he had chosen for all his designs was completely transparent. Thinking of a way to intervene, the woman place her hand under the fabric and lifted it up showing her hand underneath. She asked him, "Would you dress your wife in this?" He thought for a moment and said, "No." She said goodbye and left him. After she left he thought about their brief encounter and got on the phone and reordered all his fabric so that it was no longer transparent. By imitating Christ and by being in the midst of the world this woman was able to evangelize her friend and even in a sense to evangelize secular culture.
Each of us has also been called, commissioned, and sent to be Christ in the world. What small thing can we do this coming week to be a faithful witness to Christ in the midst of our profession and daily life?
Scott McKellar is associate director of the Bishop Helmsing Institute.
Daily Scripture Readings
For complete daily Scripture texts, click here. www.usccb.org
Monday, July 13
Exodus 1:8-14, 22
Psalms 124:1b-3, 4-6, 7-8
Matthew 10:34—11:1
Tuesday, July 14
Exodus 2:1-15a
Psalms 69:3, 14, 30-31, 33-34
Matthew 11:20-24
Wednesday, July 15
Exodus 3:1-6, 9-12
Psalms 103:1b-2, 3-4, 6-7
Matthew 11:25-27
Thursday, July 16
Exodus 3:13-20
Psalms 105:1 and 5, 8-9, 24-25, 26-27
Matthew 11:28-30
Friday, July 17
Exodus 11:10—12:14
Psalms 116:12-13, 15 and 16bc, 17-18
Matthew 12:1-8
Saturday, July 18
Exodus 12:37-42
Psalms 136:1 and 23-24, 10-12, 13-15
Matthew 12:14-21
Sixteenth Sunday in Ordinary Time, Sunday, July 19
Jeremiah 23:1-6
Psalms 23:1-3, 3-4, 5, 6
Ephesians 2:13-18
Mark 6:30-34
Monday, July 20
Exodus 14:5-18
Exodus 15:1bc-2, 3-4, 5-6
Matthew 12:38-42
Tuesday, July 21
Exodus 14:21—15:1
Exodus 15:8-9, 10 and 12, 17
Matthew 12:46-50
Wednesday, July 22
Exodus 16:1-5, 9-15
Psalms 78:18-19, 23-24, 25-26, 27-28
John 20:1-2, 11-18
Thursday, July 23
Exodus 19:1-2, 9-11, 16-20b
Daniel 3:52, 53, 54, 55, 56
Matthew 13:10-17
Friday, July 24
Exodus 20:1-17
Psalms 19:8, 9, 10, 11
Matthew 13:18-23
Saturday, July 25
2 Corinthians 4:7-15
Psalms 126:1bc-2ab, 2cd-3, 4-5, 6
Matthew 20:20-28
Seventeenth Sunday in Ordinary Time, Sunday, July 26
2 Kings 4:42-44
Psalms 145:10-11, 15-16, 17-18
Ephesians 4:1-6
John 6:1-15
The full text of the Scripture readings for this week and next week can be found here:www.usccb.org/
Click on the "Daily Readings" tab on the right hand side of the page.