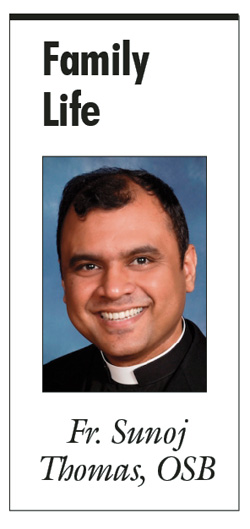 I was born and brought up in Kerala, India, and raised in the Syro-Malabar rite. The culture in the United States is very different from ours. Growing up everyone attended Mass on Sunday and we went to church to learn our faith in catechism classes. To enter religious life or get married everyone must graduate from a 12th grade catechism class and engaged couples attend marriage preparation courses lasting an entire week. Unlike here where the majority of couples are living together before marriage, cohabitation is unheard of among the faithful in Kerala. Having been in the Western world and especially in U.S. for the last ten years, I've known many wonderful people who approached the Church to get married and I honor their resolve, especially when they don't have everything in order as they approach the Church.
In the preparation document for the Synod on the Family (Lineamenta #40) the Church asks us to consider "…elements in the lives of these couples (cohabiting outside of marriage) that can foster greater openness to the gospel of marriage" and urges us to have, "…sensitivity to the positive aspects" of these couples' relationship. This means there is also a need to approach each couple on a case by case basis so that we can meet them where they are and take them further in their relationship with Jesus. This is why good pastoral care is the key to serving these couples well.
It will help us here to reflect on the meaning of the phrase "pastoral care." The Greek word poimen in metaphorical terms refers to spiritual leaders as "shepherds". Christ is depicted as the "good shepherd" (Jn. 10:11; Heb. 13:20; I Pet. 2:25) to his people. Pastoral care offered by a true shepherd then is a relationship of faith. There is a rich meaning to the biblical words used to describe faith. The Hebrew and Greek words for faith might be better translated as "personal loyalty" or "personal commitment." With these insights we can define pastoral care as a work to help develop in the faithful a greater personal commitment to Jesus Christ and the new life that He calls each of us to live.
Throughout the history of the Church misuse of power and money, child abuse and many other scandals have scattered the sheep; often paving the way to extreme ignorance of faith. Lack of commitment to the faith increases the incidences of divorce, abuse, abortion, cohabitation, marriage outside the church, and many other failings in relation to family life.
When this happens people depend on themselves to interpret marriage and family life, instead of being guided by Catholic teaching. Many have lost faith fully or partially in certain areas of Catholic teaching. We all know, once trust is broken it is not easy to rebuild, but it can be done. Now, "pastoral care" for me is to rebuild the trust missing in so many people's relationship with God and His Church and marriage preparation is a great opportunity for this.
Good things are happening in our time. In the last three decades our popes have helped us understand the "Good Shepherd" and his relationship with the "sheep" through their teachings and life example. Marriage preparation in our diocese reflects Catholic doctrine and helps couples to consider the important role that faith plays in a happy and holy marriage. In my own experience each year I continue to get better at walking with the engaged, regardless of their situation.
There is a beautiful example in the Gospel of Luke (24:15-35). The story of two disciples going to Emmaus, they were "looking sad" (v. 18) because they thought Jesus died and was gone. Now, "Jesus himself drew near and went with them." Jesus drew near while they were absorbed in their talk and sadness not knowing He was already walking with them. This "walking with God" is a beautiful theme from the Old Testament exemplified in Isaiah 52.12 where He is said "to walk ahead" of his people to lead them back to Caanan after exile.
We can expect people "to walk with God". But the scripture also helps us understand it's more important for the "shepherd to walk with his people" like Jesus walking with His disciples on the road to Emmaus. Like the two disciples, there are many who are being carried away with the misunderstanding of false teachings, poverty, fear, abuses, and ignorance; the role of the shepherd is to walk with them patiently and guide them to reconciliation with God and the Church by experiencing His mercy in the Sacraments of Confession and the Eucharist. This is what Pope Francis encourages us to do when he speaks of the Church as a "field hospital."
The responsibility of the Shepherd is to "walk with" the sheep and empower them with true knowledge as faith improves. In this fast moving "postmodern" culture, keeping up with the "sheep" isn't easy for a shepherd. In this context, I think the synod on family is an opportunity for all of us to listen to each other and learn more about the difficult situations so many of us face. All the while knowing that the essential characteristics of Christian marriage: unity, fidelity, indissolubility, fruitfulness never change because they define true Christian marriage.
Ed. note: As we pray for the upcoming Synod on the Family, the Catholic Key will present a series of articles examining the reality of authentic pastoral practice in relation to the major themes of the preparatory document (Lineamenta) for the Synod. The next article will explore caring for wounded families (separated, divorced and not remarried, divorced and remarried, single-parent families).
Fr. Sunoj Thomas, O.S.B. is Parochial Vicar at St. Thomas More Parish.