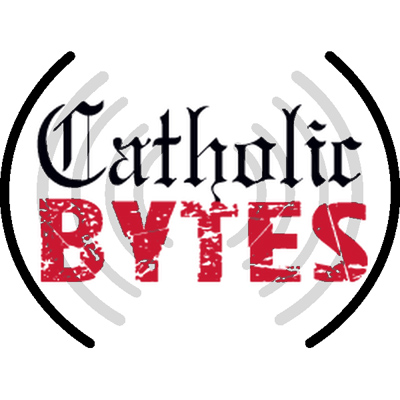 By John Heuertz
Special to the Catholic Key
Starting at the first Pentecost, all kinds of Catholic priests and bishops have found all kinds of effective ways to use mass communications to share the Good News with the world.
In our time, American and Canadian Catholic priests have succeeded brilliantly at this for over 100 years (though miracles haven't usually been involved). They include Fr. John Noll (newspapers, 1912), Ven. Fulton Sheen (TV, 1951), and a host of people working with audio and video cassettes, CDs, DVDs, and the Internet.
This is where the newest and almost newest of all possible KC–SJ diocesan priests enter the picture – to carry forward a tradition stretching back far beyond Fr. Noll.
Last year Fr. Andrew Mattingly was a seminarian at the North American College in Rome. One day last October he decided to pitch an evangelization idea he liked to two of his classmates over lunch.
"But when they explained to me the whole plan for the podcast they had been planning, I decided to scrap my own project and get in on theirs," he said.
Thus was born "Catholic Bytes," a podcast series that made its debut last June 29th. It will run every Monday and Wednesday until the fall of 2018, and it's for anyone with web access and ten minutes to spare who's interested in learning more about the Catholic Faith.
A podcast is like a little radio program distributed only on the Internet. There's nothing to see, only voice and maybe music to hear.
A podcast is also not a web site, though Catholic Bytes podcasts are accessed at the web address below.
Anyone with an Internet connection can download a Catholic Bytes podcast to a PC, a laptop, a smart phone, an iPad or an mp3 player. All these devices will access all 450 planned Catholic Bytes podcasts as they become available.
About 60 programs have been recorded since last February. Hosts have included Fr. Mattingly and his cohorts Fr. George Elliot and Deacon Greg Gerhart, both Texans, and seminarian Joseph Heschmeyer from the KCK Archdiocese.
Hosts work from outlined notes. The programs are unscripted so each podcast can have a more informal, approachable feel, Fr. Mattingly said.
Topics include Catholic dogma, liturgy, history, apologetics, spirituality and Scripture study. Personal testimonies will be heard from time to time, and every First Friday there will be a special segment on the lives of the saints. Fr. Mattingly explains further:
"The ultimate goal, of course, is to help people to come to love Christ more. Unfortunately, many people don't really associate the idea of 'knowledge' with 'love,' even though they are actually fairly interconnected.
"What I mean is that, when you truly love someone, you want to learn more about them, and learning more about them should make you want to love them more. The same is true in our relationship with Christ. If we claim to actually love Christ, then we will naturally seek to learn more about Him.
"That's the goal of the podcast. To help people learn more about Christ, and in so doing, to love Him more."
Fr. Alex Kreidler has been a Catholic priest nearly ten minutes longer than Fr. Mattingly – both were ordained in St. Joseph last June 27 – and he will host Catholic Bytes podcasts from the North American College starting this fall.
"Podcasting enables people in modern society to access the Faith in a convenient way and perhaps even in a little more private way than a one–on–one conversation," he said.
"It's a quick way to learn about the Faith, especially for people who don't know where to go to do that. The more I learn about podcasting, the more interested I am in it."
All Catholic Bytes podcasts will be accessible at the website, www.catholicbytespodcast.com. Or listeners can subscribe to the podcast for free on iTunes, or get more information at Facebook or Twitter, or link to goodies like Patristic classics at the podcasts themselves.
Audio gear was donated, but other than that the three founders are paying for everything out of their own pockets and plan to launch a new Catholic Bytes project this fall.
"Frankly speaking, we had neither the time, money, or resources to invest in a video project, which would've required a great deal more of all three of those things than a podcast," Fr. Mattingly said.