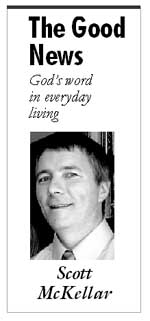 "No, I don't think I will kiss you, although you need kissing, badly. That's what's wrong with you. You should be kissed and often, and by someone who knows how." These are the famous words quipped to Scarlet, by the character Rhett Butler in the 1939 film adaptation of Gone with the Wind.
Perhaps beginning with Adam and Eve, the Bible uses the human love of a married couple as the model for revealing the love between God and his people. The Church is viewed as the bride of Christ (Ephesians 5). The connection between God and his people is called communion, yet there can be no communion without a secure sense of personal intimacy.
Although the character Rhett Butler has a good dose of rascal in him, he demonstrates some deep insights into the human nature. In her recent book, Hold Me Tight, Dr. Susan Johnson has argued that romantic love is "about our wired-in need to have someone to depend on, a loved one who can offer reliable emotional connection and comfort." Johnson notes that each of us live in constant drama of connection and disconnection. She notes that, "a sense of secure connection between romantic partners is key in positive loving relationships."
Researchers have demonstrated that the quality of our emotional relationships profoundly effects both our physical and emotional health. One study demonstrated that in some patients, loneliness is a more dangerous health risk than smoking or high blood pressure. Being connected to others requires a secure sense of intimacy.
St. Pope John Paul II wrote about this more than thirty years ago when he noted "the problem of children baptized in infancy [who] come for catechesis in the parish without receiving any other initiation into the faith and still without any explicit personal attachment to Jesus Christ" (CT 19). There can be no communion without a personal intimacy. This problem is not limited to children. Each one of us also needs to experience "explicit personal attachment to Jesus Christ."
This Sunday's gospel reveals a similar problem. After miraculously feeding the crowds Jesus tells them that he is "the bread that came down from heaven" (John 6:41). With God's help, Moses feeds the Israelites in the desert with manna. Jesus declares that he is the bread of heaven.
The crowds murmur and are offended by Jesus calling himself the bread of heaven just as Israel did with Moses in the desert. Although they have experienced an initial encounter with Jesus, they lack personal relationship. They ask, isn't Jesus merely the son of Joseph? How can he claim to be the bread of heaven?
Jesus' words point to what we today call the Eucharist. Jesus' one sacrifice at Calvary is made present in the Eucharist every time a priest celebrates Mass. The bread which is offered in the Mass becomes the very Body, Blood, Soul and Divinity of Christ. Jesus says, "I am the living bread that came down from heaven; whoever eats this bread will live forever; and the bread that I will give is my flesh for the life of the world" (John 6:51).
In human relationships it might be easy to see that there can be no communion without a personal intimacy. How does this same principle work with Christ? Unfortunately we began as enemies of Christ, who were separated from him by our sin. We were made right or justified through the merits of "the Passion of Christ who offered himself on the cross as a living victim, holy and pleasing to God, and whose blood has become the instrument of atonement for the sins of all men." (CCC 1992).
Just as human relationship involves physical encounter and touch, God has desired that the graces of his atoning love should be experienced through material things like water, touch and bread and wine. By God's design we receive this grace through Baptism, Confirmation and the Holy Eucharist. By faith these material things become signs which are transformed into sacraments which convey God's grace. Jesus declares, "I am the living bread that came down from heaven; whoever eats this bread will live forever" (John 6:51). Yet there can be no communion without personal intimacy.
The Collect Prayer for this Mass highlights another truth in its petition, "Almighty ever-living God, whom, taught by the Holy Spirit, we dare to call our Father, bring, we pray, to perfection in our hearts the spirit of adoption as your sons and daughters, that we may merit to enter into the inheritance which you have promised."
Communion, personal intimacy and explicit attachment to Christ are brought about by the Holy Spirit and this results in our awareness of our inheritance as adopted sons and daughters of the Father. Living this truth requires a decision on our part. St. Pope John Paul II notes that "being a Christian means saying 'yes' to Jesus Christ, but let us remember that this 'yes' has two levels: It consists in surrendering to the word of God and relying on it, but it also means, at a later stage, endeavoring to know better – and better the profound meaning of this word" (CT 20).
Have you made this initial surrender to Jesus Christ? This is the first step in actualizing the graces of Baptism and in developing an explicit attachment to Christ. The Catechism reminds us the essential elements of normal adult Christian initiation are; "proclamation of the Word, acceptance of the Gospel entailing conversion, profession of faith, Baptism itself, and the outpouring of the Holy Spirit, and admission to Eucharistic communion" (CCC 1229). For those who begin with Baptism as infants, it is still necessary to undergo a personal surrender to Christ. We all need to experience a conversion and acceptance of the Gospel. After this we need to grow in our faith though personal prayer, reading of the Bible and living in community with other Catholics.
Our relationship with God is in one sense like any other relationship. If we value it, we will be willing to make a serious commitment to be faithful to it and to try to deepen it. There can be no communion without personal intimacy. The potential for a marriage isn't the same as marriage itself. Imagine what would happen if each of us got down on our knees and committed ourselves to Christ, or renewed that commitment if we have been unfaithful. Imagine the peace we would experience in our lives and the joy we would experience in this new found relationship.
Scott McKellar is associate director of the Bishop Helmsing Institute.
Daily Scripture Readings
For complete daily Scripture texts, click here. www.usccb.org
Monday, August 10
2 Corinthians 9:6-10
Psalms 112:1-2, 5-6, 7-8, 9
John 12:24-26
Tuesday, August 11
Deuteronomy 31:1-8
Deuteronomy 32:3-4ab, 7, 8, 9 & 12
Matthew 18:1-5, 10, 12-14
Wednesday, August 12
Deuteronomy 34:1-12
Psalms 66:1-3a, 5 and 8, 16-17
Matthew 18:15-20
Thursday, August 13
Joshua 3:7-10a, 11, 13-17
Psalms 114:1-2, 3-4, 5-6
Matthew 18:21–19:1
Friday, August 14
Joshua 24:1-13
Psalms 136:1-3, 16-18, 21-22 and 24
Matthew 19:3-12
Solemnity of the Assumption of the Blessed Virgin Mary
Saturday, August 15
Revelation 11:19a; 12:1-6a, 10ab
Psalms 45:10, 11, 12, 16
1 Corinthians 15:20-27
Luke 1:39-56
Twentieth Sunday in
Ordinary Time, August 16
Proverbs 9:1-6
Psalms 34:2-3, 4-5, 6-7
Ephesians 5:15-20
John 6:51-58
Monday, August 17
Judges 2:11-19
Psalms 106:34-35, 36-37, 39-40, 43ab & 44
Matthew 19:16-22
Tuesday, August 18
Judges 6:11-24a
Psalms 85:9, 11-12, 13-14
Matthew 19:23-30
Wednesday, August 19
Judges 9:6-15
Psalms 21:2-3, 4-5, 6-7
Matthew 20:1-16
Thursday, August 20
Judges 11:29-39a
Psalms 40:5, 7-8a, 8B-9, 10
Matthew 22:1-14
Friday, August 21
Ruth 1:1, 3-6, 14b-16, 22
Psalms 146:5-6ab, 6c-7, 8-9a, 9bc-10
Matthew 22:34-40
Saturday, August 22
Ruth 2:1-3, 8-11; 4:13-17
Psalms 128:1b-2, 3, 4, 5
Matthew 23:1-12
Twenty-first Sunday in
Ordinary Time, August 23
Joshua 24:1-2a, 15-17, 18b
Psalms 34:2-3, 16-17, 18-19, 20-21
Ephesians 5:21-32
or Ephesians 5:2a, 25-32
John 6:60-69
The full text of the Scripture readings for this week and next week can be found here: www.usccb.org/
Click on the "Daily Readings" tab on the right hand side of the page.