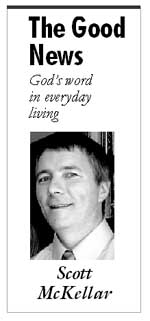 In the world of urban slang, it has become increasingly popular to hear someone refer to a Come-to-Jesus-Meeting. Business leaders and coaches, even President Obama and the Prime Minister of Australia, Tony Abbott have used the term in public speeches. The origin of the term seems to be a reference to the practice of early American revivalists such as Billy Sunday and D. L. Moody. One revivalist in this tradition even titled a famous sermon, "How to Come to Jesus."
My own grandfather was a Baptist minister who graduated from Chicago's Moody Bible Institute in 1929 and began a life-long career as a preacher at the height of the prohibition. Typically these evangelists challenged the men and women in their meetings to walk forward as a sign that they wished to make a commitment to "come to Christ" and to "to be saved." As a result in modern urban use, "come-to-Jesus" means being called to a meeting where the cold hard facts are revealed and there is a call for change.
In this Sunday's gospel we see what might be the first come-to-Jesus-meeting. The truth is, each of us need to come to Jesus. In a long section often called the Bread of Life Discourse, Jesus compares himself to a new kind of manna which has come down from heaven. Jesus declares, "I am the bread of life; whoever comes to me will never hunger, and whoever believes in me will never thirst" (John 6:35). This makes the people "murmur" and so Jesus repeats, "I am the living bread that came down from heaven; whoever eats this bread will live forever; and the bread that I will give is my flesh for the life of the world." (John 6:51).
Hearing this the people actually begin to quarrel among themselves. Jesus repeats a third time, "Amen, amen, I say to you, unless you eat the flesh of the Son of Man and drink his blood, you do not have life within you. Whoever eats my flesh and drinks my blood has eternal life, and I will raise him on the last day. For my flesh is true food, and my blood is true drink. Whoever eats my flesh and drinks my blood remains in me and I in him" (John 6:53-56).
In the Gospel reading for this Sunday, Jesus shifts the discussion from the crowds to his own disciples. John reports that even many of Jesus' disciples where murmuring and saying, "This saying is hard; who can accept it?" (John 6:60). The Greek word for 'hard' implies not that Jesus words were hard to understand, but that they were hard to accept.
Jesus' talk of eating the flesh and drinking the blood of the Son of Man is clearly a reference to the Eucharist. The Exodus account of 'manna' or 'bread from heaven' has no mention of 'blood.' Even modern commentators who wish to deny a reference to the Eucharist in Jesus' words, readily admit that the early readers of John's Gospel would have read these verses sacramentally. Perhaps we could say that just as the crowds murmured in Jesus' day, some who read these words today also murmur and express doubts. Do we also need to come to Jesus?
What is the hard truth that Jesus is revealing? He claims that in the Eucharist the bread is his flesh, and the wine is his blood. Could Jesus be speaking figuratively? After all Jesus later claims, "It is the spirit that gives life, while the flesh is of no avail. The words I have spoken to you are spirit and life" (6:63). Does this verse revoke Jesus' earlier strong affirmations?
It is interesting to note that the words "spirit" and "life" were used earlier in John's Gospel in Jesus' dialogue with Nicodemus. Jesus replies, "Amen, amen, I say to you, no one can enter the kingdom of God without being born of water and Spirit. What is born of flesh is flesh and what is born of spirit is spirit." (John 3:5-6). Ancient commentators consistently saw the expression "water and Spirit" as a reference to Baptism.
When the Apostle Peter recounts the rites of initiation in Acts 2:38 he specifically links Baptism to the 'forgiveness of sins,' "Repent and be baptized, every one of you, in the name of Jesus Christ for the forgiveness of sins . . ." These exact same words in Greek are professed in the Nicene Creed, "I confess one baptism for the forgiveness of sins." While Baptism involves real water and the symbolism of being washed, it is not merely a symbol since it also contains an inward grace which brings about the forgiveness of sins and communion with Jesus (Galatians 3:27).
The words of Jesus, ". . . the flesh is of no avail. The words I have spoken to you are spirit and life" (6:63) are not a retraction of the literal sense of his early words. The outward sign of real bread and real wine as a sacrament contain within them the inward grace of the Spirit. Jesus said, "Whoever eats my flesh and drinks my blood has eternal life" (6:54) and "Whoever eats my flesh and drinks my blood remains in me and I in him (6:55). Receiving the Eucharist brings us into communion with Christ. St. Paul repeats the same truth, "The cup of blessing that we bless, is it not a participation in the blood of Christ? The bread that we break, is it not a participation in the body of Christ?" (1 Corinthians 10:16). The Eucharist is not merely a symbol since, like Baptism, it contains the grace to bring us into communion with Christ.
The early Christians were insistent that, under the veil of the Sacrament, the bread and wine of the Eucharist were truly Jesus. The second century apologist Athenagoras, and his contemporary, Theophilus, bishop of Antioch both faced false charges of cannibalism over their belief about the Eucharist. We believe that Jesus is really present, but under the external form of bread and wine.
The original come-to-Jesus was about the belief that Jesus is truly present in the bread and wine of the Eucharist. Sadly John reports that on account of this teaching, "many [of] his disciples returned to their former way of life and no longer accompanied him" (John 6:66). In revealing this 'hard' saying, Jesus every opportunity to say to those who were murmuring, "Wait don't leave, I only mean this figuratively." Instead he let them walk away (John 6:66).
Each of us needs to face Jesus' question, "Do you also want to leave?" (John 6:67). Can we affirm our belief in the real presence of Christ in the Eucharist? Can we answer with Peter, "Master, to whom shall we go? You have the words of eternal life" (John 6:68). Open your heart to believe. Come to Jesus in the Holy Eucharist, and allow him to fill you with his presence.
Scott McKellar is associate director of the Bishop Helmsing Institute.
Daily Scripture Readings
For complete daily Scripture texts, click here. www.usccb.org
Monday, August 24
Revelation 21:9b-14
Psalms 145:10-11, 12-13, 17-18
John 1:45-51
Tuesday, August 25
1 Thessalonians 2:1-8
Psalms 139:1-3, 4-6
Matthew 23:23-26
Wednesday, August 26
1 Thessalonians 2:9-13
Psalms 139:7-8, 9-10, 11-12ab
Matthew 23:27-32
Thursday, August 27
1 Thessalonians 3:7-13
Psalms 90:3-5a, 12-13, 14 and 17
Matthew 24:42-51
Friday, August 28
1 Thessalonians 4:1-8
Psalms 97:1 and 2b, 5-6, 10, 11-12
Matthew 25:1-13
Saturday, August 29
1 Thessalonians 4:9-11
Psalms 98:1, 7-8, 9
Mark 6:17-29
Twenty-second Sunday in Ordinary Time, August 30
Deuteronomy 4:1-2, 6-8
Psalms 15:2-3, 3-4, 4-5
James 1:17-18, 21b-22, 27
Mark 7:1-8, 14-15, 21-23
Monday, August 31
1 Thessalonians 4:13-18
Psalms 96:1, 3, 4-5, 11-12, 13
Luke 4:16-30
Tuesday, September 1
1 Thessalonians 5:1-6, 9-11
Psalms 27:1, 4, 13-14
Luke 4:31-37
Wednesday, September 2
Colossians 1:1-8
Psalms 52:10, 11
Luke 4:38-44
Thursday, September 3
Colossians 1:9-14
Psalms 98:2-3ab, 3cd-4, 5-6
Luke 5:1-11
Friday, September 4
Colossians 1:15-20
Psalms 100:1b-2, 3, 4, 5
Luke 5:33-39
Saturday, September 5
Colossians 1:21-23
Psalms 54:3-4, 6 and 8
Luke 6:1-5
Twenty-third Sunday in
Ordinary Time, September 6
Isaiah 35:4-7a
Psalms 146:7, 8-9, 9-10
James 2:1-5
Mark 7:31-37
The full text of the Scripture readings for this week and next week can be found here: www.usccb.org/
Click on the "Daily Readings" tab on the right hand side of the page.