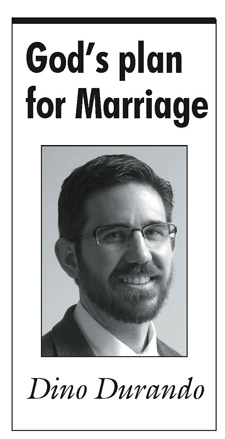 In this the ninth article in this series we arrive at the Synod preparations discussion of the proper care and support for spouses in their effort to become and remain open to new life in their marriage. In the Lineamenta (preparatory document) for the Synod on the Family it says "Pastoral work in this area needs to start with listening to people and acknowledging the beauty and truth of an unconditional openness to life, which is needed, if human love is to be lived fully." (#57)
In the wedding rite spouses promise to "accept children lovingly from God, and bring them up according to the law of Christ and his Church." This promise is their response to the call from God and the Church to be open to new life in their married love. Learning this truth often comes with additional questions. Is right now a good time for us to have a child? How can we know God's will for us? What does it mean to discern and how do we do it? How can we know if our reason for not having a child right now is sufficiently serious? For spouses seeking to live God's beautiful plan for married love and sexuality these questions can be some of the most agonizing and difficult questions they will face in the fertile years of marriage. The good news is that spouses are actually given a great deal of latitude when it comes to acting responsibly in their decision making about having children.
The Lineamenta tells us that the "unconditional openness to life" on the part of spouses "serves as the basis for an appropriate teaching regarding the natural methods for responsible procreation, which allow a couple to live, in a harmonious and conscious manner, the loving communication between husband and wife in all its aspects along with their responsibility at procreating life. In this regard, we should return to the message of the Encyclical Humanae Vitae of Blessed Pope Paul VI, which highlights the need to respect the dignity of the person in morally assessing methods in regulating births." (#57)
Following the guidelines for moral actions found in Humanae Vitae, spouses may discern what actions are definitely not in accord with God's will. From this certainty spouses are then able to make moral decisions and determine what is best for their family at any particular time or situation. These decisions often involve emotional difficulties and can even lead to conflict and division between spouses. When this occurs it is important for them to seek out practical guidelines and guidance. We recommend that spouses seek help from a trustworthy source to answer your questions about this issue like a priest, religious, or well-formed lay person. They may also contact the Family Life Office (816-714-2373) for help and referral a recommended Catholic counselor.
It is common in a pastoral setting to be asked: "What then is a serious reason? And how can spouses know if something is sufficiently serious?
The most official description of this criteria from the teaching authority of the Church comes from Humane Vitae # 16:
"Certainly, there may be serious reasons [iustae causae/just cause] for spacing offspring; these may be based on the physical or psychological condition of the spouses or on external factors. The Church teaches that [in such cases] it is morally permissible [for spouses] to calculate [their fertility by observing the] natural rhythms inherent in the generative faculties and to reserve marital intercourse for infertile times. Thus spouses are able to plan their families without violating the moral teachings set forth above."
Serious reasons include the health of the spouses (both physical and psychological) and external factors such as economic hardship, social upheaval (war, unstable living conditions, migration). If the well-being of the family or the possible new child is under serious threat this can also constitute a serious reason.
There are two very important things to remember when considering this question. First, the decision to postpone openness to achieving pregnancy is a decision to be made on a more or less monthly basis. The woman's natural fertility cycle allows the spouses to decide each month the proper answer to this question. Granted there may be circumstances in which the serious reason to postpone is long lasting or persistent, however discernment should still happen on a regular and perhaps even monthly basis.
Second, the decision to abstain (or not) rests in the free will of the spouses deciding together with mutual respect. This is an area where the spouses alone (taking advantage of good counsel from trusted sources) have the competency to discern God's will in their particular circumstances. It is not for outsiders to judge the decision made by the spouses (so long as they are not using contraceptive practices) whether they have one child or many more. It is wise to remember that many couples (about 10%) experience infertility and many others have one or more miscarriages during the course of their married life (meaning some families have more children then you can see in the pew on Sunday). This does not mean that objective criteria for determining the morality of this decision are to be discarded. In fact, spouses are obligated to form their conscience through education and reflection and to seek guidance from a priest or another well informed and trustworthy person who will help guide their decision making.
For more on this subject you may visit www.kcsjfamily.org/discerning-openness-children.
Dino Durando is director of the Office of Family Life for the Diocese of Kansas City – St. Joseph.