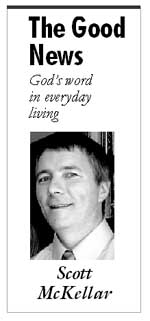 I have been married almost 30 years but I still remember the first time I went out for coffee with my future wife. We met at a young adult group at a church close to the university we were attending. We had both just finished our first degree, and we discovered that we had both been involved in the same campus evangelization ministry but on separate campuses.
We went out with a group of about twenty people, but somehow we found ourselves locked in conversation with each other. In fact our conversation was so intense that we only became aware of the others in our group when the last person said good bye and we were left alone together. The flame that was ignited, saw us engaged within six months of this meeting, and married within a year. My friends were astounded at the wildness of my infatuation for this young woman. A principle of human love is that the wildness of love is intended to lead to communion.
God has chosen to use the experience of human love to reveal the nature of his divine love in terms we can understand. Scripture contains the wild echo of the longings of human love in Song of Solomon. The bride calls out her lover, "Set me as a seal upon your heart, as a seal upon your arm; For Love is strong as Death, longing is fierce as Sheol. Its arrows are arrows of fire, flames of the divine" (Song of Solomon 8:6).
In Scripture the wildness of God's love is often connected to the work of the Holy Spirit. The Spirit moves and calls us, crying out in the deepest place of our heart. The Spirit is often able to move us to do new and unexpected things. While the voice of the Spirit may prophetically challenge our complacency, the Spirit always leads us back to deeper communion or the "arrows of fire, and flames of the divine."
In the first reading from Numbers, God agrees to provide Moses with assistants to help him lead the people by portioning out his Spirit upon seventy elders. For some reason two of the elders, Eldad and Medad, missed the meeting when the elders received the Holy Spirit. Yet the Spirit came to rest on them as well inside the camp and they also prophesied. This fact alarmed some of the other leaders, who reported this to Moses.
Moses was not upset and replied, "Are you jealous for my sake? If only all the people of the LORD were prophets! If only the LORD would bestow his spirit on them!" This is exactly what happened later at the day of Pentecost. The most significant effect of the reception of the Spirit in the New Covenant is a deep interior awareness of our adoption as sons and daughters of God (Romans 8:15; Galatians 4:6).
The wildness of the Spirit's love, which seeks us out even when we are clearly undeserving, is intended to lead us to communion. There is a tension here. The wildness of God's love and mercy often provokes jealousy from those who see this special mercy as a kind of injustice. The other leaders were offended by God's actions with Eldad and Medad. The same dynamic is seen in the parable of the Prodigal Son. The older brother cannot accept the mercy that his father shows to the prodigal son.
In the Gospel reading from Mark 9 the disciples are concerned because someone is driving out demons in Jesus name, but they are not one of Jesus' followers. Jesus tells them not to prevent them from doing so because, "There is no one who performs a mighty deed in my name who can at the same time speak ill of me. For whoever is not against us is for us." (Mark 9:40-41).
In interpreting this passage we need to avoid two extremes. The first is to deny the existence of demons, and second to exaggerate their influence. Contrary to the view presented by some modern television series on the supernatural, the Scriptures present demons are fallen angels who have the power to visit, influence and in some cases control people (CCC 414). During Jesus earthly ministry it was the Spirit of God who worked through Him to cast out demons (Matthew 12:28) and Jesus' ministry of exorcism was passed on to the apostles (Luke 10:17) and through them to the Church today.
How do we respond today when we see the work of the Spirit outside the succession of the apostolic Church? First we should remember that many times in Sacred Scripture the Spirit initiates a kind of wild mercy. At the same time we should be clear that this mercy is intended to lead us all into to the communion of the Holy Trinity.
St. Pope John Paul II notes that while separated Churches and Communities may suffer certain defects, they are by no means been deprived of the mystery of salvation. "For the Spirit of Christ has not refrained from using them as means of salvation which derive their efficacy from the very fullness of grace and truth entrusted to the Catholic Church" (Ut Unum Sint, 10).
The Catechism suggests a number of things we can do to cooperate in this work of the Spirit's love and mercy which is driving us towards communion (CCC 821). First there needs to be a permanent renewal of the Church in greater fidelity to her vocation. Secondly, all the faithful must strive for holiness and conversion of heart. The Catechism also calls for prayer in common, because quoting the fathers of Second Vatican Council, "change of heart and holiness of life, along with public and private prayer for the unity of Christians, should be regarded as the soul of the whole ecumenical movement, and merits the name 'spiritual ecumenism'" (Decree on Ecumenism 8.1). The Catechism also calls for fraternal knowledge of each other and ecumenical formation of the faithful and especially of priests.
Imagine the transformation that would occur in the Christian world if we earnestly pursued these things. Can we commit ourselves to pray with Jesus this week, "that they may all be one, as you, Father, are in me and I in you, that they also may be in us, that the world may believe that you sent me" (John 17:21)?
Scott McKellar is associate director of the Bishop Helmsing Institute.
Daily Scripture Readings
For complete daily Scripture texts, click here. www.usccb.org
Monday, September 28
Zechariah 8:1-8
Psalms 102:16-18, 19-21, 29 & 22-23
Luke 9:46-50
Tuesday, September 29
Daniel 7:9-10, 13-14
or Revelation 12:7-12ab
Psalms 138:1-2ab, 2cde-3, 4-5
John 1:47-51
Wednesday, September 30
Nehemiah 2:1-8
Psalms 137:1-2, 3, 4-5, 6
Luke 9:57-62
Thursday, October 1
Nehemiah 8:1-4a, 5-6, 7b-12
Psalms 19:8, 9, 10, 11
Luke 10:1-12
Friday, October 2
Baruch 1:15-22
Psalms 79:1b-2, 3-5, 8, 9
Matthew 18:1-5, 10
Saturday, October 3
Baruch 4:5-12, 27-29
Psalms 69:33-35, 36-37
Luke 10:17-24
Twenty-Seventh Sunday in Ordinary Time, October 4
Genesis 2:18-24
Psalms 128:1-2, 3, 4-5, 6
Hebrews 2:9-11
Mark 10:2-16
Monday, October 5
Jonah 1:1–2:1-2, 11
Jonah 2:3, 4, 5, 8
Luke 10:25-37
Tuesday, October 6
Jonah 3:1-10
Psalms 130:1b-2, 3-4ab, 7-8
Luke 10:38-42
Wednesday, October 7
Jonah 4:1-11
Psalms 86:3-4, 5-6, 9-10
Luke 11:1-4
Thursday, October 8
Malachi 3:13-20b
Psalms 1:1-2, 3, 4 & 6
Luke 11:5-13
Friday, October 9
Joel 1:13-15; 2:1-2
Psalms 9:2-3, 6 & 16, 8-9
Luke 11:15-26
Saturday, October 10
Joel 4:12-21
Psalms 97:1-2, 5-6, 11-12
Luke 11:27-28
Twenty-Eighth Sunday In Ordinary Time
Sunday, October 11
Wisdom 7:7-11
2 Hebrews 4:12-13
Mark 10:17-30
or Mark 10:17-27
The full text of the Scripture readings for this week and next week can be found here: www.usccb.org/
Click on the "Daily Readings" tab on the right hand side of the page.