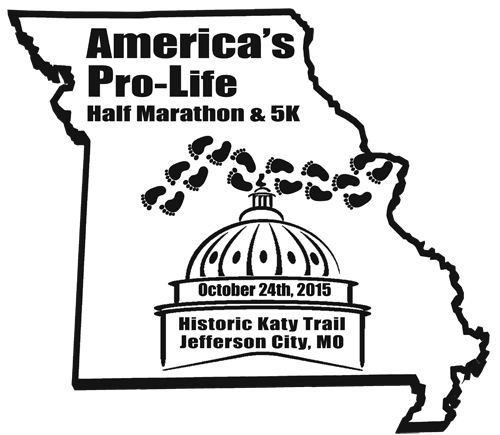 JEFFERSON CITY – Vitae Foundation and LIFE Runners are hosting the Second Annual America's Pro-Life Half Marathon/5K on Saturday, Oct. 24, 2015, at Katy Trail State Park in Jefferson City. Registration will begin at 7 a.m., with the half marathon beginning at 8 a.m. and 5K beginning at 8:30 a.m. The cost is $65 for the half marathon and $25 for the 5K. To register online, go to www.ProLifeHalf.com.
"For the second year in a row, we're excited to host America's Pro-Life Half Marathon and 5K on the historic Katy Trail!" Vitae Interim President Rob Rysavy stated. "This is a great venue for personal best finishes on this beautiful, flat, certified course that takes you on Lewis and Clark's route along the scenic Missouri River. We hope that Americans of all ages from coast-to-coast join this pro-life event to run, walk, and cheer for a culture of life!"
Medals will be awarded to all finishers in the half marathon, with awards being given to the overall male/female winner. For the 5K, medals will be awarded to the overall top male and female finishers and top three male and female in each group (not including overall top male and female). Age groups include: 19 & under; 20-29, 30-39, 40-49, 50-59, and 60+. The event will take place rain or shine.
Sponsorships are available, which include company recognition on the back of the race shirt and in the race program. Company promotional items or materials will be included in all race packets. There will be exhibit tables in the registration area to distribute materials and information to runners.
There will be a pre-race pasta dinner on Friday, October 23, in the St. Peter Church, Selinger gym from 6-8 p.m. Adults (12 & over) are $8, children (6-11) are $5, and under 6 are free. Please indicate attendance on the registration form.
Many women feel scared and confused when facing an unplanned pregnancy. Vitae's goal is to use media to connect these women with local Pregnancy Help Centers where they can find caring support and resources. Not only do these Pregnancy Help Centers provide the information and resources to assist them in making that decision in favor of life, but they also provide assistance throughout and after pregnancies.