A Veteran Moves on and Makes Room for More
By Lisa Tulp
Catholic Charities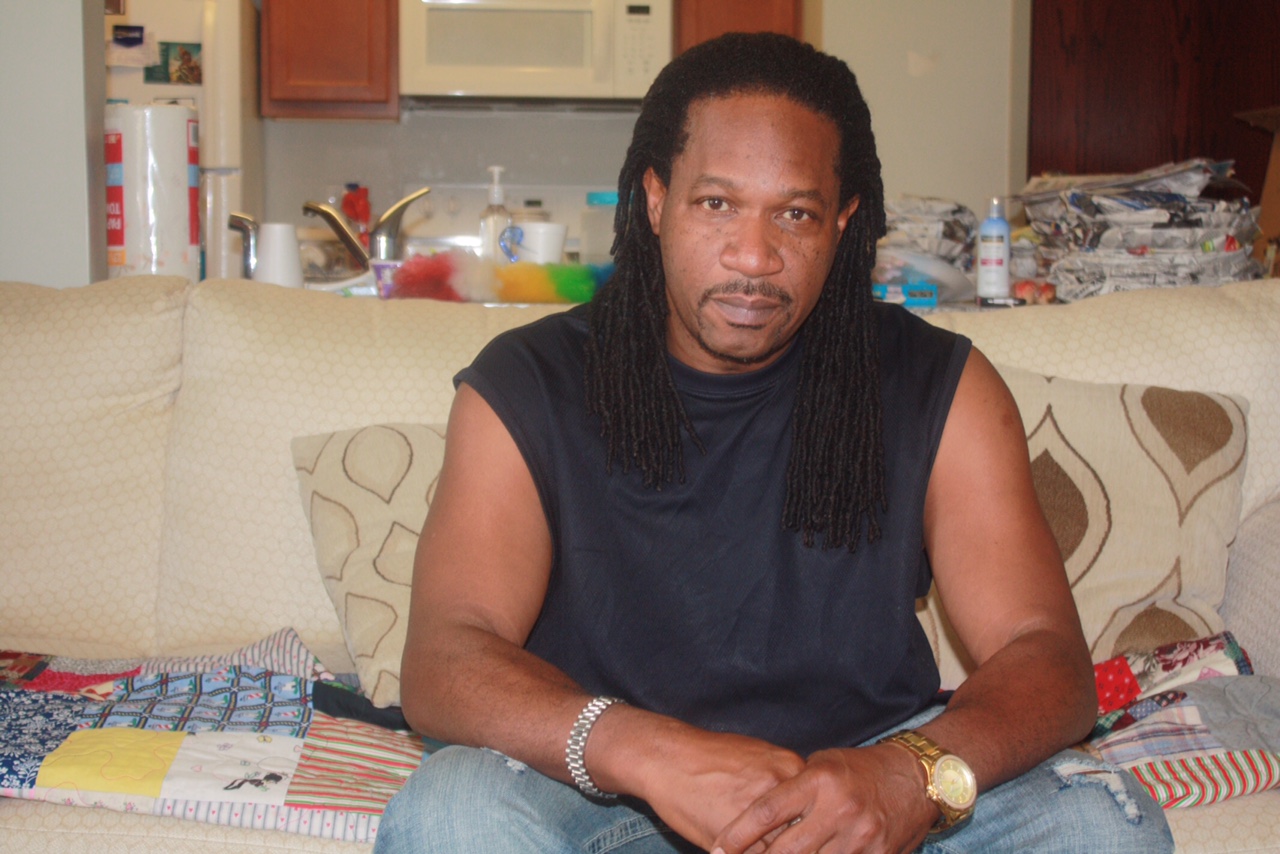 Kenneth can divide his life into "before" and "after": before he moved off the streets into St. Michael's Veterans Center, and after he achieved enough stability to move on. In between those extremes, Kenneth said, Catholic Charities changed his life.
Before June 30, 2014, Kenneth was one of hundreds of U.S. military veterans struggling with homelessness in Kansas City.
"I had no stability, no reputation, no credit history to rent a place of my own," Kenneth said. He paused and looked down at the floor. "Being homeless was pretty rocky."
Kenneth served eleven years in the U.S. Army, a drill sergeant who proudly trained soldiers for active duty in Iraq and Afghanistan. He thrived on the military's rigor and routine.
"When you get back to the civilian world, things are lax again. You've got to do some readjusting in your mind. It's not what I was used to before."
The transition proved difficult for Kenneth. After five years of homelessness, Kenneth had no idea what would come next.
Praying for Change
Then he learned about St. Michael's, a housing community being developed in part by Catholic Charities that would offer permanent, affordable homes to veterans who needed not just a place to live, but supportive services to help them thrive.
He applied, hoping he and his wife would be among the first 58 residents.
"During that waiting time, I was on pins and needles, but I said to God, 'God, I need this place like I need water.' I got that call and found out I was approved. It made me feel like I was a part of something; it made me feel like I was a person again."
A Great Neighbor
Kenneth and his wife moved into a one-bedroom apartment and quickly became known as good neighbors. He made friends. He became a role model for other veterans on campus.
"I believe this is more of a community because of what Catholic Charities is doing here, by organizing events to get us all together. At our quarterly potluck dinners, at Bingo and Christmas parties, we talk and get together for fellowship. It's a great place to get to know people," Kenneth said.
During that first year, something else happened. Kenneth repaired his relationship with his children and grandchildren, who could now visit him in his own home.
"They're proud of me. And I'm proud of myself, too. I can't do anything but keep getting better. I'm not overburdened and I don't feel like I got a weight on my shoulder."
Homelessness is now something that Kenneth experienced before; before he came to St. Michael's and before he worked with Catholic Charities to build a rental history and a path out of poverty.
Making Way for a Fellow Veteran
Last summer, Kenneth and his wife found a larger apartment they could afford on their new budget. With stability and better management of his benefits, they decided to move off campus to a larger apartment where the grandchildren can stay overnight.
Their move opened a spot at St. Michael's for another veteran in need.
Veterans Services Director Eric Verzola said Kenneth's success is one of his most satisfying moments at Catholic Charities.
"In my 20 years in the Army, I was blessed to work with many soldiers like Drill Sergeant Brown. So when I see him, I see someone who literally could have been one of my own. I'm so excited about his future, and how he moved on to open up his apartment to another veteran. This is what St. Michael's is designed to do – to make veterans a better version of themselves."
Kenneth is proud to be part of another veteran's before and after story.
"This place really provided the environment where I could work on what I needed to work on, like income stability that will be permanent for the rest of my life. So it feels great opening the door for another veteran to move into this place and get themselves stable and situated like I did. It will work, if you put your heart and soul and mind into it."