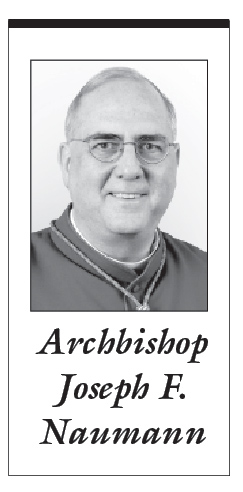 I want to express my gratitude to the priests, deacons, religious and laity of the Diocese of Kansas City-St. Joseph for your prayers, support and encouragement these past six months. It has been a privilege and blessing for me to serve as the Apostolic Administrator for the Diocese.
I owe a special debt of gratitude to the Diocesan staff. The Diocese of Kansas City-St. Joseph is blest with a group of extraordinarily talented and dedicated individuals who assist the bishop with the leadership of the Diocese.
Dave Malanowski your Chief Financial Officer provides a wealth of talent, knowledge and experience to assist with the administration of the Diocese.
Dan Peters guides effectively the crucial ministry of forming in our Catholic Schools the next generation of disciples. He is an excellent leader for the presidents, principals, teachers, and support staff for our schools.
Claude Sasso, the Vice Chancellor, helps guide and coordinate many of the pastoral ministries of the Diocese. I was always amazed in the Diocesan Cabinet meetings at the quantity and quality of programs being provided for evangelization, youth, pro-life, human rights, young adult, family life, adult faith formation, Hispanic ministry, etc.
Deacon Dan Powers, as the Chief Executive Officer for Catholic Charities, does an excellent job in leading what is the heart of the Church's ministry to make tangible the love of Jesus to the poor, the suffering and those on the margins of society.
Steve Hilliard has worn well multiple hats as the Director for Stewardship and Development as well as oversight for some administrative areas (pastoral planning, human resources, technology, etc.). He has led successfully the challenging assignment of marshalling the resources to make possible the construction of a new high school.
Carrie Cooper and her team of gifted colleagues at the Diocesan Office of Child and Youth Protection work diligently every day to make certain that our parishes, schools, ministries, and institutions make the safety of our children our highest priority. They also help the Diocese to respond with respect, compassion and practical assistance to victims. I am particularly grateful to Jennifer Valenti for her professionalism and dedication in her role as Ombudsman.
Deacon Ralph Wehner has been an invaluable resource as Master of Ceremonies, but even more with his overall leadership in creating a culture where the sacred liturgy is celebrated with reverence, care and devotion.
One area, where the Diocese of Kansas City-St. Joseph has been particularly blest in recent years, is the number of seminarians and priestly ordinations. I am grateful to Father Richard Rocha, the Vocation Director, and Father Gregory Lockwood, Director of Seminarians, for all that they do to cultivate a diocesan culture supportive of priestly and religious vocations. They kept me busy this summer accepting 17 new seminarians.
Jack Smith has been a great counselor to me in the important area of communications. He is a consummate professional in his responsibilities as the Director of Communications as well as the Editor for The Catholic Key.
I am most in debt to Father Charles Rowe and Father Ken Riley. With the absence of a Diocesan Bishop, there is no Vicar General per se. However, I asked Father Rowe to continue to do the work of a Vicar General without the title. Father Ken Riley has responsibility for two full-time jobs, Chancellor and Judicial Vicar. Despite both of them already having full plates, Father Rowe and Father Riley generously took on additional work necessitated by the limitations of my time with my responsibilities on both sides of State Line Road. The entire Diocese owes these two exceptional priests a huge debt of gratitude.
There are so many other individuals worthy of recognition, but because of the constraint of space I dare not mention. They head up individual offices, provide direct services, and are part of the support staff for the diocesan ministries. Suffice it to say that the Diocese of Kansas City-St. Joseph has a great team of people who daily give of themselves generously, not for public recognition or financial compensation, but because of their love for Jesus and His Church.
Pope Francis has given the Diocese of Kansas City-St. Joseph a wonderful new shepherd, Bishop James V. Johnston. He is a bishop that I have respected and admired for many years. I look forward to working with Bishop Johnston in the years ahead for the good of the Church in our metropolitan region.
Finally, if you are looking for a very tangible way to show your support and welcome to Bishop Johnston, I encourage you to be generous in your donation to the Annual Catholic Appeal. If you give Bishop Johnston the same support and encouragement you provided me these past six months, the future for the Diocese of Kansas City-St. Joseph is very bright!