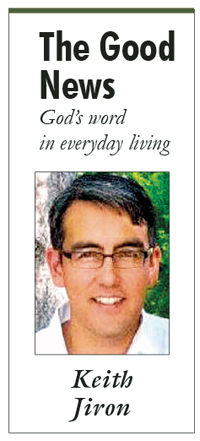 In the summer of 2014, my wife, four young sons and I said good-bye to family, friends, and neighbors as we packed up our house in Kansas City and moved to Omaha, Nebraska. A phone call out of the blue with a new job opportunity called the Jiron family to a new adventure. When I was offered the job, my immediate response was, "If I were single, I'd go tomorrow. But, I have a wife and kids to consider. Let me call my wife and talk to her about it." When I told my wife, Kate, her response was one that I'll never forget. Knowing my heart's desire and longing to find my niche in the Church, she responded, "It sounds like an answer to prayer." Moments like this remind me of how blessed I am to be married to her.
One of the songs that Kate and I chose for our wedding is called The Covenant Hymn. It is a beautiful and powerful portrayal of the hope and encouragement that a husband and wife can give to each other amidst the highs and lows of life. It seems that this move in our life is reflected in one phrase from the tune which goes, "Whatever you dream, I am with you, when stars call your name in the night. Though shadows and mist cloud the future, together we bear there a light. Like Abram and Sarah we stand, with only a promise in hand. But lead where you dream: I will follow. To dream with you is my delight."
In many ways, this is my dream job. We do believe that God called us to make this switch in our lives and it has been a blessing in many ways. At the same time, however, we have experienced many challenges along the way. One of those challenges was the inability to sell our house in Kansas City. In the midst of our plans to move, we listed our house for sale. After five-and-a-half unsuccessful months of the house being on the market, we started to panic. We couldn't afford to pay for a place to live in Omaha while continuing to pay our mortgage in Kansas City. We were starting to question God, wondering why He would call us to make this move and not find us a buyer for our house. Finally, against our will, we put the house up for rent. In the eleventh hour, we found renters who signed a one-year lease, which meant we would be able to cover the mortgage.
This episode from our life echoed in my mind as I pondered the situation of the poor widow woman who encountered the prophet Elijah in this Sunday's first Scripture reading. Elijah asks her for a drink of water and some bread. She explains that she has "only a handful of flour" and a "little oil" in her jug and that, after it is gone, she and her son will die of hunger. Nevertheless, trusting in the man of God's promise, she complies. Then, miraculously, "She was able to eat for a year, and he and her son as well; the jar of flour did not go empty nor the jug of oil run dry."
The trials that have been set before us this past year have reshaped our perspective in terms of what trust in God looks like. We have learned that following God's will doesn't necessarily guarantee that our house will sell or that we won't experience pain and suffering. This is why the great St. Teresa of Avila said to God in frustration at one point, "If this is how you treat your friends, no wonder you have so few of them."
What we have gleaned from this time is the reminder that our few years on earth are nothing compared to life with God for all eternity. The widow in this Sunday's Gospel understood this well. Unlike those who put large sums into the Temple treasury, the poor widow "came and put in two small coins worth a few cents." Jesus explains that because she contributed all that she had, unlike those who gave from their surplus wealth, she put in more than all the others.
These two widows from the Scriptures are examples of giving everything to God. Though their actions are hidden and unrewarded by the world, they are not unappreciated by almighty God.
I think that the jar of flour and the jug of oil do not represent financial prosperity, but rather signify the fact that amidst trial and hardship, the Divine Bridegroom, Jesus Christ, will always be with his Bride, the Church.
As for myself and my beloved bride, the Hymn reverberates, "Wherever you go, I will follow. Behold! The horizon shines clear. The possible gleams like a city; together we've nothing to fear. So speak with words bold and true the message my heart speaks to you. You won't be alone, I have promised. Wherever you go, I am here."
Keith Jiron, formerly of the diocesan Vocation Office, is Director of School of Faith, Omaha Branch.
Daily Scripture Readings
For complete daily Scripture texts, click here. www.usccb.org
Monday, November 9
Ezekiel 47:1-2, 8-9, 12
Psalms 46:2-3, 5-6, 8-9
1 Corinthians 3:9c-11, 16-17
John 2:13-22
Tuesday, November 10
Wisdom 2:23–3:9
Psalms 34:2-3, 16-17, 18-19
Luke 17:7-10
Wednesday, November 11
Wisdom 6:1-11
Psalms 82:3-4, 6-7
Luke 17:11-19
Thursday, November 12
Wisdom 7:22B–8:1
Psalms 119:89, 90, 91, 130,
135, 175
Luke 17:20-25
Friday, November 13
Wisdom 13:1-9
Psalms 19:2-3, 4-5ab
Luke 17:26-37
Saturday, November 14
Wisdom 18:14-16; 19:6-9
Psalms 105:2-3, 36-37, 42-43
Luke 18:1-8
Thirty-third Sunday in Ordinary Time, November 15
Daniel 12:1-3
Psalms 16:5, 8, 9-10, 11
Hebrews 10:11-14, 18
Mark 13:24-32
Monday, November 16
1 Maccabees 1:10-15, 41-43, 54-57, 62-63
Psalms 119:53, 61, 134, 150, 155, 158
Luke 18:35-43
Tuesday, November 17
2 Maccabees 6:18-31
Psalms 3:2-3, 4-5, 6-7
Luke 19:1-10
Wednesday, November 18
2 Maccabees 7:1, 20-31
Psalms 17:1bcd, 5-6, 8b & 15
Luke 19:11-28
Thursday, November 19
1 Maccabees 2:15-29
Psalms 50:1b-2, 5-6, 14-15
Luke 19:41-44
Friday, November 20
1 Maccabees 4:36-37, 52-59
1 Chronicles 29:10bcd, 11abc, 11d-12a, 12bcd
Luke 19:45-48
Saturday, November 21
1 Maccabees 6:1-13
Psalm 9:2-3, 4 and 6, 16 and 19
Luke 20:27-40
The Solemnity of Our Lord Jesus Christ, November 22
Daniel 7:13-14
Psalms 93:1, 1-2, 5
Revelation 1:5-8
John 18:33b-37
or Mark 12:41-44
The full text of the Scripture readings for this week and next week can be found here: www.usccb.org/
Click on the "Daily Readings" tab on the right hand side of the page.