By Fr. Gary Ziuraitis, C.Ss.R.
Special to the Catholic Key
In 2016 the Redemptorists will celebrate the 150th anniversary of receiving the miraculous icon of Our Mother of Perpetual Help from the hands of Pope Pius IX. When he entrusted the icon to the Redemptorists he asked them to "make her known throughout the world."
The original, miraculous icon of Our Mother of Perpetual Help is in the Redemptorist Church of Sant'Alfonso, in Rome. An old legend relates that Mary wanted her image between the two basilicas of Saint Mary Major and St. John Lateran on the Via Merulana. For a couple of centuries it had been in the Church of Saint Matthew, but was taken away and hidden during the Napoleonic invasion, in which St. Matthews was destroyed. In the 1860's, the Redemptorists bought the property, which included the former St. Matthew church grounds, for their General House. The 700 year old icon was rediscovered in an Augustinian monastery in another part of Rome. The Redemptorists petitioned the Holy Father to restore it to their Church between the two major basilicas, which, at that time, was the only church between them. In 1866 Pope Pius IX personally entrusted the icon to the Redemptorist Congregation and asked them to make her name known throughout the world. And so, in the 150th Jubilee year of entrustment, the Redemptorists are celebrating by reacquainting and renewing the Catholic faithful's devotion to her around the world.
Kansas City's official Our Mother of Perpetual Help pilgrimage Church
Redemptorist Church, at 3333 Broadway, which is under the patroness of Our Lady of Perpetual Help, received one of five original copies that were sent from Rome to Redemptorist churches being constructed in the United States at the turn of the 19th century. It is enthroned in an elaborate Carrera marble shrine altar in the right narthex of the Church. Through a special mandate from Pope Francis this Jubilee year, the Redemptorist Church in Rome and all Redemptorist Churches throughout the world, including Redemptorist Church in Kansas City, are designated pilgrim churches to Our Mother of Perpetual Help with the favor of a plenary indulgence.
The mandate says: "The indulgence is available to all who make a pilgrimage, between the 27th June 2015 and 27th June 2016, to the Church of St. Alphonsus in Rome or in any Redemptorist church anywhere in the world to venerate the icon of Our Mother of Perpetual Help." It added "The usual conditions for obtaining a plenary indulgence apply, including the celebration of the sacrament of reconciliation, holy communion and prayer for the intentions of the Holy Father. It also said the visit should conclude with the recitation of the Our Father, the Creed and prayers to Our Blessed Mother.
For this purpose Redemptorist Church is open especially on Tuesdays from 6:30 a.m. to 6:00 p.m. and on Saturdays 3:00 p.m. through the 5:00 p.m. weekend Mass for the purpose of a pilgrimage visit. Confessions are heard one-half hour before weekday Masses and from 3:00 p.m. to 5:00 p.m. on Saturdays. Please sign the pilgrimage registry at the shrine. The registry will be sent to Rome for the celebration in June, 2016.
The mandate further stipulated: "Those who because of sickness, old age or some other grave reason are not able to make a pilgrimage may also obtain the plenary indulgence. They do this by associating themselves spiritually with the jubilee celebrations and pilgrimages in a spirit of sorrow for their sins and with the intention of fulfilling the usual conditions. In doing this they should seek the mercy of God, offering their sufferings before a small icon of Our Mother of Perpetual Help" (Small jubilee prayer card icons are available from Redemptorist Church and office).
Over the 103 years her image has graced Redemptorist Church in Kansas City, thousands have prayed before her shrine during Novena Devotions, which continue to this day. Thousands of newly married couples have laid bouquets at her shrine on their wedding day. We invite all alumni and all couples married at Redemptorist to come visit and renew your relationship with Our Mother of Perpetual Help. The Redemptorists who served in Kansas City spread devotion to her throughout the diocese. Icons of Our Mother of Perpetual Help and novena devotions can be also found in many other churches of the diocese.
Who is Mary, Mother of Perpetual Help?
First of all she is one of us; a human being whom God chose to do great things. She was asked to become the Mother of God. She accepted with fear, but also with grace. It was that grace that enabled her to do those great things: raise Jesus through his childhood and to stand by in his manhood and watch him live, teach, suffer and die. At the foot of the cross she was asked by Jesus to be mother to us all. And she participates perpetually in the full life of heaven now as a sign and symbol to us all that we too will someday share eternal life.
What does she do for us?
As her title suggests, she is our perpetual help. To have Mary as our perpetual help also suggests that we are in need of help, even perpetual help. So we are encouraged to go to Mary with our needs and through her intercession and have confidence that God will act expeditiously to a prayer that is sent through the intercession of His mother. Is that really true? One can theologically argue that it is, but that is not important. Try for yourself and find out. What kind of need should we go to Mary with? Any kind of need. Maybe you are suffering a serious or chronic illness, maybe you are out of work and need a job, maybe you've got the spiritual blahs or a chronic sin in your life that you've been unable to conquer. Go to Mary with those problems and ask her for the favor of asking her Son to grant you your petition.
Devotion to Mary today
Maybe you are wondering that if prayer to God through Mary is so powerful, why isn't devotion to Mary as strong and public as it used to be?
Well, the answer to that is, fortunately, we see God in His Son Jesus Christ as a much more approachable God then we used to. We used to look at God as a mysterious, rather distant policeman in the sky who was ready to club us over the head when we did something wrong. And so Mary and devotion to her, has always been a corrective to help us see God in a more loving way. If we were afraid to approach God face to face, at least we could go to the tender arms of Mary and receive understanding and help. Since the II Vatican Council when the altars were turned around and moved closer to the people, since the prayers were translated from Latin into English, and since Holy Communion has become much more frequent in the life of a Catholic, we do not feel that "distance" from God like we used to.
All of us are more comfortable now with the idea of a Loving God – God our Father – than we used to be. Subsequently we don't remember to pray to Mary as often as we used to. But she is still there, our perpetual help. She will always be there when we need to turn to her.
Pilgrimages and Celebrations
This Jubilee Year we invite you to re-acquaint yourself with Our Mother of Perpetual Help. We invite you to come and make a visit to the Kansas City proto-icon of her in Redemptorist Church. Before her shrine will be a register to enter your name, church, petitions and thanksgivings. If you would like to delve more deeply into the significance of the iconography go to www.maryprayforus.org
There will also be special Jubilee celebrations. The international celebration will be in Rome on June 26, 2016 in Rome. Go to http://www.cvent.com/d/7rqdfm?ct=aaaac3dc-75d9-4c03-9c6a-ab68dcab34dc&RefID=1616  This is a website with full information including a downloadable brochure, itinerary and registration form.
Or contact: Fr. Bill Bueche, C.Ss.R at 763.561.5100 or billbeehee@yahoo.com for more information.
There will also be a national celebration at St. Alphonsus "Rock" Church in St. Louis on January 27, 2016 where the Redemptorists initiated the Novena Devotions in America back in the 1800's. This event will be televised by EWTN.
Here in Kansas City, we will have a special triduum celebration at Redemptorist Church May 9 – 11 conducted by Father James Shea, C.Ss.R. A Mass of thanksgiving and celebration will be held on May 12th, the anniversary of the dedication of Redemptorist Church under the patronage of Our Lady of Perpetual Help.
As the Redemptorists, Redemptorist churches and all churches named in her honor begin this Jubilee year, may Mary, our Mother and our Perpetual Help, always watch over you.
Fr. Gary Ziuraitis, C.Ss.R. is Pastor of Our Lady of Perpetual Help Redemporist Church.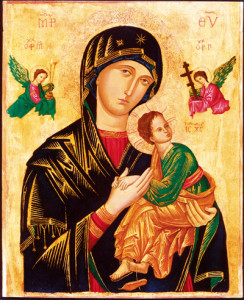 Gazing upon the icon of Our Mother of Perpetual Help is to gaze upon a tremendous wealth of meaning. This icon, a version of a class of icons referred to as the "Passion of the Virgin," has a thousand messages for us. Icons, as opposed to paintings, they say, are to "read." There are many elements of this icon to be "read." For now, I would just like to spend a few moments "reading" it in terms of what it says about being "Madonna" – mother and child. What motherhood means in terms of Our Mother of Perpetual Help.
Motherhood is a very basic symbol of mankind. All of us have a mother. Many of you reading this have been mothers and continue to be mothers. Others reading this are married to a woman who has become a mother. All of us were brought into this world, nurtured, protected, cared for, played with, admired, and loved by a mother. Ok, perhaps even sometimes yelled at and disciplined! Motherhood is very basic to us all.
Our experiences of being mothered and what the icon of our Mother of Perpetual Help should indicate to us is that beyond our own flesh-and-blood mothers, beyond Our Blessed Mother, there is a God who is going to make sure we are mothered – that we are going to receive the same nurturing, protection, care and love from God spiritually as we have experienced in our human lives.