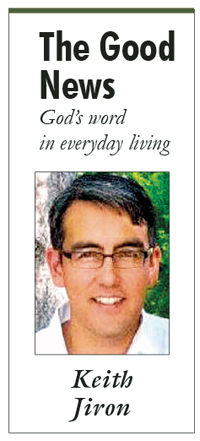 Over the past few weeks I have been reading J.R.R. Tolkien's "The Hobbit" to my sons. Each time we sit down to read it, I am struck by the looks on their faces as I can see their little minds imagining what the fascinating characters such as hobbits, dwarves, trolls, and orcs look like. It is an epic tale of adventure, of good versus evil. Even though I have read this book several times before, I have found myself drawing inspiration and strength in a new way from the journey into which the hobbit, Bilbo Baggins, is launched.
Bilbo is a rather ordinary fellow, one who is easily overlooked. As the plot unfolds, the often underestimated hobbit proves both to himself and to his dwarf comrades that there is more to him than one might guess. Although several times along the perilous voyage he longs for the comfort of home, his warm bed and full belly, he nonetheless surprises himself as he musters up the courage to fight off evil foes and, even more strikingly, his own fears.
Each of us is beset with challenges as we strive to move forward on life's journey. One of the reasons I have recently found inspiration from the character of Bilbo Baggins is that the story into which he is drawn is larger than himself. This is a lesson that God seems to continually be teaching us. Jesus Christ, the King of the Universe, has a plan which is bigger than our talents, shortcomings, and fears. He continually invites us to participate in a wonderful tale which requires everything.
Although we like to think we'd prefer to sit nice and comfortably in our "hobbit-holes" eating and drinking and sleeping to our heart's content, there is a longing to be part of a more daring drama.
My sons love to listen to stories told by their grandfather. A key element of all his narratives is the "dark moment" when the brave knight must overcome a mighty enemy. This theme is one which is written deep into the human heart as attested to by the fact that my sons love to listen. This is why stories like the Lord of the Rings trilogy and Star Wars have proved timeless in their ability to captivate audiences of every age.
I propose that the greatest adventure is the one that stares us in the face daily and it can be likened, again, to Bilbo Baggins. Prior to his being compelled into the larger story, he, like the rest of the hobbits in the village, is oblivious to the war that is raging. But, as his eyes are opened to the broader picture, he finds that he is well-suited to the challenge and in the end, finds that remarkable things are accomplished with his own meager efforts.
Similarly, in our day, as has always been the case, there is an ever-present war going on between the forces of good and evil. We may feel ill-equipped to contribute. However, it is important to remember that the battle being waged is not directed to an earthly victory. In this Sunday's Gospel Jesus says, "My kingdom does not belong to this world." This should fill us with hope and confidence in the midst of the conflict.
Each of us has a role to play. Pope Saint John Paul II once said that "the heart is a battlefield between love and lust." The war is not necessarily won on the grander stage, but rather in our hearts. The struggle against vice, striving for virtue, is the battle for living the truth of who God created us to be. Jesus says, "For this I was born and for this I came into the world, to testify to the truth. Everyone who belongs to the truth listens to my voice."
I am continually astounded at the fertile soil that lies within the hearts of my four boys. My wife has had to concede the fact that they are hard-wired for fighting off "the bad guys." They turn things like carrots and the circular cardboard remnant of wrapping paper into swords. I hope to channel this innate desire for battle into a victory over sin and vice in their lives. Listening to stories of valor and courage sparks in their young minds a desire for truth and the good fight, the one whose reward will hopefully result in the crown of heavenly glory for all eternity. That is the real adventure. May we all join in this, the greatest story ever told.
Keith Jiron is the Director of School of Faith, Omaha Branch.
Daily Scripture Readings
For complete daily Scripture texts, click here.www.usccb.org
Monday, November 23
Daniel 1:1-6, 8-20
Daniel 3:52, 53, 54, 55, 56
Luke 21:1-4
Tuesday, November 24
Daniel 2:31-45
Daniel 3:57, 58, 59, 60, 61
Luke 21:5-11
Wednesday, November 25
Daniel 5:1-6, 13-14, 16-17, 23-28
Daniel 3:62, 63, 64, 65, 66, 67
Luke 21:12-19
Thanksgiving Day
Thursday, November 26
Sirach 50:22-24
Psalms 145:2-3, 4-5, 6-7, 8-9, 10-11
1 Corinthians 1:3-9
Luke 17:11-19
Friday, November 27
Daniel 7:2-14
Daniel 3:75, 76, 77, 78, 79, 80, 81
Luke 21:29-33
Saturday, November 28
Daniel 7:15-27
Daniel 3:82, 83, 84, 85, 86, 87
Luke 21:34-36
First Sunday of Advent, November 29
Jeremiah 33:14-16
Psalms 25:4-5, 8-9, 10, 14
1 Thessalonians 3:12—4:2
Luke 21:25-28, 34-36
Monday, November 30
Romans 10:9-18
Psalms 19:8, 9, 10, 11
Matthew 4:18-22
Tuesday, December 1
Isaiah 11:1-10
Psalms 72:1-2, 7-8, 12-13, 17
Luke 10:21-24
Wednesday, December 2
Isaiah 25:6-10a
Psalms 23:1-3a, 3b-4, 5, 6
Matthew 15:29-37
Thursday, December 3
Isaiah 26:1-6
Psalms 118:1 and 8-9, 19-21, 25-27a
Matthew 7:21, 24-27
Friday, December 4
Isaiah 29:17-24
Psalms 27:1, 4, 13-14
Matthew 9:27-31
Saturday, December 5
Isaiah 30:19-21, 23-26
Psalms 147:1-2, 3-4, 5-6
Matthew 9:35–10:1, 5a, 6-8
Second Sunday of Advent, December 6
Baruch 5:1-9
Psalms 126:1-2, 2-3, 4-5, 6
Phillipians 1:4-6, 8-11
Luke 3:1-6
The full text of the Scripture readings for this week and next week can be found here: www.usccb.org/
Click on the "Daily Readings" tab on the right hand side of the page.