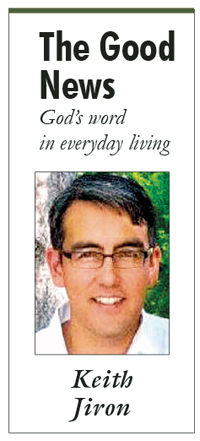 A couple of weeks ago I went on a men's four-day silent retreat at Broom Tree Retreat Center in South Dakota. My wife had gone on retreat there the year before and thought it would be good for me. Even so, several times prior to the retreat I found myself thinking of cancelling due to all the worries with work and the chaos of life. Thanks to her persistent encouragement, I took the opportunity to spend this time alone with God.
The retreat was led by an eighty-five-year-old priest, an experienced retreat master, who from the outset encouraged us to "carve out space in our hearts for God to enter." Additionally, he suggested we pray for the grace to know what God wanted for each of us to get out of the retreat. He explained that, similar to Elijah who heard the voice of God not in the wind nor the earthquake nor the fire, but in the "still small voice," (1 Kings 19: 11-13) so, too, were we to listen for God's voice in the silence of our hearts.
One of the things that I found myself reflecting upon was the fact that, growing up as the oldest of five children, I have always had more responsibilities placed upon me. This has shaped who I have become in many ways and has turned out to be a great gift in my life. However, I once heard it said that our greatest strengths are also our greatest weaknesses. The way in which this turns out to be a weakness is that I often times take too much upon myself and, as a result, feel a great weight or burden.
When I arrived at the retreat, I felt as if I were carrying a heavy load. One of the gifts that God wanted to give me during the retreat is echoed in this Sunday's Old Testament reading from Baruch which says, "For God has commanded that every lofty mountain be made low…" During this time away, God gave me the grace to know that the mountains of stress were nothing but molehills. He revealed this to me by means of numerous images scattered throughout the retreat center of the infant Jesus being held in his mother's arms. In the silence, I heard the still small voice of God whispering lovingly and clearly into my heart the words "you are being carried."
At various times in the past, I have learned of the many graces that God gives to us when we set time aside to spend with Him. It is very similar to the manner in which we maintain human friendship. If we never set aside time to foster our relationships, over time the connection tends to wither and sometimes die.
These days of Advent are meant to be a time of intentionally cultivating our relationship with God, of preparing a space in our hearts for Him. The Gospel for this second Sunday of Advent which quotes the prophet Isaiah encourages us, "Prepare the way of the Lord, make straight his paths."
I propose that the way to do this is by setting aside some quiet time in the midst of all of life's hassles so that we can hear what God is saying to us. In the chapel at Broom Tree, I was struck by words displayed there which read, "In the silence, God speaks."
When I am in tune with God's voice, when I let God fill the emptiness inside instead of trying to fill it myself, the rest of my life straightens out. The Gospel puts it this way, "The winding roads shall be made straight, and the rough ways smooth, and all flesh shall see the salvation of God."
Because the time spent there was in silence, including during meals, I didn't really get to know the other men on retreat. At our last meal together, the silence was lifted and each man was given the opportunity to share the graces he received. It turns out that many of the men were similarly weighed down with anxieties and the concerns of the world. There was one particular man who, I must admit, seemed like a sort of tough guy. He explained that he really hadn't come of his own accord, but rather had been forced by his wife. As he shared his experience of encountering God deeply for the first time, he wept profusely with tears of joy.
Blessed Angela of Foligno once heard the Lord say to her, "Make in yourself a capacity, and I will make myself a torrent." This man carved out a tiny space in his heart and God touched him to overflowing. It is said that God will not be outdone in generosity. This Advent, give God a little room and see what happens.
Keith Jiron is the director of School of Faith, Omaha.
Daily Scripture Readings
For complete daily Scripture texts, click here. www.usccb.org
Monday, December 7
Isaiah 35:1-10
Psalms 85:9ab and 10, 11-12, 13-14
Luke 5:17-26
Solemnity of the Immaculate Conception of the Blessed Virgin Mary,
Tuesday, December 8
Genesis 3:9-15, 20
Psalms 98:1, 2-3ab, 3cd-4
Ephesians 1:3-6, 11-12
Luke 1:26-38
Wednesday, December 9
Isaiah 40:25-31
Psalms 103:1-2, 3-4, 8 and 10
Matthew 11:28-30
Thursday, December 10
Isaiah 41:13-20
Psalms 145:1 and 9, 10-11, 12-13ab
Matthew 11:11-15
Friday, December 11
Isaiah 48:17-19
Psalms 1:1-2, 3, 4 and 6
Matthew 11:16-19
Feast of Our Lady of Guadalupe, Saturday, December 12
Zechariah 2:14-17
or Revelation 11:19a; 12:1-6a, 10ab
Judith 13:18bcde, 19
Luke 1:26-38
Third Sunday of Advent, December 13
Zephaniah 3:14-18a
Isaiah 12:2-3, 4, 5-6
Philippians 4:4-7
Luke 3:10-18
Monday, December 14
Numbers 24:2-7, 15-17a
Psalms 25:4-5ab, 6 and 7bc, 8-9
Matthew 21:23-27
Tuesday, December 15
Zephaniah 3:1-2, 9-13
Psalms 34:2-3, 6-7, 17-18, 19 and 23
Matthew 21:28-32
Wednesday, December 16
Isaiah 45:6c-8, 18, 21c-25
Psalms 85:9ab and 10, 11-12, 13-14
Luke 7:18b-23
Thursday, December 17
Genesis 49:2, 8-10
Psalms 72:1-2, 3-4ab, 7-8, 17
Matthew 1:1-17
Friday, December 18
Jeremiah 23:5-8
Psalms 72:1-2, 12-13, 18-19
Matthew 1:18-25
Saturday, December 19
Judges 13:2-7, 24-25a
Psalms 71:3-4a, 5-6ab, 16-17
Luke 1:5-25
Fourth Sunday of Advent, December 20
Micah 5:1-4a
Psalms 80:2-3, 15-16, 18-19
Hebrews 10:5-10
Luke 1:39-45
The full text of the Scripture readings for this week and next week can be found here: www.usccb.org/
Click on the "Daily Readings" tab on the right hand side of the page.