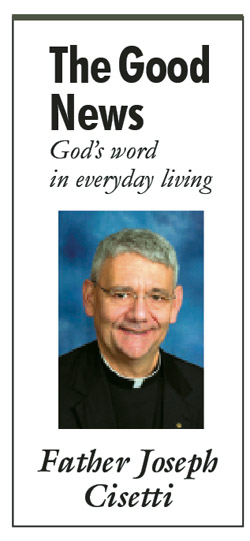 Many years ago a song came out by a singer named Joan Osborne. In it she asks, What if God was one of us? What if God had a face? What would it look like? What if God was one of us?
Listening to her rather sad song made me want to say, He's already done that. At Christmas we celebrate the fact that the God we cannot see, has become seen. Jesus comes as Emmanuel, God-with-us. He does not enter on the clouds but through a human birth, as one like us in all things but sin. Truly God, he becomes truly human. He enters this world as we did, small, naked and helpless. He comes with a face. He comes as one of us placing himself into our hands. He places himself in relationship with us. He commits to us and offers us a challenge.
Entering our world, Jesus places himself in relationship with us. Gifts indicate relationships. We exchange gifts with those whom we are in relationship. These gifts express our connection with each other, and, in a small way mirror the gift God makes of himself to us through Jesus. He is truly the gift that keeps on giving. He gives us his life, his death and then his resurrection. Through Jesus, God has become one of us and he places himself in relationship with us.
What is the gift we bring? What can we bring? He has no need of sweaters or video games. The gift we give is ourselves. More specifically, if you are looking for a gift to give the Christ child, consider something unusual this year. Come to the crib and leave a resentment that you have been carrying. Come to the stable and let go of a grudge or some bitterness that may have been growing in your heart. Come before the infant and lay aside your pride and anger. These things are not pleasing in themselves, but giving them up is a wonderful gift to the Christ Child–and to ourselves.
Jesus also commits himself to us. Christmas is a season of commitment. Through Christ, God has committed himself to us in a new and irrevocable way. In what has been called the admirabile commercium or marvelous exchange, he shares in human life so that humans may share in divine life. Through his death and resurrection he initiates a new and everlasting covenant with us. Christmas is a season of commitment, a time to reflect on God's commitment to us and renew our own commitment to God.
This is also a season of challenge. It is a challenge to be accepted or rejected and make no mistake, love brings with it challenges: the challenge to live in relationship and commitment to God through Jesus, the challenge to seriously live the Christian life within the community of believers we call the Church, the challenge to live lives of faith, hope and of a love, that loves as Christ loves.
It is not enough to celebrate Christmas. We are called to live the mystery we celebrate. Christmas calls us to live each day generously. The Christ Child comes seeking hospitality in our crowded world and our crowded hearts. Will he find hospitality at the inn of your heart today? Will he find hospitality in your heart tomorrow and next week and all the days of your life?
Alfred Delp was a German Jesuit, arrested by the Nazis in 1944. At Christmas that year, before what would be a show trial and his execution, he wrote, We should not avoid the burdens God gives us. They lead us into the blessings of God….Let us trust life because we do not have to live it alone. God lives it with us.
In the Eucharist, Jesus continues to enter into our world. He continues to give himself to us. He continues to place himself into our hands. At Mass, every day is truly Christmas.
May every nativity scene, every candle, every tree, angel, snowman, Santa Claus, reindeer, poinsettia, ornament, tinsel, and every light on every building and on every tree, and every Christmas decoration, whether religious or secular, tasteful or gaudy, ultimately remind us of one fundamental truth: We do not live life alone. God lives it with us.
What if God had a face? In Jesus, God has become human and has a face. He has entered into a profound relationship with us. He has committed himself to us and offers a challenge to live in relationship and commitment to him and to reflect his love in our lives. He through whom all things were made has been born among us. What if God was one of us? He has already done that. In Jesus Christ, God has become one of us.
Father Joseph Cisetti is Pastor of St. Therese North Parish.
Daily Scripture Readings
For complete daily Scripture texts, click here. www.usccb.org
Monday, December 21
Song of Songs 2:8-14
or Zephaniah 3:14-18a
Psalms 33:2-3, 11-12, 20-21
Luke 1:39-45
Tuesday, December 22
1 Samuel 1:24-28
1 Samuel 2:1, 4-5, 6-7, 8abcd
Luke 1:46-56
Wednesday, December 23
Malachi 3:1-4, 23-24
Psalms 25:4-5ab, 8-9, 10 & 14
Luke 1:57-66
Thursday, December 24
2 Samuel 7:1-5, 8b-12, 14a, 16
Psalms 89:2-3, 4-5, 27 & 29
Luke 1:67-79
Christmas Eve Vigil
Isaiah 62:1-5
Psalms 89:4-5, 16-17, 27, 29
Acts 13:16-17, 22-25
Matthew 1:1-25
Nativity of the Lord
Friday, December 25
Isaiah 52:7-10
Psalms 98:1, 2-3, 3-4, 5-6
Hebrews 1:1-6
John 1:1-18
Saturday, December 26
Acts 6:8-10; 7:54-59
Psalms 31:3cd-4, 6 & 8ab,
16bc & 17
Matthew 10:17-22
Feast of the Holy Family
Sunday, December 27
Sirach 3:2-6, 12-14
Psalms 128:1-2, 3, 4-5
Colossians 3:12-21
Luke 2:41-52
Monday, December 28
1 John 1:5—2:2
Psalms 124:2-3, 4-5, 7cd-8
Matthew 2:13-18
Tuesday, December 29
1 John 2:3-11
Psalms 96:1-2a, 2b-3, 5b-6
Luke 2:22-35
Wednesday, December 30
1 John 2:12-17
Psalms 96:7-8a, 8b-9, 10
Luke 2:36-40
Thursday, December 31
1 John 2:18-21
Psalms 96:1-2, 11-12, 13
John 1:1-18
Solemnity of the Blessed Virgin Mary,
Friday, January 1, 2016
Numbers 6:22-27
Psalms 67:2-3, 5, 6, 8
Galatians 4:4-7
Luke 2:16-21
Saturday, January 2
1 John 2:22-28
Psalms 98:1, 2-3ab, 3cd-4
John 1:19-28
Epiphany of the Lord
Sunday, January 3
Isaiah 60:1-6
Psalms 72:1-2, 7-8, 10-11, 12-13
Ephesians 3:2-3a, 5-6
Matthew 2:1-12
Monday, January 4
1 John 3:22–4:6
Psalms 2:7bc-8, 10-12a
Matthew 4:12-17, 23-25
Tuesday, January 5
1 John 4:7-10
Psalms 72:1-2, 3-4, 7-8
Mark 6:34-44
Wednesday, January 6
1 John 4:11-18
Psalms 72:1-2, 10, 12-13
Mark 6:45-52
Thursday, January 7
1 John 4:19–5:4
Psalms 72:1-2, 14 & 15bc, 17
Luke 4:14-22
Friday, January 8
1 John 5:5-13
Psalms 147:12-13, 14-15, 19-20
Luke 5:12-16
Saturday, January 9
1 JN 5:14-21
Psalms 149:1-2, 3-4, 5-6a & 9B
John 3:22-30
The full text of the Scripture readings for this week and next week can be found here: www.usccb.org/
Click on the "Daily Readings" tab on the right hand side of the page.