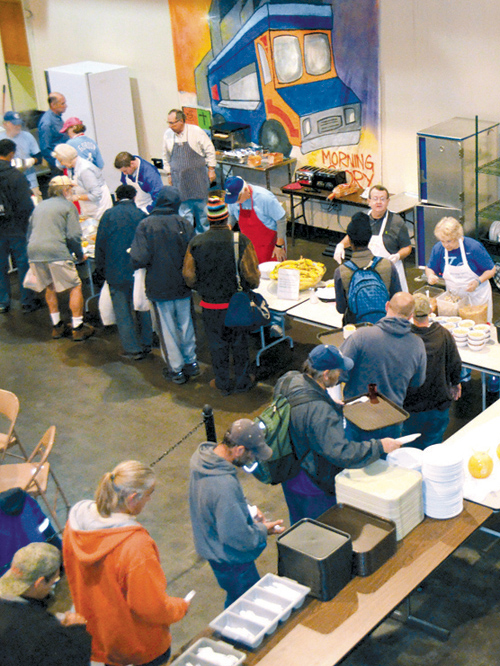 By Marty Denzer
Catholic Key Reporter
KANSAS CITY — The Jubilee Year of Mercy announced by Pope Francis officially began Dec. 8 with the opening of "Holy Doors" in churches throughout the world. Christ's mercy is offered to all who seek it, through true repentance and the sacrament of reconciliation. But mercy can have a wider meaning, building up the dignity of people in need. In our diocese this past year, many people lived the corporal works of mercy, and their stories were told in The Catholic Key.
Most of the corporal works of mercy we are charged with are outlined in Matthew 25:34-40, "Then the king will say to those on his right, 'Come, you who are blessed by my Father. Inherit the kingdom prepared for you from the foundation of the world. For I was hungry and you gave me food, I was thirsty and you gave me drink, a stranger and you welcomed me, naked and you clothed me, ill and you cared for me, in prison and you visited me.' Then the righteous will answer him and say, 'Lord, when did we see you hungry and feed you, or thirsty and give you drink? When did we see you a stranger and welcome you, or naked and clothe you? When did we see you ill or in prison, and visit you?' And the king will say to them in reply, 'Amen, I say to you, whatever you did for one of these least brothers of mine, you did for me.'"
I was hungry and you gave me food —Catholic Charities now under one roof in one home. The purchase of the former bank building at 850 Main Street, Kansas City, enabled the agency to expand services to those in need. O'Hara honor students help feed the hungry. Members of the National Honor Society at Archbishop O'Hara High School raised $800 and 250 pounds of canned goods during Catholic Schools Week, which was given to Catholic Charities. Jesuit novices serve others at Morning Glory Cafe. Three Jesuit novices spent several weeks in the Kansas City area, serving the poor and hungry at Morning Glory Cafe, and serving others on both sides of the state line. Kansas City Royals infielder Christian Colon goes 2 bat 4 KC hungry by stepping up to help raise awareness and funds for Bishop Sullivan Center and St. James Place, agencies feeding the hungry and assisting the needy in numerous ways, when former Royal Billy Butler signed with the Oakland A's during the off-season. House of Bread coordinator retires after 33 years. The Food pantry located near St. Francis Xavier Parish in St. Joseph began serving the hungry in 1981. Marie Lederer was asked to coordinate in the next year. In her 33 years of service, the number of needy people served grew from 20-25 families monthly to 375-400 a month.
Franciscan friars seek out the hungry, the desperate, the hopeless on Kansas City streets, and when they find them, the Friars find Jesus on the Streets of Kansas City. St. Joseph youth experience Christ in the disguise of the poor. Eighteen youthful members of St. Francis Xavier and Our Lady of Guadalupe parishes in St. Joseph traveled to Eagle Butte, South Dakota, on a mission trip to serve the poor and hungry on the Cheyenne River Reservation, home of the Lakota Sioux. Holy Cross students raise money to help needy families. Several families in the Philippines and South America will soon have hope of a better life and livelihood thanks to Holy Cross students and their families and the Heifer Project.
I was thirsty and you gave me drink — Along with the food pantry stories, a local organization is stepping up to help provide clean water to families in developing countries: Local organization will help Third World families access clean water.
I was naked and you clothed me — Catholic Charities and Morning Glory Ministries, a Catholic Charities ministry, work to help the needy with food, clothing and other necessities.
I was a stranger and you welcomed me —Harbor the harborless — Catholic Charities under one roof, one home; Desperate people come to Catholic Charities, leave with help and hope; St. Joseph youth experience Christ in the disguise of the poor, and these stories: Just one year old, veterans center is already changing lives. St. Michael's Veterans Center, which opened in June 2014, provides safe housing for homeless veterans, which enables them to become independent, and with wrap-around services including counseling, job skills and access to medical care, gives them safe harbor. In December St. Michael's Veterans Center (breaks) ground for Phase II, another 58 one-bedroom apartments and a 7,000 sq. ft. service center to provide counseling, medical examinations and other services to needy veterans whether or not they are residents of St. Michael's . Earlier, students at St. John LaLande School in Blue Springs pledged prayers for veterans, Children promise prayers for veterans, during a Veterans Day Mass.
Just before the start of Advent, Morning Glory Ministries raised funds and awareness of hunger, thirst, homelessness and need through A Heart for the Hungry, the agency's annual gala fundraiser, Gala raises awareness of hunger and funds to fight it. Around $34,000 was raised to fund the ministries, including Morning Glory Cafe.
Also, a not so well known problem with homelessness exists among pregnant, unmarried women. While there are several homes for teenage homeless moms and their babies, only one, Nativity House, a place where moms and their babies can be whole, shelters and cares for moms ages 18 to around 40. Unfortunately the house is not large enough for a large number of residents; only three moms and their babies can be accommodated. But Nativity House is praying to expand into a village.
I was sick and you cared for me — Catholics from two states gather for healing, at Cure of Ars parish in Leawood, Kan., for 19 years, with the bishops and priests of the two Kansas City dioceses ministering to the sick, the elderly, and the disabled of both dioceses through the Sacrament of the Anointing of the Sick, in the 900-year tradition of caring for the sick of the Knights and Dames of Malta.
The homilist for the annual White Mass, celebrated for medical professionals, was Bishop James D. Conley of Lincoln, Neb. He urged physicians, nurses and other medical professionals in attendance, to keep in mind that Medicine needs great souls, and to use their professions for the New Evangelization.
In the Simplicity of Love, Dominic lives on, told the story of the love-filled bravery of a fifth grader who lost his battle with Leukemia, and the friends who brightened his last months and who will remember him always.
Priests, lay ministers and the Little Sisters of the Poor often accompany the ill and the elderly as their journey closes. Father Francis Schuele joined his life with the poor and suffering, and Msgr. William Blacet urged the sick to receive the sacrament of the Anointing of the Sick, because Christ is here with you.
Ministering to the elderly has its rewards, including learning about God from the masters, said a lay minister in northern Missouri. And ministering to those suffering from disease or conditions that are frightening or distasteful can be truly life changing, as when a young man Encountered the Scourged Christ in a hospice facility for AIDS patients some 20 years ago. 'And he was lovely,' the author recalled.
Ransoming the Captive can mean several things: visiting the imprisoned, ministering to those unable to worship God due to war or politics, caring pastorally for troubled families and individuals, or giving love, care and friendship to those who are marginalized due to physical or mental health challenges or special needs, those who have been abused or forgotten. His Father's example shaped life of priest, a story about Father Norman Rotert and Friendship Evangelization, a story about A Simple House, both highlighted the care, advocacy and friendship offered to the marginalized and the forgotten. Mercy and Truth in Action explains pastoral care for troubled families.
Visiting the Imprisoned and True Freedom, a column by Archbishop Joseph Naumann during his episcopal administration of the Diocese of Kansas City-St. Joseph, reminded readers that Jesus did not come for the just, he came into this world for sinners.
Earlier, the archbishop had apologized to victims of priestly sexual abuse and prayed, 'Never, never again.'
Ransoming the Captive who is marginalized due to disabilities or special needs was the subject of Joyful laughter lights gathering of adults with developmental disabilities, a story about SPRED, Special Religious Education Development, at St. Catherine of Siena parish in south Kansas City and at St. Charles Borromeo parish in Oakview.
An attitude of gratitude, compassion can change a life featured a breast cancer survivor who sponsors an elderly woman in Guatemala and how the sponsorship changed both women's lives.
And through the efforts of the FIRE Foundation, Inclusion's flame burns brighter as FIRE Foundation nears 20. Since 1996 more than $2.2 million has been given to partner schools to help pay salaries for special education teachers and paraprofessionals, equipment and learning aids. As a result, 90 children who would likely be unable to attend their parish schools now attend the schools; 650 students with moderate learning disabilities, who need a little extra help receive it from trained paraprofessionals, and more than 4,900 students in the 13 partner schools are impacted by knowing and learning alongside children with special needs.
The last of the corporal works of mercy is Bury the Dead. Early in 2015, a plastic box of cremains was found on the St. Patrick parish offices in Kansas City. The pastor and parish deacon decided to use the discovery as a teaching tool for the middle school students at St. Patrick School. The Catholic Key was enlisted to help research and possibly locate someone who might have known Sunday Lewis, who was identified on the box of cremains. Her journey over, Sunday Lewis rests in peace is the story of how sixth, seventh and eighth graders reached out to bury the ashes of someone they didn't know, who wasn't even from this region and what they learned from the experience.
And at Resurrection and Mount Olivet cemeteries in Kansas City, there are the Legacy Gardens, a Special last resting place for veterans and first responders including firefighters and police officers. In October, two Kansas City firefighters, Larry Leggio and John Mesh, died fighting a fire in Independence when a wall fell on them. Both were laid to rest in the Legacy Garden at Mount Olivet Cemetery. Two memorial scholarships have been established for students of Holy Cross School in their honor by the Bright Futures Fund.