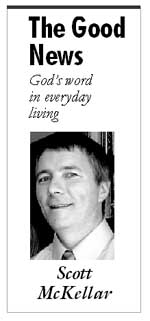 The Feast of the Baptism of the Lord, closes the Christmas season and opens it outward into Ordinary time. The Gospel reading for this Sunday is the final dimension of the Epiphany, in fact it reveals the mystery of the Holy Trinity.
When Jesus is baptized by John the Baptist, Luke tells us that "heaven was opened and the Holy Spirit descended upon Jesus in bodily form like a dove." And further that a voice came from heaven which declared to Jesus, "You are my beloved Son; with you I am well pleased." Jesus' baptism reveals the Father, the Son and the Holy Spirit.
In the waters of Jesus' baptism we witness a revelation of the mystery of the three persons of the Holy Trinity. Yet one is tempted to ask, why is this mystery revealed here? What is so important about this incident? The baptism of John was a baptism of repentance. Jesus had committed no sin and was not in need of repentance. Yet Jesus allows himself to be baptized by John (Luke 3:21) and it is here that God reveals himself as Father, Son and Holy Spirit. What is Jesus' purpose in this act?
On the surface it is clear that Jesus' baptism validates John's ministry as the forerunner. Confirming his connection to the prophecies of the coming Messiah, Jesus wishes to express his intense solidarity with sinners. This union with Christ is our salvation. Jesus' baptism by John anticipates this true 'baptism' which is Jesus' own death and resurrection. Later Jesus will declare, "There is a baptism with which I must be baptized, and how great is my anguish until it is accomplished!" (Luke 12:50). Our communion with Jesus is brought about through his death. In his death Jesus created a new covenant and as a result a new people of God.
During my high school years I lived in a neighborhood which had large numbers of Jewish people in it. I even worked for a time at the local Jewish community center. I noticed that among my classmates, young Jewish girls were permitted to date non-Jewish men but Jewish boys were only able to date Jewish girls. I discovered that this is because being 'Jewish' required one to have a Jewish mother. A Jew enters into God's loving covenant by birth, and becomes part of God's chosen people. For the Jewish people obeying the law is not a matter of earning entrance into the covenant but of remaining faithful to the covenant.
For the Early Christians being part of God's Family comes about not by lineage or heritage, but through Jesus' own death and resurrection. It is our solidarity with Jesus' death and resurrection that saves us and brings us into the new covenant. The primary spiritual mechanism for creating this union with Christ is Christian baptism in the name of the Father, the Son and the Holy Spirit (Matthew 28:19-20).
St. Paul makes this connection in his letter to the Romans, "We were indeed buried with him through baptism into death, so that, just as Christ was raised from the dead by the glory of the Father, we too might live in newness of life." (Romans 6:4). Yet a full initiation into Christ involves a complex of four items; faith, repentance, baptism and reception of the Holy Spirit. As the Apostle Peter tells the crowd during his Pentecost sermon, "Repent and be baptized, every one of you, in the name of Jesus Christ for the forgiveness of your sins; and you will receive the gift of the Holy Spirit."(Acts 2:38, Titus 3:5). These same words are echoed in the Nicene Creed: "I confess one baptism for the forgiveness of sins."
Most of the examples in the New Testament involve adult conversions which naturally follow the pattern of faith and repentance followed by baptism and reception of the Spirit. Yet there are also examples of entire households turning to the faith. Just as converts to Judaism included their entire household (Acts 10:2) so the converts to Christianity baptized their whole households (Acts 11:14; 16:15, 31, 34; 18:8; 1 Corinthians 1:16; 16:15). The Greek term for household included the entire family consisting of those related by blood and marriage, as well as slaves and servants, living in the same house or homestead. As Christianity shifted into the second generation it became more and more common to be baptized as an infant.
As St. John Paul II has pointed out, those baptized in infancy need to develop their faith in order to make it personal. This is not to imply that baptism requires our later ratification to be effective, but only that we need to cooperate with God's grace. According to St. John Paull II, it is necessary to say 'yes' to God on two levels, by surrendering to the word of God and relying on it, and also by endeavoring to know better the profound meaning of this word (Catechesis tradendae, 20). Even if we begin with Baptism a mature Christian initiation involves faith, repentance, baptism and the reception of the Spirit.
Although it is not necessary to personally say 'yes' to God to receive the graces of forgiveness in baptism as an infant, in order to complete our journey to faith as an adult is it necessary to make a personal decision to embrace and live these graces. Our cooperation is necessary. In fact without our cooperation it is possible to completely turn away and reject these graces.
Each of us needs to look within our hearts and ask ourselves, have I said 'yes' to God? Have I allowed the graces of my baptism to lie dormant? Am I willing to submit to Jesus, rely on him, and to endeavor to know him better?
Scott McKellar is associate director of the Bishop Helmsing Institute.
Daily Scripture Readings
For complete daily Scripture texts, click here. www.usccb.org
Monday, January 11, 2016
1 Samuel 1:1-8
Psalms 116:12-13, 14-17, 18-19
Mark 1:14-20
Tuesday, January 12
1 Samuel 1:9-20
1 Samuel 2:1, 4-5, 6-7, 8abcd
Mark 1:21-28
Wednesday, January 13
1 Samuel 3:1-10, 19-20
Psalms 40:2 & 5, 7-8a, 8b-9, 10
Mark 1:29-39
Thursday, January 14
1 Samuel 4:1-11
Psalms 44:10-11, 14-15, 24-25
Mark 1:40-45
Friday, January 15
1 Samuel 8:4-7, 10-22a
Psalms 89:16-17, 18-19
Mark 2:1-12
Saturday, January 16
1 Samuel 9:1-4, 17-19; 10:1
Psalms 21:2-3, 4-5, 6-7
Mark 2:13-17
Second Sunday in Ordinary Time, January 17
Isaiah 62:1-5
Psalms 96:1-2, 2-3, 7-8, 9-10
1 Corinthians 12:4-11
John 2:1-11
Monday, January 18
1 Samuel 15:16-23
Psalms 50:8-9, 16bc-17, 21 & 23
Mark 2:18-22
Tuesday, January 19
1 Samuel 16:1-13
Psalms 89:20, 21-22, 27-28
Mark 2:23-28
Wednesday, January 20
1 Samuel 17:32-33, 37, 40-51
Psalms 144:1b, 2, 9-10
Mark 3:1-6
Thursday, January 21
1 Samuel 18:6-9; 19:1-7
Psalms 56:2-3, 9-10a, 10b-11, 12-13
Mark 3:7-12
Friday, January 22
1 Samuel 24:3-21
Psalms 57:2, 3-4, 6 and 11
Mark 3:13-19
Saturday, January 23
2 Samuel 1:1-4, 11-12, 19, 23-27
Psalms 80:2-3, 5-7
Mark 3:20-21
Third Sunday in Ordinary Time, January 24
Nehemiah 8:2-4a, 5-6, 8-10
Psalms 19:8, 9, 10, 15
1 Corinthians 12:12-30
or 1 Corinthians 12:12-14, 27
Luke 1:1-4; 4:14-21
The full text of the Scripture readings for this week and next week can be found here: www.usccb.org/
Click on the "Daily Readings" tab on the right hand side of the page.