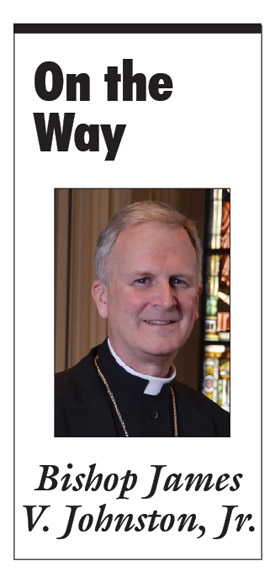 "The time is fulfilled, and the kingdom of God is at hand; repent, and believe in the gospel." Mark1:15
It seems odd to think of Jesus as a threat. He is the Good Shepherd, the Prince of Peace. But, make no mistake, Jesus is also a threat. The readings of the Christmas season hint at this with King Herod's pursuit of the Christ child. In his fear he slaughters all the infant boys in the vicinity of Bethlehem, hoping to kill Jesus in the process. A similar fear moved many of the religious authorities to plot to trap and eventually kill Jesus. He was a threat to them too.
Peter felt threatened as well, but responded in a different way. When he realized who Jesus was, even if still incompletely, he responded, "Depart from me, for I am a sinful man, O Lord" (Lk 5:8).
Jesus continues to be a threat today. He is a threat because of who he claims to be—God. If he is God, we must pay attention to what he says—and more. If he is God, we should worship and obey him in all things. This claim of Jesus challenges, indeed threatens, everyone. This is because all of us are wounded by sin and to some extent or another, all wish to act like a god. We all want to have things our way; it seems a lot easier than obedience.
In some sense, Jesus came to be a threat. He says so when he utters those shocking words: "Do not think that I have come to bring peace on earth; I have come not to bring peace, but a sword" (Mt 10:34). Jesus should threaten us, and if he does not, then we have not taken him seriously. He should threaten our pride, and the many ways we seek to serve ourselves, to compromise the truth, to play God. In other words, when Jesus says right out of the gate, "the kingdom of God is at hand; repent, and believe in the gospel" (Mk 1:15), he is laying down a challenge that offers no middle ground.
There are three responses to Jesus the threat. First, we can try to eliminate and silence him, as Herod and the religious authorities did. This approach is evident in some of the secular aggressiveness toward Christianity in our current culture. We can be tempted to this too when we don't want to hear a part of the Gospel that threatens our lifestyle or comfort. We, quite literally, "don't want to hear it."
Second, we can try to tame Jesus. We do this by focusing on the parts of his teaching that we find attractive, and ignore, dismiss, or explain away what seems too unreasonable, challenging, or threatening. Another approach is to separate the teaching that is a challenge to us, and attach it to something or someone else, e.g., "the Church" or "the Vatican" or "the bishops." We thereby insulate ourselves from Jesus the threat. Jesus becomes a caricature which creates the illusion that we have no need to change. He has been tamed.
Finally, we can open ourselves up to Jesus in humility and allow him to get to work on us with his mercy. We can take seriously our need to change, to repent, and to believe. This allows Jesus to threaten us as he intends: to smash our idols and our pride, our selfishness and our desire to be comfortable. This is what Mary sang about in her Magnificat in Luke 1:46-55. We allow the Almighty to cast us from our thrones in order to raise us up in our humility and his mercy. The good news is that when we allow Jesus to lead us into the truth, we experience freedom, as he said we would! (cf. Jn 8:32)
Jesus is a threat—and that's a good thing. Our choice is to respond with fear or with faith, with pride or humility.