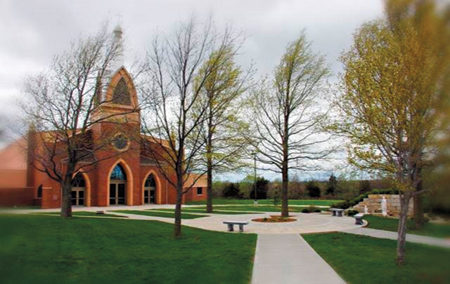 By Marty Denzer
Catholic Key Reporter
KANSAS CITY — Our Lady of Lourdes in Harrisonville will celebrate 75 years as a parish with Mass followed by a reception in the parish hall on Feb. 7. Mass will be at 9:30 a.m., in the church at 2700 E. Mechanic Street, with Bishop James V. Johnston of the Diocese of Kansas City-St. Joseph as the principal celebrant , concelebrated by Father Ian Murphy, pastor of Our Lady of Lourdes and several former pastors. The public is invited to attend the celebration.
Father Bernard Donnelly first mentioned a Catholic presence in Harrisonville in his writings of 1847. The few families in the area were occasionally served by visiting priests or traveled to Pleasant Hill for Mass.
In 1884, Harrisonville acquired mission church status, but Bishop Hogan made no effort to purchase land toward the establishment of a parish. For 57 years, Catholic families attended Mass whenever a priest and space was available.
Between 1916 and 1931 many Catholic families moved away, leaving only four families by 1931.
In 1939, the Civilian Conservation Corps was established in Cass County and the Catholic population slowly increased. By 1941, Sunday Mass was celebrated in the parlor of the Hotel Harrisonville.
On Feb. 12, 1941, Archbishop Edwin V. O'Hara of the Diocese of Kansas City, decided that establishment of a parish in Harrisonville was warranted, and assigned Father Thomas Crowell as the founding pastor of the new parish to be named Our Lady of Lourdes. At the time 12 families comprised the parish membership. Seven months later, land and a home on Wall Street was purchased from the estate of Mrs. Manwell Williams to serve as church and rectory.
Four years passed before the parish built a church, 28' x 60', on the east side of the rectory, which quickly acquired the nickname, the Chicken Coop. The church could seat 120. A parish hall was built in 1952, but soon remodeled to provide 60 additional seats in the church.
By 1970, the parish had outgrown the Wall Street church. Plans were drawn up for a new church, and construction finally began in Dec. 1972. The church, with seating for 450 and a full basement for classes and events was completed in 1973 at a cost of $182,000. The church was consecrated and dedicated Aug. 5, 1973.
The property on Wall Street was sold in 1974. By 1989, additional church seating was needed yet again, and a $233,000 addition was constructed adding room for another 100 parishioners.
Time passed and the parish continued to grow. Once again it outgrew the church and received permission to build a new 14,000 square foot church building with seating for 640 that could be expanded to seat 1,000. Costing $2,535,085, the new church was dedicated in August 2004 by Bishop Raymond J. Boland of the Diocese of Kansas City-St. Joseph.
Following years of planning, the Grotto of Our Lady of Lourdes was dedicated in 2005 by Bishop Robert Finn. It is intended to be a place of meditation, prayer and peace connecting the two primary areas of the church campus.
For more information about Our Lady of Lourdes-Harrisonville, please contact the parish office (816) 380-5744.