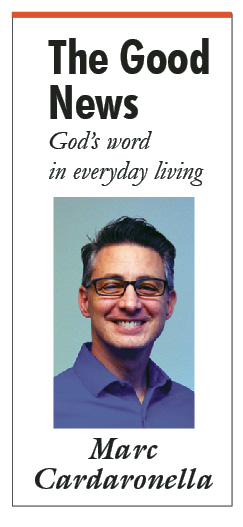 Several weeks ago, on December 8, 2015, Pope Francis launched the Jubilee Year of Mercy by throwing open the massive Holy Door at St. Peter's Basilica. It was bricked up since Pope John Paul II's Great Jubilee Year in 2000. He called this the start of a "revolution of tenderness."
What's so special about the Holy Door? It's a symbol of the Church opening the floodgates of God's mercy to the world, allowing his healing love to flow out into it.
In proclaiming the Year of Mercy, Pope Francis echoed Jesus' proclamation in today's gospel. In the Nazareth synagogue Jesus read Isaiah 61:1-2:
"The Spirit of the Lord is upon me,
because he has anointed me to preach good news to the poor.
He has sent me to proclaim release to the captives
and recovering of sight to the blind,
to set at liberty those who are oppressed, to proclaim the acceptable year of the Lord."
An "acceptable year of the Lord" is another term for a year of Jubilee, a time of extraordinary mercy and forgiveness.
Jubilee was a celebration in Old Testament Israel. God established the practice just after he rescued the Israelites from slavery in Egypt. It was an extension of the Sabbath. Every seven days, the Israelites celebrated the Sabbath, a day of rest from work and worship of God. Every seven years, they celebrated a Sabbath year where they let the fields rest and nothing would be planted. Then every 49 years, 7 x 7, a Sabbath of Sabbath years, they celebrated Jubilee.
Like the Sabbath year, the Israelites rested from agricultural work during Jubilee and planted nothing. They also forgave all debts. Say you had to sell your daughter as a slave in lieu of payment because you couldn't pay a debt (harsh huh?). During the Jubilee, she could return home. If you ran on hard times and had to sell some ancestral family land, you could get it back. This made sure that Israelites, who had been slaves in Egypt, would never have to endure permanent slavery again.
In Isaiah 61, the prophet foretells the coming of an "anointed," a Messiah proclaiming "liberty" from oppression and "release" from captivity. A Jubilee…but different. This one will usher in the Messianic age, when all God's people, even the Gentiles, would be renewed and united in God. Can you imagine the shock when Jesus stood up and said, "Today this Scripture has been fulfilled in your hearing"? He was telling them this is the time and I am the one…and he was!
The Messianic age is now, and in Jesus we have true Jubilee. In the 1300's, the Church again picked up the practice of proclaiming an "acceptable year," a time of extraordinary mercy and forgiveness associated with pilgrimages and indulgences. The Church has access to the infinite treasury of grace won by Jesus on the Cross. Because the Pope has the "Keys to the Kingdom," on special occasions he can unlock the treasury and pour out that ocean of mercy on the faithful. To get it, all you need to do is make an act of faith — travel to a pilgrimage site and say some special prayers.
That's the essence of indulgences and jubilee graces. Opening the Holy Door symbolizes opening the treasury of graces. And, walking through the Holy Door is the act of faith required during this Year of Mercy for you to unlock those graces.
In the Old Testament the Jubilee rescued servants from bondage, reunited families, and restored homeland. No small matter. However, those things don't save you from spiritual enslavement and oppression. Jesus frees us from sin, death, and the power of Satan. He reunites all mankind in God's family and opens the way to our eternal homeland in heaven.
So, planning a trip to Rome this year? Well, guess what? You don't have to! Now, for the first time, Pope Francis is allowing local cathedrals and churches take part in the Holy Door tradition so people won't have to travel to Rome.
In our diocese the sites are the Cathedral of the Immaculate Conception; the Co-Cathedral of St. Joseph; the Minor Basilica of the Immaculate Conception at Conception Abbey; Our Lady of Good Counsel, Kansas City; Sacred Heart/Guadalupe Parish, Kansas City; Sacred Heart Parish, Warrensburg; and Holy Rosary Parish, Clinton.
To get the Jubilee Indulgence, you have to cross the Holy Door at one of those churches, say the Apostles Creed, as well as an Our Father, Hail Mary, and Glory Be for the Pope›s intentions. You must also be disposed to receive the graces by partaking in confession at least 20 days before or after your pilgrimage.
You can also get a Jubilee Indulgence this year by performing a Work of Mercy in person. One of those is forgiving others their offenses, which is sometimes not easy to do. In fact, in a recent Wednesday audience, Pope Francis called this jubilee a "privileged moment" for the Church to choose "that which pleases God most," forgiveness and mercy.
Pope Francis said the Holy Door was a "Door of Mercy, through which anyone who enters will experience the love of God who consoles, pardons and instills hope."
I pray this year will bring special graces of healing as you experience God›s mercy, and perhaps become a bearer of mercy by extending forgiveness to someone who hurt you.
Marc Cardaronella is Director of the Bishop Helmsing Institute.
Daily Scripture Readings
For complete daily Scripture texts, click here. www.usccb.org
Monday, January 25, 2016
Acts 22:3-16 or Acts 9:1-22
Psalms 117:1bc, 2
Mark 16:15-18
Tuesday, January 26
2 Timothy 1:1-8
Or Titus 1:1-5
Psalms 96:1-2a, 2b-3, 7-8a, 10
Mark 3:31-35
Wednesday, January 27
2 Samuel 7:4-17
Psalms 89:4-5, 27-28, 29-30
Mark 4:1-20
Thursday, January 28
2 Samuel 7:18-19, 24-29
Psalms 132:1-2, 3-5, 11, 12, 13-14
Mark 4:21-25
Friday, January 29
2 Samuel 11:1-4a, 5-10a, 13-17
Psalms 51:3-4, 5-6a, 6bcd-7, 10-11
Mark 4:26-34
Saturday, January 30
2 Samuel 12:1-7a, 10-17
Psalms 51:12-13, 14-15, 16-17
Mark 4:35-41
Fourth Sunday in Ordinary Time, January 31
Jeremiah 1:4-5, 17-19
Psalms 71:1-2, 3-4, 5-6, 15-17
1 Corinthians 12:31—13:13
or 1 Corinthians 13:4-13
Luke 4:21-30
Monday, February 1
2 Samuel 15:13-14, 30; 16:5-13
Psalms 3:2-3, 4-5, 6-7
Mark 5:1-20
Feast of the Presentation of the Lord, Tuesday, February 2
Malachi 3:1-4
Psalms 24:7, 8, 9, 10
Hebrews 2:14-18
Luke 2:22-40
Wednesday, February 3
2 Samuel 24:2, 9-17
Psalms 32:1-2, 5, 6, 7
Mark 6:1-6
Thursday, February 4
1 Kings 2:1-4, 10-12
1 Chronicles 29:10, 11ab, 11d-12a, 12bcd
Mark 6:7-13
Friday, February 5
Sirach 47:2-11
Psalms 18:31, 47 & 50, 51
Mark 6:14-29
Saturday, February 6
1 Kings 3:4-13
Psalms 119:9, 10, 11, 12, 13, 14
Mark 6:30-34
Fifth Sunday in Ordinary Time, February 7
Isaiah 6:1-2a, 3-8
Psalms 138:1-2, 2-3, 4-5, 7-8
1 Corinthians 15:1-11
or 1 Corinthians 15:3-8, 11
Luke 5:1-11
The full text of the Scripture readings for this week and next week can be found here: www.usccb.org/
Click on the "Daily Readings" tab on the right hand side of the page.