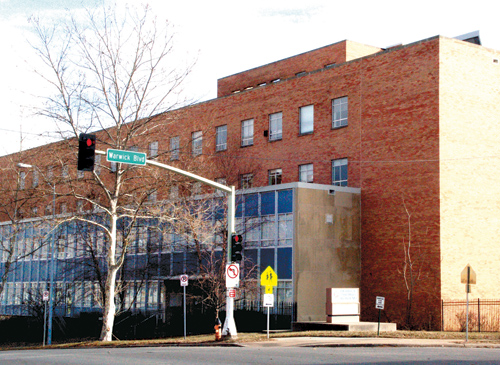 By Marty Denzer
Catholic Key Reporter
KANSAS CITY — A new Catholic grade school will be opening this fall, a new grade school in the city's central core. Jeremy Lillig, director of the diocesan Bright Futures Fund, which raises funds to provide needs-based tuition assistance to help families give their children a Catholic education, and Dan Peters, diocesan Superintendent of Catholic Schools, announced Jan. 22 that Bright Futures was in the process of acquiring the former Derrick Thomas Academy to serve as the future home of a new K – 8 school.
There are currently three urban core schools, Our Lady of Angels in Westport founded in 1910, Our Lady of Guadalupe on the West Side, founded in 1915, and Holy Cross in Old Northeast founded in 1910. Today Our Lady of Angels serves 154 students, of whom 80 percent are Hispanic. Our Lady of Guadalupe has 69 students, 68 percent of whom are Hispanic. The other students are African-American, Asian, mixed race and white. The majority are low-income.
Since 2012 the Bright Futures Fund along with the Catholic Schools Office have been working to find a solution to stabilize education in the urban core with a sustainable model. Financial need, rising costs of education and deteriorating buildings accelerated those efforts.
The charter school named for the late Kansas City Chiefs linebacker Derrick Thomas closed when U.M.K.C., its sponsor, declined to renew the charter due to reports of mismanagement and poor performance. The building, fully furnished and equipped, has been vacant since 2013. The deal will have the Bright Futures Fund lease the building from its current owner — New Jersey-based investment firm Lord Abbet and Co., LLC — for five years, then purchase it at a price still to be determined.
When the new school opens this fall, the student body will be comprised of more than 200 students, mostly from Our Lady of Angles and Our Lady of Guadalupe, both of which will close at the end of this academic year. Holy Cross will remain open, and its principal, Barb Dean, will serve as president of the new school while remaining in administration at Holy Cross.
In an interview with the Kansas City Star about the forthcoming acquisition of the former Derrick Thomas Academy building, Bishop James V. Johnston Jr., said it meant the diocese will be able to provide broader opportunities for children in the center city for a quality Catholic education. He added that "this is when the church is at its best," the "mission shines a light" on the urban core of the city.
Superintendent Dan Peters is excited for the diocese, for Bright Futures and especially for the students. "We will be able to bring two schools together at a new location," he said, "a building that is fully equipped, and state of the art. The added space will make it more efficient and we will be able to offer more services to families and students. It's centrally located in St. James parish, in a neighborhood that is being revitalized, and from there we can draw from where we are and from where we used to be —we can re-start relationships."
When Mary Delac, principal of Our Lady of Angels and soon to be principal of the new, as yet un-named school, was informed a few months ago that, thanks to Lamar Hunt, Jr., and his charity, Loretto Foundation, a deal was being negotiated for the diocese to acquire the building, she wanted to see it up close. She drove over, saw the playground and playing fields that stretch almost a block behind the building, and laughingly said she "started salivating. Our kids at Our Lady of Angels play on a parking lot;" the playground at Our Lady of Guadalupe is very small.
Delac, a veteran educator with 26 years of urban education, said in all that time she had never had a "nice playground."
And, she added, "I was blown away when I went inside. We could take our kids over and start class right away. This is truly a gift."
Lillig enthusiastically described the playground, soccer field and interior of the building. Ninety thousand square feet of classrooms, library, science lab, art room, technology center, music room, a kindergarten suite — two classrooms surrounding boys and girls restrooms, so the kindergarteners need not leave the area for bathroom breaks; a big cafeteria, and each classroom is wired for surround-sound. The school will use four floors of the 5-story building, and a tenant will occupy the fifth floor. The building is ADA compliant and centrally heated and cooled.
"There's a reception desk in the entry hall, with offices in the same area," Lillig said. "Mary Delac will have one of the offices, a big office, instead of the tiny space she has now, with modular furniture. There's over a million dollars in furnishings, equipment and fixtures. The first floor library is fully stocked with books. The cafeteria has big, round, folding tables with stools attached. The classrooms all have desks, all modern furnishings. Textbooks still new, I opened one and it crackled. Of course, we are now using the same textbook series in Science and Social Studies as the public schools so those can be used, but Reading and Math textbooks will be brought over from Angels and Guadalupe. There are conference rooms, meeting rooms; each floor has a teacher's prep room with copy machines and other equipment and aids. The middle school will have its own floor, and the kids will have lockers. There is a big room we'll turn into a chapel so the students and teachers will be able to attend Mass. There is also a trophy case."
There is enough space in the building for the school and for collaboration with community organizations which will provide additional opportunities for the students and their parents. The tenants will have their own access to the building and the school will be kept separate.
But, Lillig said, the building requires about 90 days of work "to polish it up" before students move in. Some sheet rocking, some painting, and rearranging. And of course it's not a done deal yet, but papers should be signed within the next few weeks. And, Peters added, then the move begins.
The building sits on a secured and monitored gated campus with an AstroTurf soccer or football stadium and playgrounds with jungle gyms, swing sets and nine basketball goals. There are KC metro and MAX bus stops nearby. The building is located on Armour Blvd., within minutes of the two current schools. All of which will better serves members of the inner core of the city.
Delac said some families with multi-generational ties to Our Lady of Angels and Guadalupe might take the schools' closing hard, the amenities and opportunities offered at the new building notwithstanding. But, she reminded those families, it's not the bricks that make a school special. "What makes a school special are the people who come there every day."
The naming of the school will be put to a vote, Lillig said so the families and students of Angels and Guadalupe can be involved, as well as some other folks in the diocese. Once contracts are signed and keys exchanged, that can go forward. Bishop Johnston will of course have the final say on the name.
According to Canon Law, the old school buildings will revert to the parishes —Angels to Guardian Angels parish and Guadalupe to Sacred Heart-Guadalupe parish. The parish communities will be able to repurpose or sell the buildings. Lillig said that elements of both Our Lady of Angels and Our Lady of Guadalupe, including statues, class photographs, trophies and other school artifacts will be prominently displayed to remind students, families and visitors of the century-long legacies of the schools. He has some other ideas to portray the melding of the two schools into the new school.
It seems to have happened in the blink of an eye, but in actuality it began with a Bright Futures Board of Directors retreat last May. There, board members discussed the challenges of aging and deteriorating school buildings.
Catholic education, especially for children in the urban core, is so important to Bright Futures Fund Board Member Lamar Hunt, Jr., and his wife Rita that he immediately started hunting for a place where a new educational vision could be created. He found that the Derrick Thomas Academy was on the market, and through Loretto Foundation Charities, was able to make this gift to Bright Futures and the diocese.
"I'm so excited," Delac said. "We're going to have an awesome environment for our kids to learn and grow in. They deserve it. It's what's best for the kids, and, and we'll have room for more students. We will be able to reach neighborhoods where Catholic education used to be a presence."
The first year's enrollment could be as high as 223, if all the students from both Angels and Guadalupe attend. But Lillig and Bright Futures have great expectations. There are plans to add a pre-school and attract students from neighborhoods in all directions. Lillig hopes the total enrollment will grow to 625 within five years.
Lillig is excited about the future also. "The students, the diocese and Bright Futures are extremely fortunate for this gift of a building," he said. "We will be able to think differently, to act boldly, and to help as many people as we can."