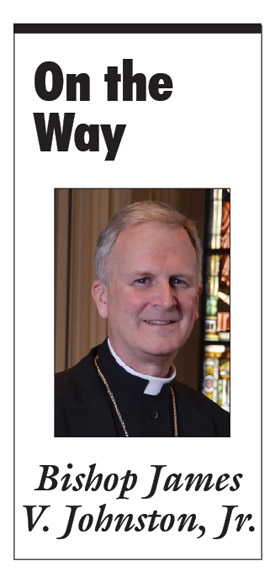 "Seeing the crowds, he went up on the mountain, and when he sat down his disciples came to him. And he opened his mouth and taught them . . ." Mt 5:1-2
As this is Catholic Schools Week across America, it provides an opportunity to reflect on this ministry that has profoundly affected millions of people, and continues to do so in our own diocese.
Jesus sent his apostles forth to all the nations to teach them all that he commanded (cf. Mt 28:19-20). This teaching mission of the Church gets carried out in a variety of ways. Bishops have a special commission to teach as the successors of the apostles. Parents are given a special responsibility to teach their children. In fact, this is one of the "ends" of marriage: "The matrimonial covenant, by which a man and a woman establish between themselves a partnership of the whole of life, is by its nature ordered toward the good of the spouses and the procreation and education of offspring" (canon 1055, Code of Canon Law; emphasis added). Parents are not just called to have kids, they are called to produce saints.
While parents are the primary educators of their children in the faith, the pastors of the Church have a responsibility to assist them in this most sacred of duties. This is where Catholic Schools fit in. Schools provide a form of close collaboration with parents to help children receive formation in the saving truths of Jesus so that they can live in such a way to work out their salvation with the aid of God's grace. They are formed in what makes for a virtuous life, what their duties are to others, how to live generously and sacrificially as Christians, be a part of a community of love, receive a Christian world view, discover what it means to be truly human; and oh, yes, to also get a good academic education. Parishes without a Catholic School are responsible to assist parents in this mission in other ways through quality parish religious education programs.
Catholic schools succeed precisely because they are Catholic, and only if they are truly Catholic. They attend to the entire person of the student, including the life of the soul. According to a key line from the documents of the Second Vatican Council: "Christ, the final Adam, by the revelation of the mystery of the Father and His love, fully reveals man to man himself and makes his supreme calling clear" (Gaudium et Spes, 22). Educating children to be fully human means forming them in Christ and his truth. We want our children to not simply be smart, we want them to be wise—and good.
This endeavor requires much. It requires finding teachers who are fully "on board" with this mission and are committed to witnessing to it not just in what they teach, but how they live. Teachers and coaches and administrators must also be witnesses. It also requires the generosity of many: parents who sacrifice other things to make Catholic education possible; parishioners who sacrifice for the same purpose; teachers, lay and religious, who give so much to make our schools excel; and many other generous benefactors who see the fruit and give to further the mission.
This past week, our diocese broke the happy news that a new Catholic School would be opened in the inner core of Kansas City, to better serve the children there and to make it possible to serve more of them. The news is good not only for the potential students, but also for their families and the broader community. Recent studies clearly show that Catholic schools are more than just educational institutions, they also promote the development of social capital—the social connections and mutual trust that form the foundation of healthy, safe and cohesive communities.
Thanks to all who work to make our Catholic Schools possible. May God bless our Catholic Schools and all whom they serve!