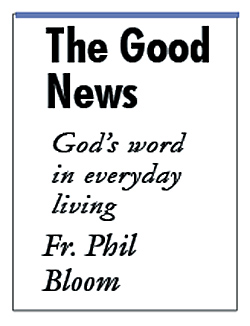 Several years back, I was having a conversation with some family members. I mentioned that I had just read an interesting study. Evidently, scientists had discovered that if two people kiss in a certain way some strands of DNA remain in each other's saliva. My niece began making spitting gestures (puh, puh). Like many people, she carries some DNA she wishes she could get rid of.
Now, I don't know if this is what Isaiah meant by "unclean lips." He says:
"Woe is me, I am doomed!
For I am a man of unclean lips,
living among a people of unclean lips!"
For sure, unclean lips could result from kissing someone. But Isaiah has something more in mind: Instead of using our lips to praise God, we sometimes use them to deceive, maybe even to take God's name in vain. Instead of speaking encouraging words, we use our lips for angry outbursts or to talk bad about others. Like the people of old, we have unclean lips.
When we come to Mass, we ask the Lord to cleanse our lips. Before reading the Gospel, the priest prays quietly, "Almighty god, cleanse my heart and my lips that I may worthily proclaim your gospel." Cleanse my lips. That is a good prayer: Not only for the priest when he proclaims the Gospel, but also at the beginning of Mass – and above all at Communion time, "Lord, cleanse my lips."
To say that prayer means we acknowledge our sins. Sin is like those DNA strands. It can cling to us and we might not realize it. When we enter God's presence, however, our sin becomes evident. When the Holy One showed himself to Isaiah, the prophet said, "Woe is me, I am doomed!" Something similar happened to Peter. At first he marveled at the abundance of fish, but then he saw the real marvel. He turned to Jesus and said, "Depart from me, Lord, for I am a sinful man."
When we approach God, we acknowledge who we are: creatures, created beings. None of us made ourselves. God made us, we owe everything to him, yet we have turned from him. We tried to go it alone and – let's face it – it didn't worked out well. Like Peter, we are sinful men and women. Like Isaiah, we have unclean lips.
We acknowledge our sins – but we do not stop there. If we only focus on our failures, that would be fatal. Let me tell you about a man who almost made that mistake. Back in 1978, the month was October, a burnt out journalist sat at a desk in a dreary hotel room. On the table he had placed a bottle of whiskey and some pills. He planned to end his life by putting the pills in his mouth and washing them down with whiskey. A radio played in the background. He heard a voice with a Polish accent. The voice said, "Be not afraid." It was newly elected pope, John Paul II.
Something happened inside that man. Through Pope John Paul, he heard Jesus speaking. The man swept the pills into the waste basket and poured the whiskey down the sink. He began a new life. In spite of his sense of failure, he heard those beautiful words, "Do not be afraid."
Jesus speaks those same words to Peter today. And he says to you and me, "Do not be afraid." Maybe we have not come to the edge of despair, maybe we do not have Peter's vivid awareness of sin, but still we know we have fallen short. Our past failures cling to us like DNA. And the older we get, the more remorse we feel for our missteps. They have hurt others, hurt ourselves and have hurt God.
Still, Jesus says, "Do not be afraid." Jesus wants to forgive us, but he wants to do something more. In our first reading we heard how an angel took a burning coal and touched it to Isaiah's lips. Early Christian writers saw the burning coal as a foreshadowing of the Eucharist. Especially when we receive Communion, Jesus wants to purify our lips. And he wants to warm and cleanse our bodies and souls.
So this Sunday, like Isaiah, like Peter, we acknowledge our sins. That is not something negative, but very positive. It enables us to hear Jesus' voice – to receive his forgiveness, his healing – and through the Eucharist, to allow him to touch and heal us.
Aware of our sins – and desiring forgiveness and healing – we pray, "Lord, cleanse my lips."
Father Phillip Bloom is Pastor of St. Mary of the Valley Parish in Monroe, WA.
Daily Scripture Readings
For complete daily Scripture texts, click here.www.usccb.org
Monday, February 8, 2016
1 Kings 8:1-7, 9-13
Psalms 132:6-7, 8-10
Mark 6:53-56
Tuesday, February 9
1 Kings 8:22-23, 27-30
Psalms 84:3, 4, 5 and 10, 11
Mark 7:1-13
Ash Wednesday, February 10
Joel 2:12-18
Psalms 51:3-4, 5-6ab, 12-13, 14 & 17
2 Corinthians 5:20—6:2
Matthew 6:1-6, 16-18
Thursday, February 11
Deuteronomy 30:15-20
Psalms 1:1-2, 3, 4 & 6
Luke 9:22-25
Friday, February 12
Isaiah 58:1-9a
Psalms 51:3-4, 5-6ab, 18-19
Matthew 9:14-15
Saturday, February 13
Isaiah 58:9b-14
Psalms 86:1-2, 3-4, 5-6
Luke 5:27-32
First Sunday of Lent,
Sunday, February 14
Deuteronomy 26:4-10
Psalms 91:1-2, 10-11, 12-13, 14-15
Romans 10:8-13
Luke 4:1-13
Monday, February 15
Leviticus 19:1-2, 11-18
Psalms 19:8, 9, 10, 15
Matthew 25:31-46
Tuesday, February 16
Isaiah 55:10-11
Psalms 34:4-5, 6-7, 16-17, 18-19
Matthew 6:7-15
Wednesday, February 17
Jonah 3:1-10
Psalms 51:3-4, 12-13, 18-19
Luke 11:29-32
Thursday, February 18
Esther C:12, 14-16, 23-25
Psalms 138:1-2ab, 2cde-3, 7c-8
Matthew 7:7-12
Friday, February 19
Ezekiel 18:21-28
Psalms 130:1-2, 3-4, 5-7a, 7bc-8
Matthew 5:20-26
Saturday, February 20
Deuteronomy 26:16-19
Psalms 119:1-2, 4-5, 7-8
Matthew 5:43-48
Second Sunday of Lent,
Sunday, February 21
Genesis 15:5-12, 17-18
Psalms 27:1, 7-8, 8-9, 13-14
Philippians 3:17—4:1 or Philippians 3:20—4:1
Luke 9:28b-36
The full text of the Scripture readings for this week and next week can be found here: www.usccb.org/
Click on the "Daily Readings" tab on the right hand side of the page.