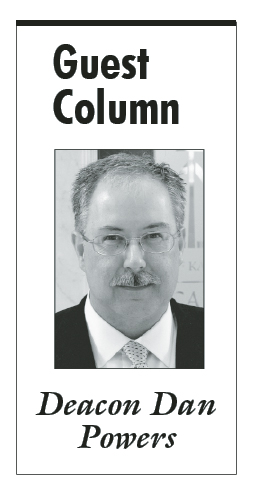 Do you ever feel privileged to be a part of something special? Perhaps you witness a beautiful sunrise, or an outstanding musical performance, or especially the birth of a child. These events can have a profound impact on us and can even shape and change our beliefs and our lives.
This Sunday's Gospel is Luke's account of the Transfiguration of Jesus on the mountain. Jesus had taken Peter, James, and John with Him to pray and suddenly they saw Jesus' "face changed in appearance and His clothes became dazzlingly white." Caught up in deep prayer, the Apostles see many great things and are so blessed by the events that they want to erect tents and stay on the mountain. They are witnesses to Christ's glory and power!
Imagine the impact that this had on these three apostles' lives. Could they ever look at their teacher and Master the same way? The Gospel says that "they fell silent," most likely, because they were in awe and needed time to process what they had seen and heard. At some point – either before or after Jesus' death – they must have wondered why they were selected from the twelve apostles to be witnesses to this important moment in time.
We, too, can look at events in our lives and see the hand of God. We can ponder why He allowed us to encounter people or experience events on a daily basis. When I worked in Marquette, Michigan, Bishop Alexander Sample used to teach that we should see the face of God in every person we encounter – and they should see God's face in ours.
Every day at Catholic Charities, people walk through our doors needing help. They come to us with expectations that their lives will be changed in some way. Many of them have heard about our good work and they come to us with hope that we can do the same for them. They walk into our Welcome Center looking for a chance to change.
We created the Welcome Center when we moved to our building at Ninth and Main in Kansas City last year. This move gave us the opportunity to greet and serve the individuals and families who visit us in a new way. It is based on the belief that each person has dignity given to us by Jesus Christ. We believe that these vulnerable people have as much to teach us as we have to teach them. We learn they have as much to give us as we have to give them. We are both brothers and sisters on the same journey to find meaning in our lives. We are both changed by our encounter.
We modeled this concept after a place in Oceanside, California, named "Brother Benno's." Brother Benno was a Benedictine monk who lived at Prince of Peace Abbey. The monks used to bake bread to sustain the monastery and Brother Benno would take the day-old bread into the canyons to give to homeless men and women. His ministry grew to become a place where meals were served. When Brother Benno became too old to continue his ministry, a deacon and his wife took over.
The deacon managed the meals, the volunteers, and the donations. His wife greeted the guests. She made sure she greeted every man or woman who visited Brother Benno's with a hug. At least twice a year, the wife would get poison oak on her arms – from hugging someone who had slept in the canyon the night before. At Catholic Charities, we see the ministry of both the deacon and his wife as equally valuable and necessary.
Just as the deacon's wife saw herself as privileged to encounter the brothers and sisters who came to Brother Benno's we too are blessed to be able to greet the folks who come to see us. We greet them with a smile, a cup of coffee, and an attentive heart. We try to look for Christ standing in front of us. We hope in some small way that they can make out the face of Christ in us.
A man recently released from prison came to the Welcome Center looking for help in rebuilding his life. David was fighting addiction, separated from his family, and barely making enough income to keep a roof over his head. But he said to the person who assisted him, "My struggles are my blessings."
Many times in the Welcome Center, we encounter people like him who teach us about their struggles and their joys. They teach us about perseverance and about faith. They show us determination in the face of adversity and against long odds. At Catholic Charities, we too are witnesses to His glory and power.
Deacon Dan Powers is Executive Director of Catholic Charities of Kansas City – St. Joseph.