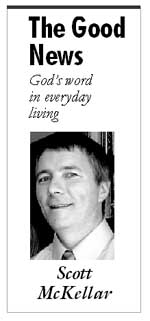 If you are like me, you would be shocked to learn that recent studies reveal that 57 percent of the children born to millennial generation adults are born outside of wedlock. In fact being born outside of marriage is the new national norm. Instead of society viewing marriage as the cornerstone of the family, it is becoming a capstone or future oriented achievement for the wealthy. We could add to this the widespread instability of both married and especially unmarried cohabitating couples in our society. The effects of these trends on men, women and children are staggering. While the social cost of this reality to our society is frightening, these choices also impact the very foundations of our faith.
Each of us is born with an instinct or desire which leads us to question and to reach out beyond our humanness. This religious impulse leads us to seek the face of God in our world. For Christians the mysterious distance between our humanness and God's presence is bridged by God becoming a man and joining himself to us. In order for this to occur in God's plan, God chose to create man and women in his image and likeness (Genesis 1:27) so that the very notion of divine love could be revealed to us in human love. Then using this human image, God humbled himself and became man.
In the measure our humanness allows, we experience God as a perfect father, and we relate to him as his sons and daughters. God has adopted us into his own family (Ephesians 1:5) and made us heirs of his kingdom (Galatians 4:7). More than this, his 'adoption' includes joining his Spirit to us so that "the spirit of adoption" cries out with God in our hearts, "Abba, Father" (Romans 8:15; cf. Gal. 4:6). We are invited as his children to experience the deepest loving intimacy with God.
By damaging the social fabric of our society, we are tarnishing the image of human love which helps us to see God as Father. Our society is experiencing a great deal of confusion about what it means to be a man and a father. Unfortunately as a result, large numbers of children are growing up fatherless. For many the ability to experience our spiritual childhood is wounded by the brokenness of our experience of human love.
Yet this Sunday's Gospel reading gives us hope for this brokenness. We can understand this gospel passage both literally and spiritually. In the broader story of Luke's Gospel Jesus is travelling to that ultimate source of our healing, the cross. After revealing to his disciples that he must suffer and die in Jerusalem, Jesus takes his inner circle of disciples, Peter, James and John up on a mountain to pray and there he is transformed in glory before them. This was done to strengthen the disciples to endure the horror of Jesus' passion and death. St. Leo the Great notes, "The great reason for this transfiguration was to remove the scandal of the cross from the hearts of his disciples" (Sermon 51, 3). Realizing the difficulties that were to follow, Our Lord gave these disciples special graces to endure this trial.
This whole event can also be understood in a spiritual sense. St. Augustine sees the transfiguration as an allegory of Jesus understood 'as the light which enlightens every person coming in to the world' (John 1:9) and his garments as an image of the Church (Sermon 78).
Each of us must make the effort to ascend the mountain of prayer with our Lord. Like the disciples we may become distracted and even fall asleep in our human weakness only to become fully awake when God manifests his glory. Then overshadowed by the supernatural gift of his presence, we hear the heavenly voice.
Having been clothed in Christ in Baptism (Galatians 3:27) we too are chosen sons and daughters of God. The glory of Christ revealed on this mountain will change us. St. Paul admonishes us to allow our minds to be renewed by this glory, "Do not conform yourselves to this age but be transformed by the renewal of your mind, that you may discern what is the will of God, what is good and pleasing and perfect." (Romans 12:2). Unlike the previous imperfect means of relating to God, now in the Spirit, "All of us, gazing with unveiled face on the glory of the Lord, [and] are being transformed into the same image from glory to glory, as from the Lord who is the Spirit" (2 Corinthians 3:18).
St. Peter ascended the mountain and struggled to stay awake with our Lord. The Catechism describes contemplation as "a gaze of faith, fixed on Jesus" (CCC 2715). Peter's encounter sounds very much like the journey we could all experience in our prayer. He experienced consolations for this struggle and declared, "Master, it is good that we are here." Then as he dialogued with our Lord, a cloud came over him and he was briefly frightened by the sense of awe at God's presence before being drawn in to the intimacy of divine sonship. This experience would change his life so profoundly that it continued to define him to the end of his life (2 Peter 1:16-18).
Imagine the change that each of us could experience this Lent if we would set aside the time to journey up this mountain with our Lord in prayer. The saints tell us that no matter what the brokenness of our heart, the experience of the Father's love in our prayer can transform us. St. Thérèse of Lisieux was not afraid to call each of us to this journey. She writes, "God's love shows itself just as well in the simplest soul which puts up no resistance to His grace as it does in the loftiest soul" (The Story of a Soul).
Scott McKellar is Associate Director of the Bishop Helmsing Institute.
Daily Scripture Readings
For complete daily Scripture texts, click here. http://www.usccb.org
Monday, February 22
1 Peter 5:1-4
Psalms 23:1-3a, 4, 5, 6
Matthew 16:13-19
Tuesday, February 23
Isaiah 1:10, 16-20
Psalms 50:8-9, 16bc-17, 21 & 23
Matthew 23:1-12
Wednesday, February 24
Jeremiah 18:18-20
Psalms 31:5-6, 14, 15-16
Matthew 20:17-28
Thursday, February 25
Jeremiah 17:5-10
Psalms 1:1-2, 3, 4 & 6
Luke 16:19-31
Friday, February 26
Genesis 37:3-4, 12-13a,
17B-28a
Psalms 105:16-17, 18-19, 20-21
Matthew 21:33-43, 45-46
Saturday, February 27
Micah 7:14-15, 18-20
Psalms 103:1-2, 3-4, 9-10, 11-12
Luke 15:1-3, 11-32
Third Sunday of Lent
Sunday, February 28
Exodus 3:1-8a, 13-15
Psalms 103: 1-2, 3-4, 6-7, 8, 11
1 Corinthians 10:1-6, 10-12
Luke 13:1-9
Monday, February 29
2 Kings 5:1-15ab
Psalms 42:2, 3; 43:3, 4
Luke 4:24-30
Tuesday, March 1
Daniel 3:25, 34-43
Psalms 25:4-5ab, 6 and 7bc, 8-9
Matthew 18:21-35
Wednesday, March 2
Deuteronomy 4:1, 5-9
Psalms 147:12-13, 15-16, 19-20
Matthew 5:17-19
Thursday, March 3
Jeremiah 7:23-28
Psalms 95:1-2, 6-7, 8-9
Luke 11:14-23
Friday, March 4
Hosea 14:2-10
Psalms 81:6c-8A, 8bc-9,
10-11ab, 14 & 17
Mark 12:28-34
Saturday, March 5
Hosea 6:1-6
Psalms 51:3-4, 18-19, 20-21AB
Luke 18:9-14
Fourth Sunday of Lent
Sunday, March 6
Joseph 5: 9a, 10-12
Psalm 34: 2-3, 4-5, 6-7
2 Corinthians 5: 17-21
Luke 15: 1-3, 11-32
The full text of the Scripture readings for this week and next week can be found here: www.usccb.org/
Click on the "Daily Readings" tab on the right hand side of the page.