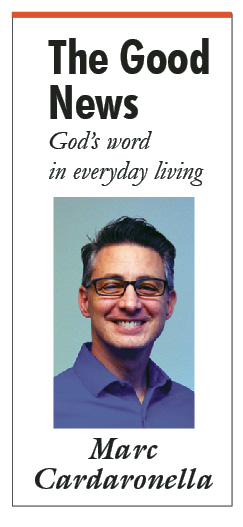 Have you ever done something very wrong and then felt truly forgiven by God? Perhaps you didn't even deserve forgiveness…but he gave it. Didn't it feel amazing to receive that mercy, to know that God loved and accepted you?
This Sunday's readings are about being restored — to fellowship, to relationship, to sonship with God.
In the first reading, the Israelites finally arrive at the Promised Land. After 40 years of wandering in the desert, their journey was complete. These are the children of the Israelite slaves who left Egypt triumphant. God devastated the land with plagues, reduced Pharaoh, and secured their freedom. That first generation saw God's might and glory but turned away from him. The lure of Egyptian idols proved too overwhelming, and in the face of fear and uncertainty, they worshipped the Golden Calf.
That's what God means when he says, "This day I have rolled away the reproach of Egypt from you." After all those years, the nation atoned for that grave transgression. Celebrating the Passover, the memorial of God's saving action in Egypt, sealed that atonement. Entering the Promised Land signifies their restoration to the status of 'children of God.' They eat from the fruit of the land proving their journey is complete. Manna was desert food. Now they are home.
This reading illustrates restoration is always possible. Israel sinned again and again during their time in the desert. They doubted God's word, accused him of lying, and rebelled against him. Still, he led them to the promised place. Even though they rejected him multiple times, he continually restored them to relationship as family.
The second reading is a plea for all of us to be restored to God. St. Paul offers that same restoration to relationship and family. Through baptism, your sins are washed clean. If you reconcile yourself to God, and turn away from your old life, it will be gone. You can be joined with God and changed. You can become a new creation. The restoration offered is to be a son of God, a son in the Son, Jesus Christ.
The third reading is, of course, the familiar story of the Prodigal Son who rejects his father, sets out on his own path, and squanders his inheritance on the pleasures of the world.
I know what it means to be a prodigal. I have rejected my heavenly Father, taken the life and gifts he gave me, and squandered them on worldly pleasure. It left me cold, empty, and desolate, feeding off the swine food of lust and ambition.
I have also received the Father's mercy. I have felt the hand of the Father on my face, welcoming me back into his family. I have felt his forgiveness, acceptance, and grace restoring me to the status of son, just like nothing ever happened. In the Sacrament of Reconciliation, he gave me a robe and clothed me in his love. In the Eucharist, he put a ring on my finger and shoes on my feet, signifying I was no longer an outsider but a member of his household. I have been far away, separated and removed, and then pardoned and restored. I can say, with certainty, life is better on the inside.
In a way, we're all prodigal sons and daughters. We've all fallen short in one way or another — some in big ways, some in small. These readings invite you to return and be restored. Perhaps, like the ancient Israelites in the desert, you sin repeatedly and need multiple returns. The invitation is always there. God wants to remove the reproach of your past. He wants to welcome you into his Promised Land and feed you from its fruit. He wants to restore you to relationship, celebrate your membership in his family, and make you a new creation.
It can be scary. Maybe you're apprehensive that you can't go back. The Prodigal Son didn't know for certain his father would accept him. Was he frightened? Unsure? In the end, it was his attitude that sealed the deal. He went back without selfish expectation, humble and contrite. He didn't make excuses. He admitted his sinfulness and begged forgiveness. His father had mercy, because that's who his father was. That's who your Father is too!
If you've thought about returning, or just want to move closer to the Father, don't delay. Now is the time. He's always waiting, scanning the horizon for the opportunity to run to you and greet you. He wants to welcome you home to his family.
Marc Cardaronella is director of the Bishop Helmsing Institute.
Daily Scripture Readings
For complete daily Scripture texts, click here. www.usccb.org
Monday, March 7
Isaiah 65:17-21
Psalms 30:2 & 4, 5-6, 11-12a & 13b
John 4:43-54
Tuesday, March 8
Ezekiel 47:1-9, 12
Psalms 46:2-3, 5-6, 8-9
John 5:1-16
Wednesday, March 9
Isaiah 49:8-15
Psalms 145:8-9, 13cd-14, 17-18
John 5:17-30
Thursday, March 10
Exodus 32:7-14
Psalms 106:19-20, 21-22, 23
John 5:31-47
Friday, March 11
Wisdom 2:1a, 12-22
Psalms 34:17-18, 19-20, 21 & 23
John 7:1-2, 10, 25-30
Saturday, March 12
Jeremiah 11:18-20
Psalms 7:2-3, 9BC-10, 11-12
John 7:40-53
Fifth Sunday of Lent
Sunday, March 13
Isaiah 43:16-21
Psalms 126:1-2, 2-3, 4-5, 6
Philippians 3:8-14
John 8:1-11
Monday, March 14
Daniel 13:1-9, 15-17, 19-30, 33-62
Or Daniel 13:41C-62
Psalms 23:1-3a, 3b-4, 5, 6
John 8:12-20
or John 8:1-11
Tuesday, March 15
Numbers 21:4-9
Psalms 102:2-3, 16-18, 19-21
John 8:21-30
Wednesday, March 16
Daniel 3:14-20, 91-92, 95
Daniel3:52, 53, 54, 55, 56
John 8:31-42
Thursday, March 17
Genesis 17:3-9
Psalms 105:4-5, 6-7, 8-9
John 8:51-59
Friday, March 18
Jeremiah 20:10-13
Psalms 18:2-3a, 3bc-4, 5-6, 7
John 10:31-42
Feast of St. Joseph
Saturday, March 19
2 Samuel 7:4-5a, 12-14a, 16
Psalms 89:2-3, 4-5, 27 & 29
Romans 4:13, 16-18, 22
Matthew 1:16, 18-21, 24A
Palm Sunday, March 20
Luke 19:28-40
Psalms 22:8-9, 17-18, 19-20, 23-24
Philippians 2:6-11
Luke 22:14—23:56
or Luke 23:1-49
The full text of the Scripture readings for this week and next week can be found here: www.usccb.org/
Click on the "Daily Readings" tab on the right hand side of the page.