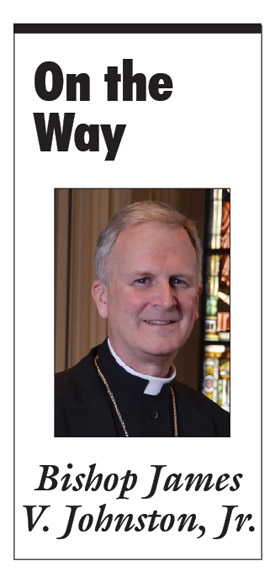 "Have this mind among yourselves, which was in Christ Jesus, who though he was in the form of God, did not count equality with God a thing to be grasped, but emptied himself . . ." (Phil 2: 5-7)
There is a term that poker players use when they push every one of their chips to the center of the table on a bet of confidence that they have the winning hand: "all in." As we near the end of Lent and prepare for the high point of our Christian year with Holy Week, we will be reminded again and again in the liturgy that when it comes to each of us Jesus was, and is, all in. He literally poured himself out for us in love, an act of total self-giving that accomplished the redemption. The Catechism of the Catholic Church refers to God's redeeming love this way: "At the end of the parable of the lost sheep Jesus recalled that God's love excludes no one: 'So it is not the will of your Father who is in heaven that one of these little ones should perish.' . . . The Church, following the apostles, teaches that Christ died for all men without exception: 'There is not, never has been, and never will be a single human being for whom Christ did not suffer'" (#605). Jesus is all in for all of us.
Knowing this we are moved to respond, even if imperfectly, to this supreme gift of God. If nothing else, we must be grateful. In a sense, true Christianity begins with gratitude at realizing what God has done for me. God wants us to receive the gift and return gratitude. This is exemplified in the account of Jesus' healing of the ten lepers, in which only one returns praising God and to thank Jesus (Lk 17:11-19).
Along with gratitude, we are moved by love and grace to respond to love with love, to make a gift of ourselves to God; or, in the words of St. Paul, to allow ourselves to be possessed by Christ (cf. Phil 3:12). In his letter to the Galatians, Paul would say that by faith, he had been "crucified with Christ" and henceforth "it is no longer I who live, but Christ who lives in me; and the life I now live in the flesh I live by faith in the Son of God, who loved me and gave himself for me" (Gal 2:20). In other words, when it came to his new life in Jesus Christ, St. Paul was all in.
The Church, led by the Holy Spirit, uses these days and the liturgy to prepare us to go "all in" too. The inspired Word of God in the readings stirs our faith; the liturgies which draw us into the Paschal Mystery of Jesus' Passion, death and Resurrection, fill our minds and hearts with the grace of God's life and love. The sacrament of Reconciliation allows God to remove the sins that impede us from responding to God and making a gift of ourselves in our daily lives. We are moved to gratitude, adoration, to respond in our words and with our hearts.
I earnestly hope that all throughout our diocese will attend the liturgies of Holy Week as a response to God's great love for us. I especially urge families to attend together. May we all, with joy and thanksgiving, determine to go all in.