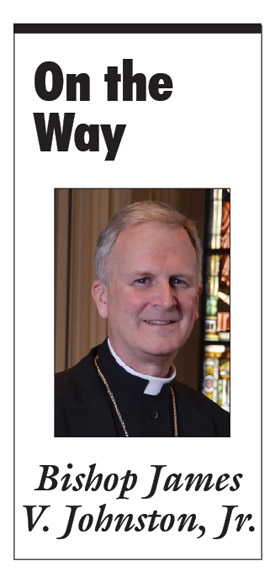 "Let the children come to me, and do not hinder them; for to such belong the kingdom of heaven."  (Mt 19:14)
Recently, some grandparents introduced me to their four year old grandson, who wanted to shake my hand. His grandfather told me that on a recent Sunday after Mass, the little boy saw the pastor enjoying a donut, and exclaimed, "Look, God's eating a donut!"
This week, I was also invited to see the new film, Young Messiah, in which a year in the life of the child Jesus is presented. The film, based on a novel of historical fiction, was well done, and was especially good at highlighting the relationship of Mary and Joseph in their role as parents, protecting and striving to raise the unusual little boy entrusted to them. Indeed, much of the film's plot revolves around the evil people seeking to find and harm him, with Mary and Joseph and the extended family accompanying little Jesus through it all.
Finally, this week, I read with sorrow another scandalous story of how leaders in the Church failed to protect children entrusted to their care; this time in the Altoona-Johnstown diocese in Pennsylvania.
Why do I relate these three diverse stories from the past week? They serve as a reminder of how innocent and vulnerable children are. Children are entrusted as gifts and precious treasures of God, to parents and other adults, to protect, love and cherish. The stories also serve to remind us of how determined and vigilant we must be. There is evil in the world.
April is Child Abuse Prevention month. It provides us with the occasion to commit ourselves to this core value of our Church community; namely, the protection of children from any and all forms of abuse, and to work for the healing of those who have been harmed. Children need secure and safe environments to develop, learn and grow. I am grateful to the countless people throughout our diocese who give such great effort to keep our children safe—including the thousands who have participated in the state-of-the-art safe environment training workshops we offer. I wish to thank in a particular way personnel of the diocesan Office of Child and Youth Protection, the Independent Review Board, and the Ombudsman for their dedicated assistance to our local Church in the protection of the vulnerable. I am especially grateful to the Office Director, Carrie Cooper, for agreeing to serve on the Administrative Cabinet, the advisory committee that regularly advises me on the most critical issues affecting our whole diocese. Nevertheless, this is an issue that will not allow for any relaxation or self-congratulations. It is, and will be, a never-ending pursuit which is a moral obligation for all of us. We are our "brother's keeper" and that especially includes our young brothers and sisters, God's children.
April 3rd is also Divine Mercy Sunday this year. In this Extraordinary Jubilee Year of Mercy, I invite all of us to first take our lives individually before the merciful gaze of God our Father for forgiveness and healing. Our sins wound others, and they wound us. The sacrament of Penance and Reconciliation is a sacrament of healing. Jesus awaits us.
It is also a day on which I make a special request of all the faithful of Kansas City-St. Joseph. Please lift up in special prayer all of the victim survivors who have been wounded through child sexual abuse, including those who were harmed by anyone in the Church. The wounds of child sexual abuse run deep and they are complex. I have come to believe that there are some things that only God and grace can heal. Divine Mercy Sunday, in this Jubilee Year of Mercy, is a special day on which God wishes to unleash a river of love and healing from heaven onto those who are still hurting and suffering. Pray for this gift of healing for those who were harmed when they were innocent children or adolescents.
Jesus, we trust in you. Have mercy on us!
How to recite the Chaplet of Divine Mercy
The Chaplet of Mercy is recited using ordinary rosary beads of five decades. The Chaplet is preceded by two opening prayers from the Diary of Saint Faustina and followed by a closing prayer.
1. Make the Sign of the Cross
In the name of the Father, and of the Son, and of the Holy Spirit. Amen.
2. Optional Opening Prayers
You expired, Jesus, but the source of life gushed forth for souls, and the ocean of mercy opened up for the whole world. O Fount of Life, unfathomable Divine Mercy, envelop the whole world and empty Yourself out upon us.
(Repeat three times)
O Blood and Water, which gushed forth from the Heart of Jesus as a fountain of Mercy for us, I trust in You!
3. Our Father
Our Father, Who art in heaven, hallowed be Thy name; Thy kingdom come; Thy will be done on earth as it is in heaven. Give us this day our daily bread; and forgive us our trespasses as we forgive those who trespass against us; and lead us not into temptation, but deliver us from evil, Amen.
4. Hail Mary
Hail Mary, full of grace. The Lord is with thee. Blessed art thou amongst women, and blessed is the fruit of thy womb, Jesus. Holy Mary, Mother of God, pray for us sinners, now and at the hour of our death, Amen.
5. The Apostle's Creed
I believe in God, the Father almighty, Creator of heaven and earth, and in Jesus Christ, His only Son, our Lord, who was conceived by the Holy Spirit, born of the Virgin Mary, suffered under Pontius Pilate, was crucified, died and was buried; He descended into hell; on the third day He rose again from the dead; He ascended into heaven, and is seated at the right hand of God the Father almighty; from there He will come to judge the living and the dead. I believe in the Holy Spirit, the holy catholic Church, the communion of saints, the forgiveness of sins, the resurrection of the body, and life everlasting. Amen.
6. The Eternal Father
Eternal Father, I offer you the Body and Blood, Soul and Divinity of Your Dearly Beloved Son, Our Lord, Jesus Christ, in atonement for our sins and those of the whole world.
7. On the Ten Small Beads of Each Decade
For the sake of His sorrowful Passion, have mercy on us and on the whole world.
8. Repeat for the remaining decades
Saying the "Eternal Father" (6) on the "Our Father" bead and then 10 "For the sake of His sorrowful Passion" (7) on the following "Hail Mary" beads.
9. Conclude with Holy God (Repeat three times)
Holy God, Holy Mighty One, Holy Immortal One, have mercy on us and on the whole world.
10. Optional Closing Prayer
Eternal God, in whom mercy is endless and the treasury of compassion — inexhaustible, look kindly upon us and increase Your mercy in us, that in difficult moments we might not despair nor become despondent, but with great confidence submit ourselves to Your holy will, which is Love and Mercy itself.