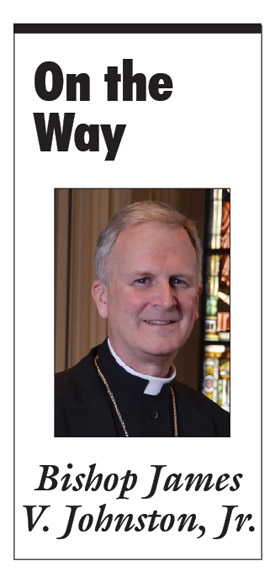 "It is one thing to be understanding of human weakness and the complexities of life, and another to accept ideologies that attempt to sunder what are inseparable aspects of reality. Let us not fall into the sin of trying to replace the Creator. We are creatures, and not omnipotent. Creation is prior to us and must be received as a gift."                                                                Amoris Laetitia, 56.
This past week, the long-anticipated document (known as a Post-Synodal Apostolic Exhortation) following the 2014 and 2015 synods on marriage and the family, was made public. The title, Amoris Laetitia: On Love in the Family, reflects the end product of the prayer and work of the synods which undertook to consider the current situation of marriage and family life throughout the world and how the Church might better serve this primary community which stands at the foundation of every society and the Church herself. In the style of Pope Francis, the document is long at 255 pages and 325 paragraphs. There is much to ponder in this document that will guide the Church's pastoral practice for years to come.
In my first reading of the text of Amoris Laetitia, I was struck by two things. First, the teaching of the Church on marriage and family, drawn from Sacred Scripture and Sacred Tradition and grounded in nature, is reiterated. Second, Pope Francis does this in a way that emphasizes the overall purpose of the document: the pastoral care of real people who are weak and in dynamic situations, but also capable of choosing the good of marriage and family as proposed by Jesus and the Church. In fact, he is critical of an approach that simply proposes teaching without the accompaniment of good formation, charitable concern and closeness, and the aid of grace, not taking into account all the circumstances families today can face. For example in paragraph 35 he notes: "As Christians, we can hardly stop advocating marriage simply to avoid countering contemporary sensibilities, or out of a desire to be fashionable or a sense of helplessness in the face of human and moral failings. We would be depriving the world of values that we can and must offer. It is true that there is no sense in simply decrying present-day evils, as if this could change things. Nor it is helpful to try to impose rules by sheer authority. What we need is a more responsible and generous effort to present the reasons and motivations for choosing marriage and the family, and in this way to help men and women better to respond to the grace that God offers them."
Put simply, human beings are mysterious, weak, complex, wonderful, and sinful creatures. Our journey through this life, marked as it is by both sin and grace, is not a straight line. The Church must help individuals, couples and families, taking into account the many factors that impact their lives and that sometimes impair their ability to know and choose the good of the Gospel. The Church must find more effective ways of showing why Jesus' way for marriage and the family is indeed good news, because it is not perceived as such by some; and support the many families that are striving to live in fidelity to the Gospel. Nevertheless, I was encouraged because much in the exhortation is already being embraced in our diocese through our Office of Family Life, our Diocesan Marriage Tribunal, and in many of our parishes who minister to engaged couples, married couples, as well as the divorced and remarried.
In many of his writings and homilies Pope Francis has mentioned Jesus' encounters with the Gospel figures of the Samaritan woman and the woman caught in adultery to illustrate God's merciful approach. He does so again in Amoris Laetitia. In a way, they capture the message of the entire document; namely, that Jesus came to save us and, by grace, bring about in us a new life of freedom, hope and joy that happens when a person encounters both mercy and truth. Mercy and truth are not mutually exclusive, especially as they are encountered in Jesus. This is what the Church must embody in her mission.
Jesus Christ, the face of the Father's mercy, and his truth do not change. Thankfully, with grace and mercy, we do.