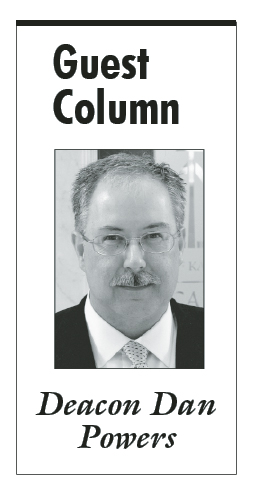 "Jesus said: My sheep hear my voice; I know them… they shall never perish."
When Jesus speaks about 'his sheep,' who is He including? Is there a special group of sheep that we must earn our way into? We know that the answer is no. Jesus tells us, "I came that they may have life and have it abundantly." We know that He calls each of us and cares for all of us.
Every life is special to the Lord. Every person has been made in His image and likeness. In this week's Gospel the Lord says, "No one can take them out of the Father's hand." This is an image of care and intimacy. This is the Good News: all of us rest in the Father's hand!
Because the Lord has been so merciful and so caring to us, we must feel compelled to look at how we respond to our brothers and sisters – especially those who come to us in need. In imitation of the Father, we can also hold them in our hands. We can help them to have life abundantly. In doing so, we are transformed and we can feel the Father's love: "Whatever you did for one of these least brothers of mine, you did for me."
A few weeks back, I had the privilege of being part of a great team of volunteers who spent the weekend with 45 women in prison. In honesty, we admit that we all have mixed feelings about those who are incarcerated. We have been trained to see these men and women as 'bad people' who are getting what they deserve. We sometimes can't see them as the Lord's sheep being held in the Father's hand. Even after they have 'paid their debt to society,' they are constantly reminded of their past.
What I saw in prison was a group of women who admitted that they had indeed committed crimes. Most of them knew that they had hurt or damaged others by their actions. But more than their faults, I saw a group of women who needed love and forgiveness. They looked like our sisters, mothers, and daughters. When we sang and prayed together, it was clear that they knew the Shepherd. They longed to feel the loving touch of the Father's hand.
At Catholic Charities last year, we served over 1,400 formerly incarcerated men and women. Many of them came to Catholic Charities with nothing: no property, no money, no place to stay, no job and no hope. We welcomed them as brothers and sisters.
Sometimes they walk into our Welcome Center on Main Street in Kansas City and they only ask for a bus pass. They are used to being shunned and treated poorly so that they don't expect much and they don't ask for much. We take the time to connect with them – after we get them a cup of coffee. We believe that the Father's hand is a warm and welcoming place to be.
We engage them in a conversation about where they have been, what they have done, and most importantly – where they want their lives to go. We ask about their faith walk. Our conversation is comfortable and caring. We believe that the Father's hand is a comfortable place to be.
We talk about future goals and long-forgotten hopes. We try to get them into employment as that is the way for them to begin anew and to create a future. Most of these brothers and sisters are ready and eager for the opportunity to change. They are excited about the prospect of a new life. Our conversation is about them and is a sacred time and space. We believe that the Father's hand is a sacred space where we can feel special.
The formerly incarcerated are part of the sheep that Jesus is referring to in the Gospel. Pope Francis reminds us that they are not so different from us. He says, "Listen up, each one of us is capable of doing the same thing done by that man or woman in jail. All of us are capable of sinning and making the same mistakes in life. They are not worse than you or I."
The Father needs us to make all people feel as though they are welcomed in His hand. He needs us to remind them that He cares for them and that He forgives them. When we give others that message, we are reminded ourselves of our own sinfulness and need for forgiveness.
Pope Francis tells us, "The church is a mother who teaches us works of mercy." Catholic Charities tries to show that mercy to all who come to us – even those who don't feel like they are welcome in the Father's hand. They are!
Deacon Dan Powers is Executive Director of Catholic Charities of Kansas City – St. Joseph.