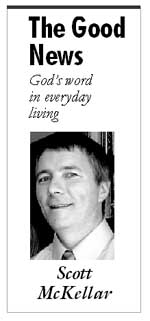 The image comes originally from the Old Testament where God is the shepherd and his people are the flock. The response for this Sunday's Psalm reads "Know that the LORD is God, he made us, we belong to him, we are his people, the flock he shepherds" (Psalm 100:3).
In this Sunday's gospel Jesus says, "My sheep hear my voice; I know them, and they follow me" (John 10:27). In our highly individualistic modern world, calling us sheep might seem a bit offensive. The smallest amount of farm experience would reveal that sheep are easily frightened, and very dependent on the shepherd. They are defenseless against wolves and other wild animals. In Jesus' day they also need to be protected from thieves and robbers at night.
In order to protect them, the shepherd would bring his flock into a fenced enclosure with a gate. The shepherd would then sleep across the gate to defend it. Sheep also become very attached to the shepherd and recognize his voice, when he calls to them. All of this speaks of a relationship of profound dependence.
The sheep metaphor reveals Jesus' character as a faithful caregiver on whom we can depend. He provides us with safety and trust. He is present and attuned to our needs and responds to them. His caring presence provides a safe haven for us, and a secure base from which we can venture out into the world.
In the past few years scientists have begun to study more deeply how the brain influences and affects our behavior. Professor Daniel Siegel, a clinical psychiatrist at the UCLA School of Medicine, points out that the human brain is constructed with "resonance circuitry" which "can mirror not only the behavioral intentions of others, but also their emotional states." We are clearly intended to function in relationship with other humans. The human brain picks up emotional information from others around us, and mirrors their emotional state.
Neuroscientists have correlated this "resonance circuitry" of the human brain to our earliest brain development in a parent-child relationship. The parent or other caregiver is present, and becomes attuned to the child's internal world and reflects back to the child. In most cases this develops a sense of secure attachment in the relationship with the parent.
Just like the qualities of the shepherd metaphor, the parent provides us with safety and trust. They are present and attuned to our needs and faithfully respond to them. They are a caring presence who provide a safe haven for us, and secure base from which we can venture out into the world. Modern research on the brain has demonstrated that we are hard wired for effective dependence on others. We are intended for relationship.
Scientist have taken this a step further by demonstrating that our adult relationships also center on these key ideas of presence, creating a safe haven and a secure base for encountering the world. These findings should not surprise since a key idea of the Christian understanding of the human person is that we were created for personal communion with others. The notions of "dependence" and "attachment" relate directly to the biblical account of what it means to be human.
In the second creation account we read that "The LORD God said: It is not good for the man to be alone. I will make a helper suited to him" (Genesis 2:18). The fathers of Second Vatican Council comment on this verse,
But God did not create man as a solitary, for from the beginning "male and female he created them" (Gen. 1:27). Their companionship produces the primary form of interpersonal communion. For by his innermost nature man is a social being, and unless he relates himself to others he can neither live nor develop his potential (Guadium et spes, 12).
The fact that the image of God was created as both male and female (Genesis 1:27) leads us to the conclusion that the human person or 'the image of God' in each of us, was created for relationship. We were not created to be alone but to be in complementary relationship with others. As Pope Francis has recently noted, "The word of God tells us that the family is entrusted to a man and a woman and their children, so that they may become a communion of persons in the image of the union of the Father, the Son and the Holy Spirit" (Amoris Laetitia, 29).
Quoting St. Thomas Aquinas, Pope Francis notes that, "After the love that unites us to God, conjugal love is the 'greatest form of friendship'" (AL 123). He notes further that, "Marriage is likewise a friendship marked by passion, but a passion always directed to an ever more stable and intense union" (AL 125).
Each of us was created for relationship. First we were created for friendship with God, and then secondarily for friendship with others. Each of us has a God shaped hole in our hearts which seeks to be filled by relationship with God.
Jesus calls us, "My sheep hear my voice; I know them, and they follow me" (John 10:27). Jesus wants us to depend on him. He wants to be present and will always be attuned to our needs and respond to them. He offers to be a caring Good Shepherd who provides a safe haven for us, and safe, secure base from which we can venture out into the world.
Imagine the change to our world if each of us would commit to truly depend more on Jesus in our daily lives. Are we listening for his voice? Do we trust that he knows us? Have we committed to follow him?
Scott McKellar is associate director of the Bishop Helmsing Institute.
Daily Scripture Readings
For complete daily Scripture texts, click here. www.usccb.org
Monday, April 18
Acts 11:1-18
Psalms 42:2-3; 43:3, 4
John 10:1-10
Tuesday, April 19
Acts 11:19-26
Psalms 87:1b-3, 4-5, 6-7
John 10:22-30
Wednesday, April 20
Acts 12:24—13:5a
Psalms 67:2-3, 5, 6 and 8
John 12:44-50
Thursday, April 21
Acts 13:13-25
Psalms 89:2-3, 21-22, 25 and 27
John 13:16-20
Friday, April 22
Acts 13:26-33
Psalms 2:6-7, 8-9, 10-11ab
John 14:1-6
Saturday, April 23
Acts 13:44-52
Psalms 98:1, 2-3ab, 3cd-4
John 14:7-14
Fifth Sunday of Easter, April 24
Acts 14:21-27
Psalms 145:8-9, 10-11, 12-13
Revelation 21:1-5a
John 13:31-33a, 34-35
Monday, April 25
1 Peter 5:5b-14
Psalms 89:2-3, 6-7, 16-17
Mark 16:15-20
Tuesday, April 26
Acts 14:19-28
Psalms 145:10-11, 12-13ab, 21
John 14:27-31a
Wednesday, April 27
Acts 15:1-6
Psalms 122:1-2, 3-4ab, 4cd-5
John 15:1-8
Thursday, April 28
Acts 15:7-21
Psalms 96:1-2a, 2b-3, 10
John 15:9-11
Friday, April 29
Acts 15:22-31
Psalms 57:8-9, 10 and 12
John 15:12-17
Saturday, April 30
Acts 16:1-10
Psalms 100:1b-2, 3, 5
John 15:18-21
Sixth Sunday of Easter, May 1
Acts 15:1-2, 22-29
Psalms 67:2-3, 5, 6, 8
Revelation 21:10-14, 22-23
John 14:23-29
The full text of the Scripture readings for this week and next week can be found here: www.usccb.org/  Click on the "Daily Readings" tab on the right hand side of the page.