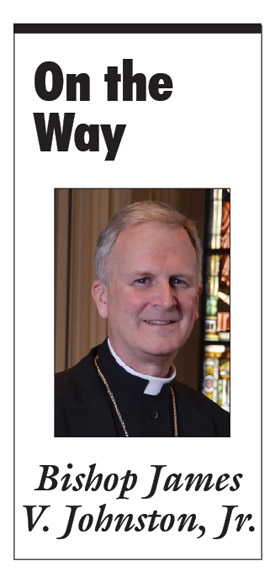 "Why spend your money for what is not bread; your wages for what fails to satisfy? Heed me, and you shall eat well, you shall delight in rich fare." Is 55:2
Two things caught my eye this week that were somewhat related.
First, I came across an article in the British newspaper, The Guardian, which was entitled: "Why are we so bored?" It begins this way: "It amazes me when people proclaim that they are bored. Actually, it amazes me that I am ever bored, or that any of us are. With so much to occupy us these days, boredom should be a relic of a bygone age . . . Yet despite the plethora of high-intensity entertainment constantly at our disposal, we are still bored. Up to half of us are 'often-bored' at home or at school . . . Our kids are bored—bored of school, of homework and even school holidays. . . Our attention spans are now thought to be less than that of a goldfish—eight seconds." If that is absolutely true then most of you are no longer reading this column!
Second, while I was visiting one of our Catholic High Schools this week, I saw a sign posted in one of the classrooms which read, "Sin is boring."
Boredom is a serious problem and it is a problem with a spiritual component.
First, boredom indicates that created things don't satisfy our hearts. Nothing new there; most of us are familiar with that famous quote from St. Augustine: "You have made us for Your Self O Lord, and our hearts are restless until they rest in Thee." No matter what it is, after a while the most delightful activities, hobbies, and pleasures will not satisfy us. We grow tired of them. So, in this sense, boredom is a negative sign that our hearts were made for something beyond this created world.
But the sign in the classroom is also true: "Sin is boring." It may not seem so at first, which is why we are tempted in the first place. Sin looks exciting and attractive, which is why in the baptismal rite, we speak about rejecting the glamour of evil. But eventually, sin gets old and dull and empty, which is why we have to look for something stronger or different.
I have often thought that hell might be this way. Not dramatic, but dull . . . forever. That God honors our freedom during this life by giving us what we really want (other than God) and that we have that forever. How boring. Hell as absolute eternal boredom.
Why is this significant for us as we approach the end of the Easter season? The only solution to boredom, the only real antidote, is God. We were made for God, because he is never boring, and heaven will never be boring—eternally so.
God is inexhaustibly, infinitely good and beautiful. Our hearts can never contain him. He is infinite love, and love is the one thing that never gets old. Saint Paul tells us that it is the greatest of the "three things that last" (1 Cor 13:13) and that it "never fails" (1 Cor 13:8).
Jesus speaks of this frequently in the Gospel readings over these final Sundays leading to Pentecost. That we were made for the Father's love; to be the dwelling place of that love, the object of that love and the participators in that love. But, we are not forced, we are invited. We are honored so much by God, that He wants us to exercise our choice to be lovers. He says as much: "Whoever loves me will keep my word, and my Father will love him, and we will come to him and make our dwelling with him" (Jn 14:23).
If we are bored, especially with the practice of our religion, then there are some steps to take. Our appetites have likely been killed by the wrong things. We are feeding on the foods that don't satisfy. We must develop a "discipline" which is what a "disciple" does; namely, a pattern and plan to follow Jesus in his way in a more intentional manner. We must extract ourselves from the compromises we might have made, like cheating on prayer, our responsibilities, our daily duties to God and others. Perhaps we are over-indulging on created pleasures and preoccupations, which dull our spirits and make us bored. Perhaps we have even stopped going to Sunday Mass and the Sacrament of Reconciliation, two non-negotiable "basics" for disciples of Jesus. All these things lead to a terrible indifference toward the life of faith.
As Pentecost approaches, let us ask God to fan into flame the gift we have received, the Holy Spirit, so that we can be filled with a supernatural hope and joy that's source is divine, and never boring.