By Marty Denzer
Catholic Key Reporter
KANSAS CITY — When Father Mike Coleman was ordained in 1967, he expected to serve as a parish priest in the Diocese of Kansas City-St. Joseph. That's how his 49 years of priestly service began, but how the unexpected can change the course of a life! Father Coleman, retiring diocesan Archivist and long-time Judicial Vicar for the Tribunal has a wealth of information, history and memories stored inside his mind.
Charles Michael Coleman was born in 1941, "out in the country." His father was a geologist working for the state of Missouri, his mother a nurse. He and his parents lived on his grandparent's farm near Holden, when his geologist father's work for the State of Missouri moved the family around, "every year." His sister was born in 1948; in 1949 his father died suddenly, leaving his wife to support and care for the children.
Having trained as a nurse with the Sisters of St. Joseph of Carondelet at St. Joseph Hospital's nursing school in Kansas City, she returned to the city with the children. Growing up around his grandparents, who were First Generation Irish, Mike had become accustomed to saying the Rosary each evening. It became ingrained. In Kansas City, he attended St. Vincent's grade school and then St. John's Minor Seminary for high school.
"I was an introvert, very quiet," he recalled. "Vincentian Father Oscar Huber was pastor of St. Vincent's when I was in grade school. When he said Mass … I knew when I was 10 that I wanted to say Mass just like him." He had no doubts, he was going to be a priest. "People think someone with a quiet personality has a lot of knowledge and spirituality. I don't know about that, but I went on to Conception Seminary College and then to Kenrick Seminary in St. Louis for Theology. I was ordained by Bishop Charles Helmsing at the Cathedral of the Immaculate Conception in March 1967."
His first Mass was to be celebrated at the Cathedral, but a phone call from Bishop Helmsing changed all that. The pastor of Immaculate Heart of Mary Parish on Truman Road had suffered a heart attack. Would Father Coleman take his place for Masses and Holy Week services? "My mother was an Immaculate Heart of Mary parishioner, so she was very proud. I was numb."
The Sisters of Charity of Leavenworth, then in charge of the parish school, made sure he had all the right books for Mass and Holy Week services. With their help, he survived his first Mass.
Father Coleman was assigned to St. Louis Parish. "I was at St. Louis Parish in the late 60s — a time of white flight. It was difficult at times, but I learned and grew as a priest."
He served there until 1972, when he was assigned as assistant at Sacred Heart Parish in Warrensburg, becoming pastor in 1973. He enjoyed his five years at Sacred Heart: "It was a good mix of people!" He also served as Chaplain for the Newman Club of Central Missouri State University, now the University of Central Missouri.
In June 1979, while knee-deep in paperwork in his office at Sacred Heart Parish, Father Coleman answered a call from Bishop John Sullivan. Father Dick Carney, who had served on the Diocesan Tribunal since the late 1950s and was currently Judicial Vicar, was getting more involved in parish work and "wanted out" of the Tribunal. "I don't know anything about Canon Law," Father Coleman protested. "You'll learn," the bishop replied.
Bishop Sullivan and Father Coleman spent several weeks looking into colleges where he would receive the best instruction in Canon Law, and earn his Licentiate, or License of Canon Law. They decided on the Dominican Canon Law School, officially known as the Faculty of Canon Law of the Pontifical University of St. Thomas Aquinas, in Rome.
He left right away for Rome, to learn Italian before beginning his Canon Law studies. Father Coleman studied at the Pontifical University from June 1979 – July 1981, receiving his Licentiate the summer of 1981. When he returned to Kansas City, he spent six months working with Father Carney in the Tribunal, "getting a handle on what was done."
Then Father Carney announced he was stepping down as Judicial Vicar and that Father Coleman would succeed him. Once again Father Coleman's protests that he didn't know all he needed to know were dismissed. "You'll learn," Father Carney replied. Shortly after Father Coleman took over the Tribunal, the official letter from Bishop Sullivan, naming him Judicial Vicar, arrived. In the Catholic Church, the Judicial Vicar is a diocesan officer who has ordinary power to judge cases in the diocesan ecclesiastical court. Think if it like this, there is one justice over the U.S. Supreme Court, the Chief Justice. In the diocesan ecclesiastical court, the Judicial Vicar is over the other judges.
"I was the diocese's first full-time Judicial Vicar, and tried to establish an office where the first interest was in helping people," he recalled. "The Tribunal offices are not a law office, per se; I wanted our people to be able to ask a client, 'How can we help you in your particular situation, help you so you can come back to church and receive Communion?'
He was very busy, very soon. But that was not all Bishop Sullivan had in mind for Father Mike Coleman. The very next year, the bishop phoned him —since he was in the Tribunal offices every day, why didn't he take over the Archives?
"I asked him, 'Where are the Archives?' He said, 'I don't know.' Well, we found them, in boxes on the top floor of the Chancery building. It seemed that Father (Robert) Deming, then-pastor of St. Gabriel Archangel Parish, had been collecting and preserving anything and everything he could find that was pertinent to this diocese, and the Diocese of St. Joseph before 1956, when Kansas City and St. Joseph merged into one."
Father Coleman smiled and said, "It's hard for people to maintain files, artifacts and photographs from the past, when offices and purposes change. That's why we have Archives."
He had an opportunity to celebrate his own family history as part of the rededication of St. Bridget Church in Pleasant Hill in 1985. With Bishop Sullivan as principal celebrant, Father Coleman, great-grandson of Dennis O'Connell, a builder of the first St. Bridget Church (which burned down in 1885), concelebrated the Mass.
Father Coleman began categorizing Father Deming's collection, and finding new archival material and memorabilia. He discovered new records and artifacts, helped new Tribunal clients and became a published archivist with Loretto Sister Joan Markley and Dorothy Brandt Marra.
"My goal was to preserve the history of the diocese. In reading about other archival collections I was struck by how often buildings burned down, taking all their history with them," Father Coleman said later. "In the early 90s, Sister Joan, was helping me in the Archives; she and I started talking about a two-volume history of the diocese going way back, to the earliest days of the Jesuit missionaries. Anything and everything people have done to contribute to the life of the church should be recorded, so we got to work." This Far By Faith:  A Popular History of the Catholic People of West and Northwest Missouri, 2 volumes by Father C. Michael Coleman, JCL and Dorothy Brandt Marra was published in 1992.
Work kept him busy. In 1995 chest pains sent him to a cardiologist. Father Coleman underwent a triple-bypass the following week. Along with medication, he began taking life easier than in the past.
In 2011, the Chancery offices, including the Archives, moved to the Old New York Life Building downtown, and the archives came into its own with one quarter of an entire floor just down the hall from the Tribunal offices. With assistance from several people, he filed parish photographs and record books in one room, filled bookcases with books about the Diocese, about the region, the explorers, the priests and religious sisters who brought Catholicism to northwest Missouri, and the people who embraced it. There are paintings, framed portraits, artifacts from former bishops, parish, school and sacramental records and some curiosities.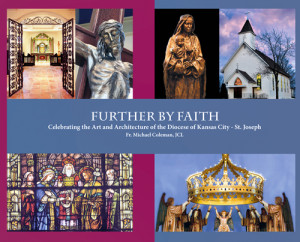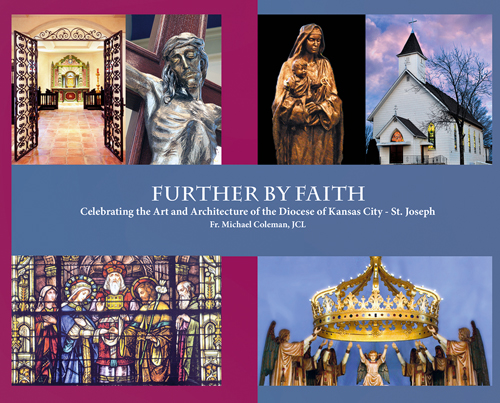 In 2014, Father Coleman again took up his pen (so to speak), and Further by Faith: Celebrating the Art and Architecture of the Diocese of Kansas City-St. Joseph was published.
About a year ago, the busy priest decided it was time to take on fewer challenges and responsibilities. A search was started for a new archivist. Ten months ago, Zach Daughtry, then a Ph.D. candidate at Oklahoma State University began working under Father Coleman. He received his doctorate in history a few weeks ago.
"This makes sense," Father Coleman said." I'm retiring, moving to LaGrange Park, near Chicago to live with my sister. Zach, I guess I should say Dr. Daughtry, is degreed, and that bodes well for the Archives."
Daughtry will miss him. "I will take what he has done, and move up to the next step. I may have the technological tools to digitize the archives, to preserve them, but Father Mike has been the building block, the foundation of what we have here. He's done a phenomenal job!
"Personally, you can't help but love him. He's self-deprecating … dry sense of humor and relaxing to be around. Everywhere I've gone with him, to parishes, whatever, people know him. My 10 months of daily interaction with him will stick with me.
"It's been a master-apprentice type of relationship. His 30 years of archive experiences are invaluable to me. He's incredibly intelligent, funny, a mentor and a good friend. I'll miss him. He's sumpin' else!" ❏