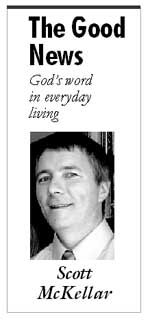 The psalm response for this Sunday's liturgy is "I praise you, LORD, for you raised me up and did not let my enemies rejoice over me." Yet in the previous chapter to this Sunday's Gospel Jesus said, "Love your enemies, do good to those who hate you, bless those who curse you, pray for those who mistreat you" Lk 6:27–28). As Christians, the way in which we triumph over our enemies, is by forgiveness.
Each of us faces experiences of injustice in our life which make us feel angry, and cause us either to hold on to resentment, or to be set free by giving forgiveness to the other person. God does not condemn us for our just feelings of anger, but asks us to direct the anger towards forgiveness. Forgiveness does not mean we are giving up on justice or that we continue to allow ourselves to be a victim.
As St. Paul reminds us, "Be angry but do not sin" (Ephesians 4:26). We can rightly be angry at sin, but in relation to persons we must be justified in our anger and we must act in love.
In this Sunday's Gospel from Luke, Jesus is also moved by emotions. Luke tells us that Jesus was "moved with pity" for the widow who had just lost her only son. Jesus "stepped forward and touched the coffin" and raised the young man from the dead. This profound miracle caused the crowds to be seized with fear and to glorify God exclaiming, "A great prophet has arisen in our midst."
Like overcoming the impossible enemy of death, sometimes it is very difficult to forgive. Forgiveness is not for wimps. Mary Johnston is a resident of Minneapolis, Minnesota. In 1993 she experienced the tragedy of having her son Laramiun shot to death during an argument at a party. Laramiun was 20 years old, and her only child. The killer was a 16-year-old kid named Oshea Israel. Oshea was tried as an adult and sentenced to 25 ½ years in prison. Oshea served 17 years before being released.
Years later, Mary decided to try to forgive her son's killer, so she began to meet regularly with him in prison. She developed a close relationship with him and when he was released from prison, she convinced her landlord to allow Oshea to live in her own apartment building. In fact, they literally live next door to each other. They don't just live close to each other, they are close. Mary tell us, "Unforgiveness is like cancer, it will eat you from the inside out." Mary's life is a living parable of the power of forgiveness. Her strong faith in God has allowed her to truly love her enemies.
Forgiving is a way to move beyond the pain of a past hurtful event. It will heal our wounded emotions and even bring us physical healing. Forgiveness will help us to interact better with the one who hurt us. Although reconciliation is not always possible, forgiveness may also help the offender to see their fault.
Once again, we need to be clear that offering to exercise mercy does not mean we are giving up on justice, nor that we need to immediately trust the offender. Opening the door to reconciliation through forgiveness, does not require the victims of terrible injustice to immediately trust their offenders and certainly not to accept the lie that they deserve abuse.
We each need to realize that Jesus has already shown us extravagant mercy. "But God proves his love for us in that while we were still sinners Christ died for us" (Romans 5:8). At the Passion Sunday and Good Friday Masses during Holy Week the congregation echoes the words of the crowds, "Crucify him! Crucify him!" This liturgical act helps us to realize that each one of us has betrayed Christ, and caused him to die for our own personal sins. Yet while we were still sinners Christ died for us.
We have all offended God and treated him unjustly, yet he has chosen to forgive us. Remember the heart of the Father in the parable of the prodigal son, "While he was still a long way off, his father caught sight of him, and was filled with compassion. He ran to his son, embraced him and kissed him" (Luke 15:20). Fully aware of our sins, God is patiently waiting for us to turn back to him and to offer us his extravagant love and mercy.
If God has shown such extravagant forgiveness to us, how can we not show the same mercy to others? Forgiveness is an act of love towards God who asks us to forgive. Psychologist Robert Enright describes forgiveness as an act of kindness and love toward the one who hurt you. This act of forgiveness is morally good regardless of how the other person responds to you.
Enright tells us that forgiveness is a process that moves through phases towards our final healing. The first phase of the forgiveness process involves uncovering our suffering and anger. We must then decide that our past attempts to overcome these emotions haven't worked to heal us and to be willing to decide to truly forgive the offender. Having done this, we must work on forgiveness by increasing our understanding of the other person, working toward compassion, accepting the pain of the experience, and finally by giving the offender a gift of kindness and love. This ultimately leads to discovery and release from the emotional prison of unforgiveness.
During the Year of Mercy, the Bishop Helmsing Institute has been offering a special 3 or 4-week seminar on forgiveness entitled: "4Given: A Four-Phase Model of Forgiveness." Visit our website to learn more, www.mybhi.org.
Scott McKellar is associate director of the Bishop Helmsing Institute.
Daily Scripture Readings
For complete daily Scripture texts, click here. http://www.usccb.org
Monday, June 6
1 Kings 17:1-6
Psalms 121:1bc-2, 3-4, 5-6, 7-8
Matthew 5:1-12
Tuesday, June 7
1 Kings 17:7-16
Psalms 4:2-3, 4-5, 7b-8
Matthew 5:13-16
Wednesday, June 8
1 Kings 18:20-39
Psalms 16:1b-2ab, 4, 5ab & 8, 11
Matthew 5:17-19
Thursday, June 9
1 Kings 18:41-46
Psalms 65:10, 11, 12-13
Matthew 5:20-26
Friday, June 10
1 Kings 19:9a, 11-16
Psalms 27:7-8a, 8b-9abc, 13-14
Matthew 5:27-32
Saturday, June 11
Acts 11:21b-26; 13:1-3
Psalms 98:1, 2-3ab, 3cd-4, 5-6
Matthew 5:33-37
Eleventh Sunday in Ordinary Time, Sunday, June 12
2 Samuel 12:7-10, 13
Psalms 32:1-2, 5, 7, 11
Galatians 2:16, 19-21
Luke 7:36—8:3
or Luke 7:36-50
Monday, June 13
1 Kings 21:1-16
Psalms 5:2-3ab, 4b-6a, 6b-7
Matthews 5:38-42
Tuesday, June 14
1 Kings 21:17-29
Psalms 51:3-4, 5-6ab, 11 & 16
Matthew 5:43-48
Wednesday, June 15
2 Kings 2:1, 6-14
Psalms 31:20, 21, 24
Matthew 6:1-6, 16-18
Thursday, June 16
Sirach 48:1-14
Psalms 97:1-2, 3-4, 5-6, 7
Matthew 6:7-15
Friday, June 17
2 Kings 11:1-4, 9-18, 20
Psalms 132:11, 12, 13-14, 17-18
Matthew 6:19-23
Saturday, June 18
2 Chronicles 24:17-25
Psalms 89:4-5, 29-30, 31-32, 33-34
Matthew 6:24-34
Twelfth Sunday of Ordinary Time, Sunday, June 19
Zechariah 12:10-11; 13:1
Psalms 63:2, 3-4, 5-6, 8-9
Galatians 3:26-29
Luke 9:18-24
The full text of the Scripture readings for this week and next week can be found here: http://www.usccb.org/
Click on the "Daily Readings" tab on the right hand side of the page.