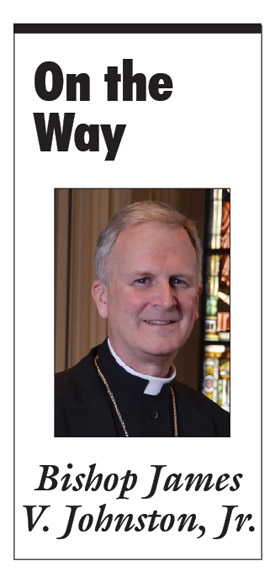 "Roll out those lazy, hazy, crazy days of summer. Those days of soda and pretzels and beer. Roll out those lazy, hazy, crazy days of summer. Dust off the sun and moon and sing a song of cheer." Nat King Cole
As a child, the best part of my summer vacation was the beginning—having that whole stretch of time before me, anticipating all the fun days ahead. Summer remains for many a favorite season. It provides more leisure time and warm weather for families to take trips, recreate, renew and eat ice cream.
One of the opportunities it also presents is for families to deepen their faith in Jesus Christ together. I often hear pastors remark that Mass attendance begins to drop after the Memorial Day weekend. People leave town for the lake, the beach, to visit relatives. This explains some of the decrease, but I suspect that some of the drop is also due to a "vacation" from Mass. If you travel, make sure you plan ahead and seek out a Catholic parish in the place you are visiting (masstimes.org is an easily searched resource). It will make a profound impression on your children; they will realize the priority of making the worship of God the center of their lives. It will also fascinate them to experience the Sacred Liturgy in another Catholic parish in another part of the country. They will see how the Mass is part of the universal nature of the Catholic family; they will also see new things, hear new music, and meet new people.
Summer days also allow for more time. Fill that time with activities that will nourish your soul and the souls of the others in your household. If you are single person, you may wish to involve a group of close friends in these activities too; we're never too old to grow in our faith. I offer just a few ideas:
Watch good films. There are many that deal with specific Catholic themes, as well as many others that inspire through stories about truth, beauty and goodness.
Take a pilgrimage. Most of us like to take adventures. This is what a pilgrimage is, a religious adventure in which a journey is undertaken to a place for the sake of drawing nearer to God. There are many easy trips one might take. During this Extraordinary Jubilee Year of Mercy, one should visit one of the designated churches in our diocese, or another diocese, which has a Holy Door. Pass through the door with the intention of receiving the abundant graces offered by God during this sacred time. Do so with your family and pray the prayers associated with the Jubilee Indulgence. Another pilgrimage option is to travel to the tomb of the one saint canonized by the Catholic Church in Missouri: St. Rose Philippine Duchesne. Her tomb and shrine is in Florissant, just north of St. Louis. Pack a lunch and make a day of it, and see what graces God wishes to give you along the way.
Visit the Church at a quiet time as a family or with a group of friends. So often the busyness of our schedules make us feel like our visits to church must be ultra-efficient—in and out, no time to linger. Stay a few more minutes after Mass and thank God before you rush out into the rest of the day. And drop in when your church is open during the week, and if you have children, bring them. The quiet stillness in the presence of Jesus in the Blessed Sacrament will touch them.
Pray. God has given you the gift of time—give some of it back to Him in gratitude and in your prayer. An easy opportunity to do so together is with the Rosary and the Divine Mercy Chaplet. These are not only tried and true, but recommended by the saints. There is much more to them than you see at first. Again, when you pray with your children and as a family, it forms them in the most profound way. It will impact the rest of their lives and remain in their memories.
Do Works of Mercy. With added time and better weather, act on those intentions to actually give of yourself for another person in some need. This takes the Gospel from the abstract and makes it personal, and you will benefit as much or more than the one you serve.
Go to Mass and Confession. Don't take a vacation from the lifelines that Jesus personally bestowed upon us for eternal life. Jesus said, "I am the vine, you are the branches. He who abides in me, and I in him, he it is that bears much fruit, for apart from me you can do nothing" (Jn 15:5). The Mass is how we "abide in" Jesus and he abides in us. With him, we live; without him we die. The Eucharist is life because the Eucharist is Jesus.
Nat King Cole had that old song about the "lazy, hazy, crazy days of summer." That's part of the beauty of the season, but when it comes to the most essential thing in life, don't be lazy. Make your summer a Christian summer . . . and eat plenty of ice cream.