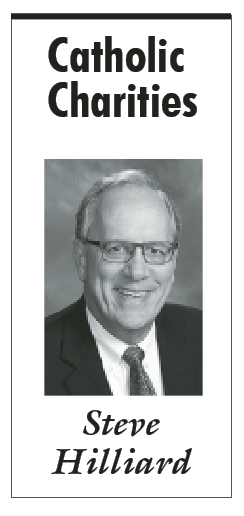 This past weekend, I watched a movie about Mother Teresa, our patroness at Catholic Charities of Kansas City-St. Joseph. Later in the week, a young seminarian opened our morning meeting with a prayer asking God that we might learn to love with the Heart of Jesus. June is dedicated by the Church to the Most Sacred Heart of Jesus.
In some ways, these may seem to be three disparate topics. Put in context with the Church's social teachings though, they come together quickly. At Catholic Charities, the root of all we do is expressed through the lens of love. It is how we are to see and respond to the world around us. There is no greater expression of God's love than the mercy and compassion of the Most Sacred Heart of Jesus. In a letter to the Jesuits, Pope Benedict XVI noted, "The experience of God's love is lived by man as a 'call' to which he must respond. Thus contemplation of the Sacred Heart safeguards us from the risk of closing in on ourselves, and makes us open to a life lived for others." Devotion to the Sacred Heart, the Pope concluded, "cannot then be considered as a passing form of veneration or devotion. Rather, it is 'irreplaceable for a living relationship with God.'"
In the movie, "The Letters," Mother Teresa is quoted as saying that her desire to serve in the streets of Calcutta was a direct response to an interior locution – the voice of Jesus. She did not hear it with her ears, she said. I suggest that she heard it spiritually with her heart. Many may not know that Mother Teresa responded to her first call as a consecrated woman in a teaching order. She was challenged to forsake the second call by her order's Mother Superior, who saw her desire to serve the poor in the streets as an abandonment of her permanent vows. Ultimately, her Bishop and Rome came to understand that she was answering 'a call within a call,' as Mother Teresa put it. She spent the rest of her life fulfilling that call without feeling God's comforting embrace. She exuded holiness and joy in service with each person even as she lived humbly with intense loneliness at times. Her relationship with God was unique and grounded virtually in constant prayer. She looked for the face of Christ in each person she met.
Just as these first two topics taught us about loving responses to others, the third piece, the morning prayer, addresses the spiritual life's place in helping others find their way. In reflecting on the seminarian's prayer, learning to love with the Heart of Jesus, I recalled the story about a young mother whose own mother was in hospice. With her three children, this young mother spent months caring for her dying mother in rooms provided by the hospice program. As the only family member to care for her mother, she journeyed with and comforted her even though she lost her home and job. Unfortunately, when her mother passed away, the rooms had to be vacated. Finding herself homeless she turned to Catholic Charities not for herself, but to bury her mother and to care for her children. The shock of losing a loved one, finding oneself homeless and keeping children safe would have been too much for most people. Love conquered all as her determination and our compassionate staff started her on the path to stability once again. Soon she will be rewarded for her selfless service with transitional housing to live in and help on her path to renewal. Without the prayers and support of the Catholic community, this story would have ended much differently.
The United States Conference of Catholic Bishops reminds us that "our commitment to the Catholic social mission must be rooted in and strengthened by our spiritual lives. In our relationship with God we experience the conversion of heart that is necessary to truly love one another as God has loved us."
So there we have it – a call, prayer and service – all important elements of the Church's social teachings carried out in love. Are these three things happening in your life? We may have responded to a vocation to the married or single state, the priesthood or consecrated life or we may still be discerning how God is asking us to spend our lives, but that is the beginning as we live out that first vocation and listen for a second call – the conversion of heart through a life lived for others.