By Marty Denzer
Catholic Key Associate Editor
" '… For I was hungry and you gave me food, … thirsty and you gave me drink, a stranger and you welcomed me, naked and you clothed me, ill and you cared for me, in prison and you visited me … Amen, I say to you, whatever you did for one of these least brothers of mine, you did for me.' " Matthew 25:35, 36 & 40.
PARKVILLE — Wouldn't it be grand if someone could say we lived out this passage? That's exactly what Father Chuck Tobin did, in his homily June 28 about his older brother, Father Pat Tobin, who died June 24 at the age of 86, just 4 months after celebrating the 60th anniversary of his priestly ordination.
Father Chuck described him lovingly, with a younger brother's occasional exasperation; the words touched a chord with everyone in St. Therese Church.
He began with Pope Francis' recent urging of priests worldwide to "bring the healing power of the Lord's grace to every person … stay close to the marginalized.'" And he noted that Francis also said that priests should live their lives as "'shepherds, smelling like the sheep.'"
"Pat Tobin smelled like the sheep" — a shepherd to all those he served, loved and cared for, Father Chuck continued, "he loved them deeply, and they loved him in return."
He reminded the packed church of all "Pat's corny jokes, which he would tell over and over to anyone listening. And they would laugh. Pat's sense of humor was a sign that we all are one!"
Thomas Patrick was born in Maryville, Mo., June 10, 1930, the second child of Francis Vaughn Tobin and Nora (Kelly) Tobin.
The Tobin children, John, Pat, Kelly, Maurice, Mary and later Chuck, attended a one-room country school.
When Pat was 8 years old, Nora died of scarlet fever, leaving Francis to care for five children. Three years later, Father Pat told The Catholic Key in March, his father "married my favorite aunt, my mother's sister Margaret Ellen, and we had two parents again!" A few years later they also had a new baby brother, Charles Phillip — Father Chuck.
Bishop Charles H. LeBlond of St. Joseph sent the Tobin kids to the "hill-top;" the boys to St. Benedict's Maur Hill and Mary to Mount St. Scholastica boarding schools in Atchison, Kan. After graduating from Maur Hill in 1948, Pat was off to Benedictine College and later Kenrick Seminary in St. Louis.
When he was finishing his seminary studies, coadjutor Bishop John Cody of the St. Joseph Diocese summoned him to ask about ordination dates, as his calendar was filling up. "Would March 17 be all right?" he asked. Sixty years later, Irish Father Pat grinned, "Of course it was!"
Bishop Cody ordained Pat Tobin on St. Patrick's Day, 1956, at St. Patrick's Church (now St. Gregory Barbarigo) in Maryville. His first assignment was assistant at St. Joseph Cathedral.
Later that year, the dioceses of St. Joseph and Kansas City were realigned by Vatican decree, becoming the Diocese of Kansas City-St. Joseph.
In 1958, Pat was assigned to Immaculate Heart of Mary in Kansas City. He later assisted at Visitation, St. Michael's and Christ the King parishes. He also served 18 years as associate director of Catholic Charities and 56 years on its board, beginning in 1959.
In the early 1960s, he resettled 120 Cuban families under adoption sponsorship of diocesan parishes and secured them low-cost housing. He obtained a chauffeur's license and for four years drove a school bus to language classes and grocery stores. More than 50 years later, members of those families remembered his caring, sharing and laughter.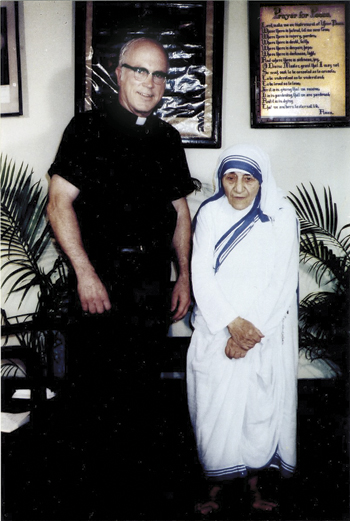 He was assigned to pastor Annunciation Parish in 1968, the year Martin Luther King, Jr. was assassinated, sparking riots nationwide, including Kansas City. Wanting to help spread calm, Father Pat wrote to Mother Teresa of Calcutta, asking for a recorded inspirational message for parish youth. Not long afterward, she called, asking him to meet her in Chicago. That led to a working relationship that would take Father Pat to more than 30 countries leading 8-day retreats for the Missionaries of Charity with Mother Teresa. He never forgot the experience, or her inspiration. He had hoped to be able to attend her canonization this September.
One of his favorite Mother Teresa-isms, "The Jesus in me loves the Jesus in you, and we're both better for it," Pat often said in blessing to friends.
Recalling his horror at the sight of a young Ethiopian boy stumbling to the ground and eating handfuls of dirt, and Mother Teresa saying that that was the only way he could dull his hunger pangs, Father Pat decided to do something to help Kansas City's hungry.
Father Chuck likened his brother to a familiar Biblical family group, saying, "Pat Tobin was more like Martha than Mary. Yes, he was a person of prayer like Mary, but like Martha, he was always out there involved in all the details."
It began in his garage. Father Pat collected excess groceries from stores. Soon however, supplier generosity coupled with the "aching need" of the poor outgrew the garage. He realized a warehouse system was needed where food could be stored and also serve as a conduit to the agencies who helped distribute food to the hungry. No single agency was equipped with the refrigerated storage facilities to handle the needed amount of food.
In 1979, Father Pat co-founded Harvesters, modeled on the first U.S. food bank, St. Mary's in Arizona. He approached U.S. Cold Storage, which donated dry, refrigerated, and deep freeze storage facilities. Soon the food industry realized that because of its adherence to good food safety practices, Harvesters could be trusted as good stewards of donations.
Involved in every operational aspect, Father Pat encouraged support of Harvesters' mission. A certified member of Feeding America, Harvesters now serves 26 counties in northwestern Missouri and northeastern Kansas. It provides 4 million pounds of food and related products monthly to more than 620 non-profit agencies including emergency food pantries, community kitchens, homeless shelters, children's homes and others.
He was the only lifetime member of Harvesters' board, recognized in 2007 with the Circle of Hope Hall of Fame Award for his longtime support, attendance at board meetings and events, more than 100 speeches about the food bank, and rolling up his sleeves to feed the hungry.
Father Pat later began addressing another aspect of malnutrition: safe drinking water, and became an advocate for water purifying filters.
While serving as pastor at St. Louis and Coronation parishes in the Kansas City area and later at St. Joseph Co-Cathedral, then St. Munchin, Cameron, Father Pat helped place more than 600 children in adoptive and foster homes; served as chaplain to three homes for pregnant teens, young women and babies; helped find jobs for 1,000+ youths through the Neighborhood Youth Corps, and served as a Jackson County Juvenile Court chaplain. Twice monthly he shuttled boys to Omaha, settling more than 100 at Father Flannigan's Boys Town.
From 1981 – 88, Father Pat served pastorally at several parishes in the Kansas City area and in St. Joseph. Then he was appointed pastor of St. Munchin's, Cameron in 1988. He began a ministry at Western Corrections Center, serving as chaplain and developing a work program wherein prisoners sacked food for the hungry and made educational blocks to aid children learning to read. The program allowed inmates to develop self-worth, while helping the poor. In 1992, he was honored as the Missouri Corrections Association Volunteer of the Year.
He also started gardens at the facility, and the produce was given to the poor.
In 1996, he was assigned to St. Patrick's in St. Joseph, but illness forced him to resign. He was under medical care for a year.
In 1997 he returned to parish service, assigned to St. Therese Parish. In 2008, then-7th grader Katie Hibbeler nominated him as the Kindest Kansas Citian. She wrote, "Father Pat has inspired me to be a good person and make a commitment to help others … He is a great Kansas Citian … American … philanthropist. … the ultimate role model."
His brother "loved the priesthood, all 60 years of it," Father Chuck said. "And he loved the people of St. Therese parish."
Father Pat retired in 2009, and lived at Little Sisters of the Poor from 2010 – 2015. He then moved to Villa St. Francis in Olathe, Kan.
Father Chuck described his brother's last day as "a gift." He attended Mass, was anointed and ate lunch. He then returned to his room, and "was called home."
In conclusion, Father Chuck said, "A source of love; Pat was that, in spades. We will miss him."
Father Pat was preceded in death by his parents; infant brothers, Kieran J. and Terrance; brother John; sister-in-law Carlotta and brother-in-law Geary Mahr. He is survived by brothers: Kelly (Irene) Tobin, Maurice (Joan) Tobin, Father Chuck Tobin, his sister Mary Tobin Mahr; numerous nephews, nieces and his fellow priests of the Kansas City-St. Joseph Diocese. He was buried in the Tobin family plot in St. Patrick's Cemetery, Maryville.
Memorial contributions may be made online to Harvesters by visiting www.harvesters.org