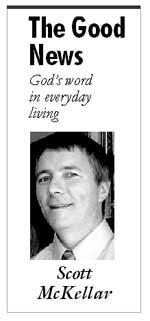 In this Sunday's Gospel reading, St. Luke tells us that a certain expert in the law came forward to 'test' Jesus. The man asks him, "Teacher, what must I do to inherit eternal life?" This is a question each one of us must personally ask our Lord.
Many people have an unfair cartoon picture in their minds about the ancient Jewish people. We often assume that the way for a Jewish person to get saved was to earn their salvation through vigorous adherence to works of the law. In effect, we imagine that the expert in the law was asking, "what must I do to be sure I have earned my way to heaven through my good works?"
But notice that his question is not framed this way. The expert in the law asks, "Teacher, what must I do to inherit eternal life?" An inheritance is a gift we receive that we did not earn. We can choose to despise this gift but we cannot earn it. The Israelites are God's chosen people who entered into a saving covenant with God by his divine initiative. Properly understood the purpose of the law was to keep the people in the covenant or to maintain a loving relationship with God. The law is not a means of earning our way into covenant relationship, but rather a call to maintain our love.
The summary of the law given in this episode makes perfect sense from this perspective, "You shall love the Lord, your God, with all your heart, with all your being, with all your strength, and with all your mind, and your neighbor as yourself" (Luke 10:27). The focus is not on a series of rules, but the fundamentals of relationship. God loved us first and calls us to respond to his love.
Whether we begin as aliens and strangers to God, or are raised by our parents in this covenant, we all begin in a state of sinfulness which God removes by his grace. Jesus has initiated a new covenant offering this grace to all people. The Catechism notes that; "by his death, Christ liberates us from sin; by his Resurrection, he opens for us the way to a new life" (CCC 654).
This astounding outpouring of God's mercy and love is called the good news or the Gospel. Although we all fall short of God's glory (Romans 3:23) and suffer spiritual bondage and condemnation because of sin (Romans 6:15-23), the good news is that God has chosen to enter human history by becoming a man in order to rescue us from this condition. Christ literally had to write himself into human history in order that through Christ's passion, crucifixion, death, burial, descent into hell, resurrection and ascension (CCC 512) he might liberate us from sin and death.
Christ's whole life is an offering to the Father (CCC 606). His redemptive passion is his final reason for the incarnation (CCC 607) and his ultimate act of love and obedience. As St. Paul notes, "And being found in human form he humbled himself and became obedient unto death, even death on a cross" (Philippians 2:8). Christ substitutes his obedience for our disobedience (CCC 615). By his love and obedience unto death, Christ makes reparation and atonement for our sins. Christ's gift of loving obedience unto death brings acquittal and "wipes out" the offence of our sin (Romans 5:16-17).
This is the gift we are offered by Christ. We must receive it by faith as we repent of our sinfulness. This is the truly the good news of the Gospel. Each of us receives sanctifying or deifying grace in Baptism, which is a "gratuitous gift that God makes to us of his own life, infused by the Holy Spirit into our soul to heal it of sin and to sanctify it" (CCC 1999).
Yet there are two ways in which the beauty of the Gospel can be distorted. The first is to fail to trust God and to try to save ourselves by how we live. Let me be clear, true grace always results in changed lives and holiness. We can and must cooperate with God's grace within our lives, but at the same time in no way can we save ourselves. When we try to save ourselves we fall into legalism and we take on a negative critical spirit towards others that makes our lives sterile and fruitless. We will never be saved by our many prayers and self-righteous acts. We need the humility to see ourselves as we truly are, and to understand ever more deeply our constant need of God's grace.
At the opposite extreme are those who believe that God, if he exists, loves everyone the same way and as a result it doesn't matter how you live. You should be able live however you want and to believe whatever you want, as long as it doesn't hurt anyone else. God is so loving he would never condemn anyone. If this is so, then why did Christ die on the cross? This view is either a denial of the reality of sin, or a denial of the need for Christ to make satisfaction for our sins on the cross, or ultimately our need to receive this gift from him. Faith and repentance are needed to receive this gift from God.
How do we respond to the question, "Teacher, what must I do to inherit eternal life?" For those of us baptized as children, St. Pope John Paul II reminds us that each of us also needs to say 'Yes' to Jesus Christ. According to St. John Paul II there are two levels to saying 'Yes' to Jesus. We must first surrender to the Word of God and rely on it. After this we must endeavor to know the profound meaning of this Word better and better (Catechesi tradendae 20). Infused by the Holy Spirit, faith and repentance lead us to surrender to God's will and to personal relationship with him.
One practical challenge to improve relationship with God has been proposed by Mike Lorenzo. In what he calls The 1% Challenge parishes are inviting parishioners to spend one percent of each day (15 minutes) talking with God through prayer.
Scott McKellar is associate director of the Bishop Helmsing Institute.
Daily Scripture Readings
For complete daily Scripture texts, click here. http://www.usccb.org
Monday, July 11
Isaiah 1:10-17
Psalms 50:8-9, 16bc-17, 21 & 23
Matthew 10:34-11:1
Tuesday, July 12
Isaiah 7:1-9
Psalms 48:2-3a, 3b-4, 5-6, 7-8
Matthew 11:20-24
Wednesday, July 13
Isaiah 10:5-7, 13b-16
Psalms 94:5-6, 7-8, 9-10, 14-15
Matthew 11:25-27
Thursday, July 14
Isaiah 26:7-9, 12, 16-19
Psalms 102:13-14ab and 15, 16-18, 19-21
Matthew 11:28-30
Friday, July 15
Isaiah 38:1-6, 21-22, 7-8
Isaiah 38:10, 11, 12abcd, 16
Matthew 12:1-8
Saturday, July 16
Micah 2:1-5
Psalms 10:1-2, 3-4, 7-8, 14
Matthew 12:14-21
Sixteenth Sunday in Ordinary Time, Sunday, July 17
Genesis 18:1-10a
Psalms 15:2-3, 3-4, 5
Colossians 1:24-28
Luke 10:38-42
Monday, July 18
Micah 6:1-4, 6-8
Psalms 50:5-6, 8-9, 16bc-17, 21 & 23
Matthew 12:38-42
Tuesday, July 19
Micah 7:14-15, 18-20
Psalms 85:2-4, 5-6, 7-8
Matthew 12:46-50
Wednesday, July 20
Jeremiah 1:1, 4-10
Psalms 71:1-2, 3-4a, 5-6ab, 15 & 17
Matthew 13:1-9
Thursday, July 21
Jeremiah 2:1-3, 7-8, 12-13
Psalms 36:6-7ab, 8-9, 10-11
Matthew 13:10-17
Friday, July 22
Song of Songs 3:1-4b
or 2 Corinthians 5:14-17
Psalms 63:2, 3-4, 5-6, 8-9
John 20:1-2, 11-18
Saturday, July 23
Jeremiah 7:1-11
Psalms 84:3, 4, 5-6a & 8a, 11
Matthew 13:24-30
Seventeenth Sunday in Ordinary Time, Sunday, July 24
Genesis 18:20-32
Psalms 138:1-2, 2-3, 6-7, 7-8
Colossians 2:12-14
Luke 11:1-13
The full text of the Scripture readings for this week and next week can be found here: http://www.usccb.org/
Click on the "Daily Readings" tab on the right hand side of the page.