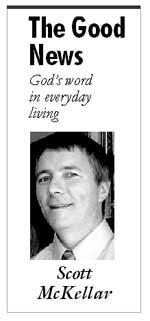 Seeking happiness seems to come naturally to each of us. Yet even if our basic needs for food, clothing, and shelter are met, we are still tempted to worry. Or perhaps we worry about the quality and permanence of our important relationships. Anxiety and happiness seem to oppose one another. We do many things in life in an attempt to experience happiness, but no one would deliberately try to experience strong anxiety.
While we clearly do not want to experience anxiety, it is one of the most common emotions in our modern world. If you experience strong anxiety you are not alone. One in five Americans currently take medications to treat psychological and behavioral disorders, and by far the most common cause is anxiety disorders. An estimated 40 million American adults suffer from anxiety disorders.
In this Sunday's readings Jesus admonishes us, "Do not be afraid any longer, little flock, for your Father is pleased to give you the kingdom" (Luke 12:32). He tells us to stop worrying about money and earthly things. Instead he tells us to seek, "an inexhaustible treasure in heaven that no thief can reach nor moth destroy." Jesus tells us that this is based on the following principle, "For where your treasure is, there also will your heart be" (Luke 12:34).
Jesus points us to an interior disposition of the heart. In order to search for and maintain peace with God we must practice abandonment to his will. Although God demands everything in this abandonment, he doesn't necessarily take everything from us. We must surrender our own plans to God and remember Jesus' words, "without me you can do nothing" (John 15:5). The life of abandonment to God's will is a constant spiritual battle. As the Lord reminded St. Paul, "My grace is sufficient for you, for power is made perfect in weakness" (2 Corinthians 12:9). Even in our weakness and suffering we are made strong when we depend on God's strength.
Although God promises to give us peace it is not the peace which the world seeks (John 14:27). It is easy to run after shiny things and to assume that this will bring us happiness. Like St. Paul we must learn to be "content with weaknesses, insults, hardships, persecutions, and constraints, for the sake of Christ" (2 Corinthians 12:10). True happiness flows from a deep interior relationship with God. This is the anchor which gives us strength in difficult times.
We must learn to trust that God will provide for our needs. Obviously planning ahead, and saving for the future are good things. But there is a difference between trying to control every tiny detail of what is to come, and reasonably planning for our future, while at the same time, ultimately trusting in God.
Even if we have determined to give our hearts to God and to abandon ourselves to him, we still at times lose our peace. What do we do in the face of our own suffering or the suffering of those close to our hearts? In truth, God continues to allow suffering even to those who abandon themselves to him. St. Thérèse of Lisieux reminds us, "God does not permit unnecessary suffering." Yet we often fear this suffering. In some cases, we fear it more than the actual suffering itself.
At times we are left to suffer incomprehensibly a physical or moral evil. Revealed through the Spirit, the mystery of God's wisdom points us beyond this experience. St. Paul notes, "But we impart a secret and hidden wisdom of God, which God decreed before the ages for our glorification" (1 Corinthians 2:7).
Two factors determine our personal outcome in the crucible of suffering. How close were we to God and who journeyed with us through this suffering? We need to know God in order to realize that the experience of evil is "out of character." The experience of evil was not the act of a loving God, but he allowed this evil to take place for some mysterious benefit hidden in his divine wisdom. We may never fully understand, at least on this side of eternity. Our knowledge of God gives us an eternal perspective. Father Jacques Philippe notes, "One can never insist enough on the necessity of quiet meditative prayer—the real source of interior peace."
This is a tremendous journey of faith that we were not intended to take on our own. A great deal depends on who we are journeying with during our suffering. If we keep their company, the community of faith (both living and the dead) journey with us and support us in our suffering. The saints are a true source of strength when we are drained and empty in our suffering. The Church, as well, offers us sacramental graces to strengthen us in our struggle.
Jesus calls each of us to not be afraid and to embrace the gift of the Kingdom of God. In the quiet of our hearts we must draw near to him. Do we trust him enough to abandon ourselves completely to his will? What fears can we offer him in our prayer? Are we willing to trust in God's wisdom? Ask yourself, what have I done to draw myself closer to God? Who is traveling with me on this journey of faith? Like a small child we must cast ourselves in to the Father's loving arms.
Scott McKellar is associate director of the Bishop Helmsing Institute.
Daily Scripture Readings
For complete daily Scripture texts, click here. http://www.usccb.org
Monday, August 8
Ezekiel 1:2-5, 24-28c
Psalms 148:1-2, 11-12, 13, 14
Matthew 17:22-27
Tuesday, August 9
Ezekiel 2:8—3:4
Psalms 119:14, 24, 72, 103, 111, 131
Matthew 18:1-5, 10, 12-14
Wednesday, August 10
2 Corinthians 9:6-10
Psalms 112:1-2, 5-6, 7-8, 9
John 12:24-26
Thursday, August 11
Ezekiel 12:1-12
Psalms 78:56-57, 58-59, 61-62
Matthew 18:21–19:1
Friday, August 12
Ezekiel 16:1-15, 60, 63
or Ezekiel 16:59-63
Isaiah 12:2-3, 4bcd, 5-6
Matthew 19:3-12
Saturday, August 13
Ezekiel 18:1-10, 13b, 30-32
Psalms 51:12-13, 14-15, 18-19
Matthew 19:13-15
Twentieth Sunday in
Ordinary Time, August 14
Jeremiah 38:4-6, 8-10
Psalms 40:2, 3, 4, 18
Hebrews 12:1-4
Luke 12:49-53
Solemnity Of The Assumption Of The Blessed Virgin Mary, Monday, August 15
Revelation 11:19a; 12:1-6a, 10ab
Psalms 45:10, 11, 12, 16
1 Corinthians 15:20-27
Luke 1:39-56
Tuesday, August 16
Ezekiel 28:1-10
Deuteronomy 32:26-27ab, 27cd-28, 30, 35cd-36ab
Matthew 19:23-30
Wednesday, August 17
Ezekiel 34:1-11
Psalms 23:1-3A, 3b-4, 5, 6
Matthew 20:1-16
Thursday, August 18
Ezekiel 36:23-28
Psalms 51:12-13, 14-15, 18-19
Matthew 22:1-14
Friday, August 19
Ezekiel 37:1-14
Psalms 107:2-3, 4-5, 6-7, 8-9
Matthew 22:34-40
Saturday, August 20
Ezekiel 43:1-7ab
Psalms 85:9ab & 10, 11-12, 13-14
Matthew 23:1-12
Twenty-first Sunday in Ordinary Time, August 21
Isaiah 66:18-21
Psalms 117:1, 2
Hebrews 12:5-7, 11-13
Luke 13:22-30
The full text of the Scripture readings for this week and next week can be found here: http://www.usccb.org/
Click on the "Daily Readings" tab on the right hand side of the page.