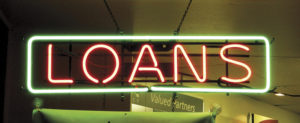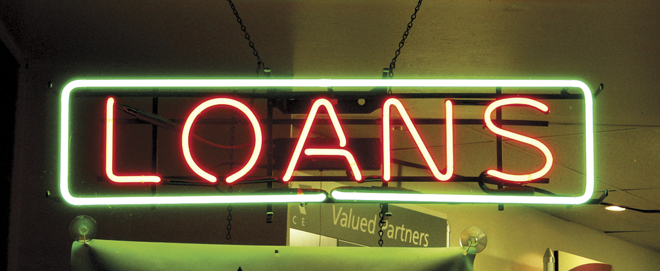 By Marty Denzer
Catholic Key Associate Editor
KANSAS CITY — What if you find yourself in a financial crunch, unable to pay bills due to an emergency or some other reason? A payday loan may sound like a life saver. Before you race out to get one, think about it. Are there alternatives?
In recent years, payday lending has been banned in 14 states and the District of Columbia, and restricted in 8 more. Polls of residents in those states are positive — they don't miss payday loans, and get along fine without them. Missouri and Kansas, however, are among the "permissive states," which not only allow it, but have few, if any, restrictions. The federal Consumer Financial Protection Bureau wants to rein payday lenders in, especially regarding fees and interest rates.
Most small loan borrowers are unbanked or unable to qualify for a bank loan. It's true that for about 20 percent of small loan borrowers, payday lending is a way out of an emergency, such as medical or car repair expenses. For those borrowers, if they are able to pay the loan in full on their next payday, and still manage other living expenses, a payday loan works. But for the majority, since payday lenders usually don't use traditional underwriting practices, thus not verifying if a borrower is financially able to repay a loan in addition to other obligations, it can become a huge headache for the borrower.
There are alternatives to payday loans. Consumers can save money regularly for emergencies or costly events down the road (including Christmas, a big time for payday loan advertising). Parishes, community and faith-based charities, some financial institutions and locally, Rockhurst University, are partners working to help people struggling financially under the weight of payday loans. There are programs assisting borrowers by educating them in financial literacy, helping them plan budgets, helping pay utility bills they are unable to pay due to payday loan costs and even several bank programs involving low-interest installment loans to pay off payday loans and help borrowers get back on track.
Missouri law limits a borrower to $500 at any one time from any one lender. However, a borrower could take out several loans of up to $500 each from different lenders; each loan carries fees and interest anywhere from 391 to 1950 percent annually, with additional fees if the loan is rolled over. Typically, the loan plus interest is due on the borrower's next payday. Many times borrowers find they cannot afford to pay their other recurring expenses, such as rent, utilities, car payment and food because 50 – 95 percent of their bi-weekly paycheck has gone to pay on their payday loan. And if the borrower is unable to pay back that loan in full within the 14 – 31-day time frame, he/she can roll it over up to six times, with additional fees.
It's a bad set-up for the consumer. Why? Other claims on their earnings, recurring expenses and other debt, are less likely to be paid because the borrower first has to pay his/her payday loan, leaving less funds for other expenses. These external costs may also include local businesses who are not patronized by cash-poor customers, even a borrower's spouse and children, who then have fewer resources. And, because many payday loan stores' parent companies are not local or even based out of state, exporting money out of the local economy by excessive fees, leaving less money to spend; it's also bad for the community.
In fact, of the top 10 payday loan companies in Missouri, only two have parent companies in the state. One is in Overland Park, Kan.; the other seven are located in South Carolina, Georgia, Tennessee, Alabama and New York.
What are some alternatives to payday loans? What can you do if you have a payday loan and its costs are wreaking havoc on your finances? Several local faith groups, community groups and financial institutions offer some solutions and suggestions.
Holy Rosary Credit Union in Kansas City has worked with low income individuals and families since its founding in 1943. Beginning by serving Italian immigrants in the community, it now serves both immigrants and struggling families in the Kansas City area and St. Joseph.
Carole Wight, president, said they work to help people obtain small dollar installment loans with a reasonable interest rate and repayment time period so they can avoid payday and title loans. And, she said, if a consumer does take out a payday loan, it is important to read the paperwork before signing, to learn how much they will really be paying for that loan.
One of the first steps in avoiding the payday lending traps is to build a relationship with a regulated financial institution — a bank or credit union, she said. "If you see FDIC (Federal Deposit Insurance Corporation) or NCUA (National Credit Union Administration) on a financial institution's sign, you know they are legit," she said. Relationships with such institutions, she added, can help families climb out of generational poverty, and build or rebuild credit to get back on their feet. By building relationships with people, Wight added, regulated financial institutions can teach them where the traps are, how to avoid them, what the real costs are, and where to go for assistance and financial education.
One way Holy Rosary Credit Union can help is to pay off a high cost payday loan and refinance the loan at a much lower interest rate with a loan term of six or nine months, one or two years, depending on the situation. Wight described a situation wherein the credit union refinanced a loan for a borrower, and bundled the refinancing with the Community Services League in Independence so that if the borrower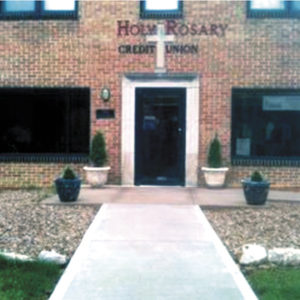 was late on a payment, she would be able to receive food to feed her children and use some of the money she would have had to spend on food to get current on her loan.
Wight said parish assistance helps the credit union provide small dollar loans. Visitation parish has given Holy Rosary Credit Union about $2,000 in grants for the program.
The Community Services League of Independence, founded in 1916 by a women's Bible study group, has assisted Eastern Jackson County residents in need with emergency assistance, clothing, food and shelter for a century. It partners with faith-based, financial and community organizations to help people climb out of poverty and regain self-confidence and stability. The founders saw that stability was needed before an individual could move forward. The example Wight described was designed to help the borrower regain stability and build credit even if she got behind on her loan payments with the credit union.
Next Step KC, a United Way Local Initiative, is a financial coalition of non-profit groups helping people in moderate to low income status attain financial stability through three combined programs: the Fair Community Credit small dollar loan program; VITA, free tax preparation through the IRS; and Bank On, Save Up KC, financial education program. Becky Gripp has served as Program Director of their
Small Dollar Loan & Financial Empowerment program since 2013.
Next Step KC's small dollar loan program is supported by the financial education program and connects borrowers to resources. Gripp said it's not a consolidation loan nor does it pay off existing payday loans. It is an alternative, underwritten and guaranteed loan of $300 – $500, obtained through face-to-face application and counseling, to be used for expenses including utility bills or car repairs. Borrowers are referred to the SDL program through Next Step's partners — employers, faith-based groups and non-profit case managers, including the Community Service League. The loans can be used to bridge delayed paychecks as in a new teacher's salary. And the loans are credit reportable, which can rebuild credit for the future. Their financial partners include Central Bank of the Midwest, UMB and Holy Rosary Credit Union; they underwrite the small dollar loans which are guaranteed by Next Step KC. It's a unique program, Gripp said, and it works well for people living paycheck to paycheck.
Catholic Charities of Kansas City-St. Joseph and Rockhurst University partner with the Prosperity Center, a United Way Local Initiative, located on the university's campus. Director Kourtney Woodbury explained how the Prosperity Center's three-prong approach — employment services, financial education and coaching, and access to public benefits and income supports — works to coach people to make the best financial decisions for themselves and their family. "The first step," she said, "is to build rapport with clients so that they are comfortable discussing the aspects of their lives that affect their financial wellbeing. Unfortunately, there is a market of payday loans. As it relates to their traps, we talk with clients regarding their budget and spending patterns, their relationship with money, who controls finances in their household, access to mainstream financial institutions, credit alternatives and how these factors impact their dreams of financial security." Clients share their hopes and dreams for the future and write down financial goals, the touchstone for all future coaching sessions.
"Lastly, in partnership with the client," she said, "we build a savings plan to help address future emergencies. We discuss saving tools and ways they can manage and improve their financial health. For clients who have or are trying to manage payday loans, we help them leverage resources to handle or eliminate the debt. We help clients apply for the Holy Rosary Credit Union payday loan re-finance program. We also advise clients how to renegotiate the terms of their payday loan payments. The Prosperity Center is a referral partner for Next Step KC's small dollar loan program. Furthermore, we discuss the circumstances that caused clients to obtain the loan as a means to better understand the financial disruptors in their life. Lastly, with the client, we build a savings plan to help address future emergencies."
St. Therese Little Flower Parish's Social Service office helps parishioners and neighbors in need with emergency food and utility assistance. B.J. Atkinson, director, said she has seen many people who are struggling with high interest payday loans and cannot pay for food or other living expenses as a result. "We don't pay off their pay day loans," she said, "but we will help with utility bills and food." The office also refers clients to the Prosperity Center.
Seton Center helps people with food, clothing, and recurring expenses such as utility bills if they have no way to pay due to payday loan payments.
Catholic Charities of Kansas City St. Joseph has been helping people in need since its founding as an orphanage back in 1879. When a client comes to the agency for assistance, they are met in the Welcome Center by a staffer who engages them in conversation. By gathering information, the staffer can direct the client to the team that will best serve their needs. Abhi Dutta and Ashley Dooley Wohlgemuth are members of the Financial Literacy team. They said a client must be motivated to change in order for any solution to work. The goal is to get to the root of the client's problem, not just put a band aid on it.
The team looks at a person's income —wages, benefits — to gauge their capacity to pay off debt and work with the client to construct both a general and a specific budget. They refer clients to programs such as the Prosperity Center. Ashley said some clients come to learn more, some are mandated by others to come.
Abhi mentioned the Church's teaching on the preferential option for the poor, what is accessible to the poor. "The mandate speaks to this situation (payday loans)," he said. "It's very expensive to be poor. The poor need a support network, financial education and banking opportunities, all are important to their overall health."
Catholic Charities of Northeast Kansas partners with Country Club Bank to help people struggling with payday loans. Executive Director Ken Williams said that a major problem with the payday lending industry is that credit for all is not fair credit for all. The agency has designed a program for payday loan borrowers, as most loans are taken for day-to-day expenses, not emergencies. The Kansas Loan Pool Project converts the payday loan to a 6 percent guaranteed loan to be paid back over a reasonable loan term. Williams said clients are required to enroll in a financial literacy program, and work with a case manager. Since the program's launch one year ago, around 75 loans have been refinanced with no defaults.
If payday loans fill a need, why are there so many programs that better fill that need?