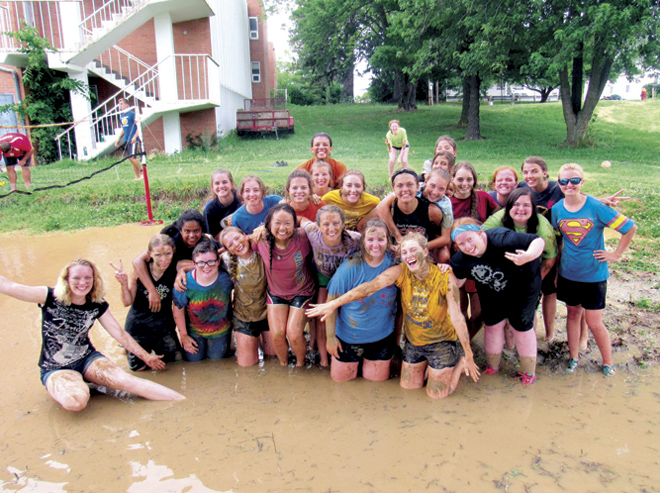 By Jen DeCoster
Insects buzzing, birds flying overhead, cars driving in the distance, the sky colored orange and yellow as the sun set… this was the background of a Thursday night at Camp Bosco. Eucharistic Adoration was held on Maur Hill Mount Academy's football field at sunset. This was the highlight for many of the High School teens and staff.
"I really loved the Adoration outside on the football field, being able to see the sunset and the sky: God's creation, while focusing on God himself, in the Monstrance," said Vinnie Cascone, camper from Visitation.
Mark McKellar, a staff member from St. Andrew the Apostle said, "The highlight of Camp Bosco for me was Eucharistic Adoration on the football field. It was such a cool experience and the procession back to the Chapel was so powerful. It was just beautiful to see God work both through silence and communal worship."
Camp Bosco is the newest Diocesan camp for incoming sophomores to graduated seniors. Plans for a High School Camp have been in the works from the beginning. Michael Nations, Camp Director and Director of the Youth Office said, "I believe that not only was it in the plans for Camp Bosco to be developed at some point in the future but it seems that through the Holy Spirit's promptings that this was the time that a High School camp was and is needed here in this Diocese."
The camp was named in honor of St. John Bosco who served as teacher and mentor to the Middle School Camp's patron, St. Dominic Savio. "John Bosco advocated frequent reception of the Sacraments of Penance and Holy Communion. He combined catechetical training and fatherly guidance, seeking to unite the spiritual life with one's work, study and play. We have tried to imitate John Bosco in this way at Camp Bosco. We also learn from the campers just as John Bosco learned from Dominic Savio, therefore it seems fitting to have the High School Camp named after John Bosco," said Diane Pickert, Camp Director and Youth Minister at St. Gabriel.
There were 47 campers and chaperones for the camps' first session. This year's theme was 'Dangerously Deep.' "The camp participants and leaders went deeper through prayer and contemplation but were also challenged in a deeper sense by asking themselves in their heart and soul what God has in store for them and why it is that they would be asked to attend camp," said Nations.
Max Christy, a camper from Coronation of Our Lady said, "I've gone dangerously deep in my faith by saying new prayers, such as the Liturgy of the Hours, which I am going to continue when I get home. I've gone deep with other people by talking to them about my personal life and them helping me through it."
The leadership team for camp consists of the Host, Musician and Chaplain. The host for Camp Bosco was Kyle Sellnow, a teacher at Archbishop O'Hara High School; the musician was Joe Herron, Music Teacher at Maur-Hill Mount Academy and the Chaplain was Father Gabriel Lickteig, Chaplain at O'Hara High School.
"I believe the teamwork of Kyle, Joe and Fr. Gabe were key in taking the youth to a deeper place in their faith. Kyle challenged them with his talks by looking at their lives and making the necessary changes to live their life better for Christ," said Pickert.
Camp Bosco had different activities and a different schedule than Camp Savio. Though the week was shorter, the days were longer and more intense. Within an hour of the camper's arrival, they loaded a bus for the first surprise of the week: Moera, a High Ropes Course in Maryville, MO.
"My favorite day was Tuesday. We didn't want the campers who had attended Camp Savio to know what to expect. So we completely threw them by hopping on a bus almost immediately. We didn't tell them where we were going or when we would be back. The surprise was completely worth it," said Camp Director and Youth Office Assistant, Katie Troup.
The second surprise was Tuesday night at Conception Abbey. The evening was spent in the Basilica of the Immaculate Conception with a Holy Hour, the Sacrament of Reconciliation and a walk through the Holy Door. Bishop Johnston ended the night by leading the Prayer of Pope Francis for the Jubilee.
Another favorite was Thursday's Girl/Guy day. Paige and Ben Rioux spoke to the campers about Virtuous Femininity and Authentic Masculinity. Joseph McCubbin from Nativity of Mary said, "I learned how to respect others and how to become a man. I learned going to Mass, praying and keeping that routine every day is important."
Rosemary Cherian, from St. Therese said, "A big thing from the girl day was that we were able to get each other up the Wall (on the low ropes course) and the talk on Virtuous Femininity is something that everyone needs to hear and embrace it."
Matt Warner, first time chaperone and Youth Minister at Holy Rosary said, "It was inspiring to see the youth work together, encourage each other, worship together, and really become a community. Most of all, it was awesome to see the dream of a high school camp actually become a reality. I really wouldn't have missed it for anything."
Camp Bosco is a vital addition to the Diocese and for High School teens. DeLyne Knox, Camp Director and Youth Minister at St. Patrick said, "I can see the impact that youth participation in both camps is having on our Parish youth programs. Our numbers have more than quadrupled in the past 5 years. The youth are coming home from camp and lighting their families and our Parish on fire with their enthusiasm and joy for their faith. It is refreshing for the older parishioners to know that we have youth that will continue to build our parish with their love for Christ and his Church."
Silas Barlett, Seminarian and parishioner of St. Charles Borromeo said, "High School and Middle School are pivotal times in a child's formation. This makes it all the more essential to set them on fire for their faith, so that they can make an impact on the world rather than just being a member of it. Teens from Camp Bosco will return with stories, passion and reverence toward our Lord that will inspire their friends and classmates."
Arcadia Meija, camper from St. Patrick's said "I've learned more about my spiritual life and what I personally need to do to upkeep my faith throughout the year, to not let this be my only high point but a continuation of faith. I struggle with having deep connections and this week I went out of my way to form those deep connections that will last a lifetime."
In the sixth year of Camp Savio and the first year of Camp Bosco, growth continues. In 2015, 218 campers and chaperones attended two weeks of camp. This year there were 276 middle school campers and chaperones for both weeks. "In 6 years the Kansas City-St. Joseph camps have grown dramatically. Maur Hill, our gracious hosts, have given us the ability to hold 150 campers and chaperones comfortably per week. This year Camp Savio had 155 people per week stay in the dorms. Our staff graciously stayed in the gym to accommodate the surge in registration. This first session of Camp Bosco matches the same number of people that were present the first year of Camp Savio. The Holy Spirit is moving in the hearts of the youth and our rental space is being surpassed by those who want an encounter with the Spirit," said Nations.
"This is a great challenge for us to have, but with prayer, guidance and supporters throughout our Diocese we hope and pray that someday this won't be an issue and that our Diocesan camps will be a place to call home for all of its families," said Tim Volk, Director and Youth Minister at St. Therese.
There are many ways to support Camp Bosco and Camp Savio. Financially, through material donations of food and the supplies needed to run the camps. Spiritual support is most importantly needed. "We also appreciate prayers: pray for the youth, pray for their families, pray for our staff and pray for inspiration. How it will grow and change we don't know because we let the spirit lead us through our prayers in the planning stages, but we are excited to see what the Spirit puts on our hearts in the upcoming years," said Pickert.
To learn more about Camp Bosco, visit: www.campsavio.com/campbosco. Talk to your Youth Minister or Pastor to sign up for Camp Bosco next June. Youth Ministers and Pastors can contact Michael Nations: mnations@diocesekcsj.org to register their groups.